Harvest Crusade Anaheim: Evangelist Greg Laurie Warns Against the 'Unforgivable Sin'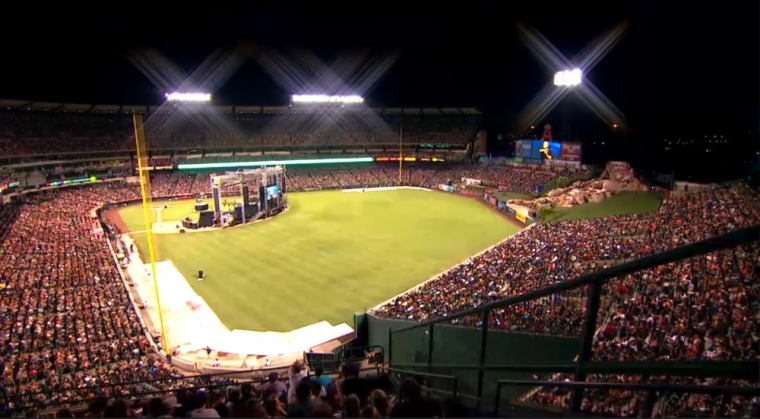 In his second nightly message at the Southern California Harvest Crusade on Saturday, Pastor Greg Laurie warned a crowd of tens of thousands in Anaheim's Angel Stadium that it's possible to reach "a point of no return" if they consciously reject God's forgiveness through Jesus Christ.
The day after the evangelist and pastor spoke about the lack of happiness in people's lives without God, Laurie said in Saturday's message, titled "The Point of No Return," that there are four other characteristics that are universally found in those who are yet to start a relationship with God.
"Everyone is empty inside… because we are born with a sort of a hole in our hearts," Pastor Laurie said, referring to Pascal's famous quote, that there's a God-shaped vacuum in every life that only God can fill.
Everyone is also lonely, added Laurie, who serves as senior pastor of Harvest Christian Fellowship. Porn, lonely and suicide are three words that people search the most on the Internet late in the nights, he said.
Everyone feels a sense of guilt, the pastor went on to say. "This just shows your conscience is working, which is a good thing." We're guilty of breaking God's commandments, he explained.
There's also universal fear of death, Laurie added.
We have emptiness, loneliness, sense of guilt and fear of death "because we need God in our lives," he stated.
On Friday night, 2,300 people received Christ after Laurie urged them to repent and accept Jesus into their lives. At least 530,000 people have accepted Christ in Harvest Crusades, according to Pastor Laurie.
"There's a big wall that separates us from God right now. And that wall is called sin," Laurie said, continuing his message Saturday night.
This wall is too big for us to cross over, but the good news is that God so loved us that He sent Jesus Christ more than 2,000 years ago, he explained. Jesus lived a perfect life, died a perfect death and He rose from the dead, he said. "The same Jesus is with us right now, with you right now. And He says, 'I stand at the door and knock, and if you hear My voice and open the door, I'll come in.'"
God can forgive our sin, Pastor Laurie told the crowd. We've all sinned, and the Bible says that God forgives our sin and "throws them into the depths of the ocean … if you ask Him to forgive you." Jesus even prayed for the forgiveness of those who nailed Him on the cross, Laurie said.
However, "there's one sin that's unforgivable," the megachurch pastor warned. "There's one thing that you could do that would determine that you've gone too far in the wrong direction. There is a point of no return. There's an unforgivable sin."