Harvest Megachurch Youth Pastors: Millennials Actually Love the Church if It's Real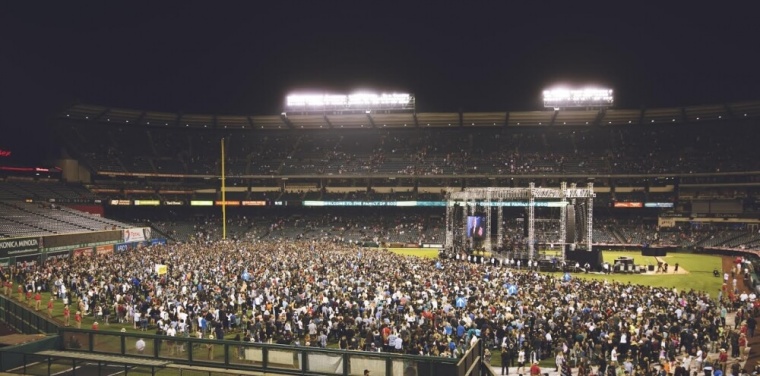 ANAHEIM, California – Over 11,000 people received or recommitted to Christ this past weekend in Southern California, and the key to this harvest of souls are mobilized millennials who, according to local pastors, actually love the church.
In the Diamond Club at Anaheim's Angel Stadium Sunday, The Christian Post sat down with Brady Collins and Jason Powell who are on staff with Greg Laurie's Harvest Christian Fellowship and are an integral part of the behind-the-scenes operations of the annual Harvest SoCal Crusade Outreach.
Amid all the negative chatter about Christian millennials today, the two young pastors, both 31, are quick to shred several myths.
"The first thing is, I need to knock down a misconception," Powell said, "and [that] is these young millennials are absent from the scene, disinterested, disconnected from what's happening and really disengaged from what God wants to do. I think it's just the opposite."
Powell, a self-described "boots on the ground guy" who implements evangelism strategies in the lead-up to the Harvest event and frequently leads teams of young students on the streets to share the gospel, believes young believers are very sincere in their faith.
"If we get away from the fake, the facade, the apparent mask of things and go to the real authentic — you know, there is a mission at hand — a down to earth real cause for the gospel, I think these young people rise to the occasion every single time," Powell continued.
The pastors emphasize to the youth they work with that this isn't about Pastor Greg Laurie's ministry; God will use him, yes, but he wants to activate every one of them.
According to a Monday press release from Harvest Crusades, some 105,000 people packed Angel Stadium over the course of three days from Aug. 26-28 for the 27th annual outreach event. More than 11,000 people registered commitments to faith in Christ at the invitation of Greg Laurie after his nightly talk.
The Christian Post asked Collins and Powell if they had anyway of knowing how many people were receiving Jesus for the first times versus those recommitting their lives to him and how youth are motivated to witness for Christ.
While there is no way of knowing the exact numbers for sure, Collins acknowledged, "we liken our job to the parable of the sower. Our job is to cast that seed, so when we cast that seed, it is the Holy Spirit who does the work."
"80% of people who come to this event are brought by a friend," adds Powell, "so friendship-type evangelism is very important. So it is this idea that we are praying, inviting and bringing."