'Hillary's a Liar' Says Mother of Benghazi Victim After Seeing '13 Hours' Film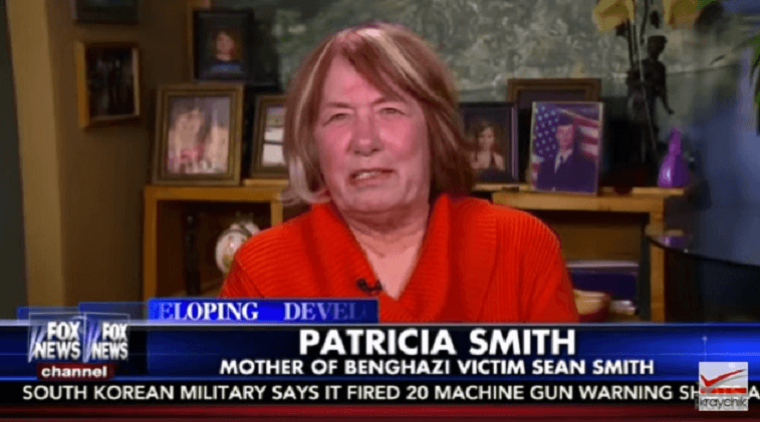 Pat Smith, mother of American 2012 Benghazi terrorist attack victim Sean Smith, called presumptive 2016 Democratic presidential nominee Hillary Clinton "a liar" this week after viewing the Benghazi-themed film "13 Hours: The Secret Soldiers of Benghazi."
Smith, in an appearance on Fox News with Megyn Kelly this week, said she couldn't complete watching the film after seeing the portrayal of her deceased son in the movie.
"Hillary is a liar! I know what she told me," screamed Smith pointing to the Obama administration blaming a YouTube video for the controversial attack.
Kelly noted that Clinton had denied telling families of the Benghazi victims that the YouTube video was what caused the terrorist attack but Smith replied "bull feathers."
"Oh, Pat. I know it must be so hard. So many people want to put this behind them and say, Hillary sat there and testified, she testified with her own 13 hours. And they say it's done. They say there's no story about Benghazi. And that she did everything she could do to the war and she came right out and said she is not lying. Suggesting you are the one who is lying about what happened [at] that Air Force base," said Kelly.
"Bull feathers! That is just plain old bull! I know what she said and not only did she say it, but Obama said the same thing to me. And Panetta. And Biden. And Susan Rice. I went up to all of them, begging them to tell me what happened. And they all said, that it was the video. Every one of them," said Smith.
"13 Hours: The Secret Soldiers of Benghazi" is an action thriller based on the 2014 non-fiction book written by journalist Mitchell Zuckoff with the Annex Security Team. The film depicts the harrowing true story of the attack on a CIA annex in Benghazi, Libya, on September 11, 2012, which killed four Americans. After the assault begins, a U.S. Special Ops team are sent to the annex to protect those still trapped within the compound. The film is directed by Michael Bay, and stars John Krasinski, James Badge Dale, and Pablo Schreiber.