Hillary Clinton Addresses Private Email Controversy: I Did It for Convenience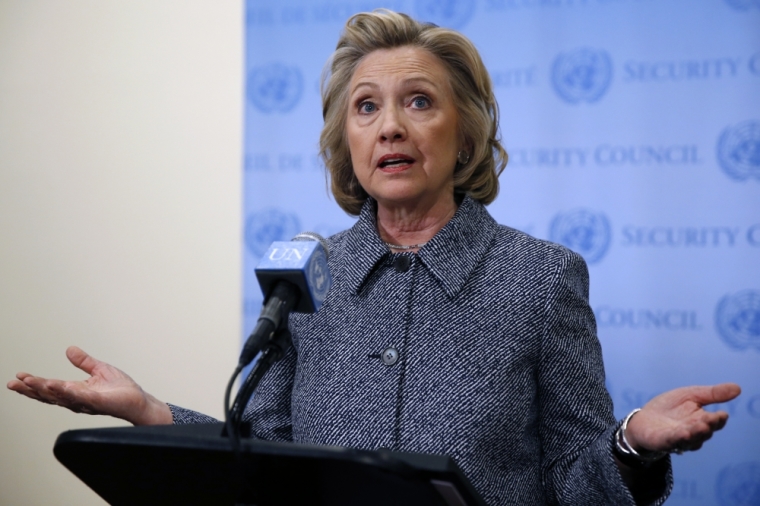 Hillary Clinton broke her silence on the controversial use of a private email server during her time as Secretary of State on Tuesday.
The likely Democratic presidential contender came under scrutiny last week after it was publicly reported that she had used a private server and email domain during her tenure at the State Department. In response to the controversy continuing into its second week on Tuesday, Clinton held a brief press conference after speaking at the United Nation's Women's Empowerment Principles event in New York.
"There are four things I want the public to know," Clinton said after both thanking the UN for focusing on gender inequality and commenting on a Republican letter to Iran.
"First, when I got to work as Secretary of State, I opted for convenience to use my personal email account, which was allowed by the State Department because I thought it would be easier to carry just one device for my work and my personal emails instead of two," Clinton continued during the press conference. "Looking back, it would have been better to simply use a second email account and carried a second phone, but at the time it did not seem like an issue."
Secondly, Clinton pointed out that a "vast majority" of her work emails went to government employees at their government addresses, which in turn leaves a record on the State Department's system. The former Secretary of State went on to list a third point, confirming that she has already provided the State Department with "all my emails that could possibly be work-related," over 55,000 pages.
"We went through a thorough process to identify all my work-related emails, and delivered them to the State Department, and at the end I chose not to keep my private personal emails — emails about planning Chelsea's wedding, or my mother's funeral arrangements, or condolence notes to friends, as well as yoga routines, family vacations, the other things you would find in in-boxes," Clinton explained. "No one wants their personal emails made public, and I think most people understand and respect that privacy."
As a fourth argument, Clinton credited the "unprecedented step" of releasing all of her work-related emails to the State Department which will eventually showcase the documents on a public platform.
"I am very proud of the work that I and my colleagues and our public servants at the State Department did for my four years at Secretary of State, and I look forward to people being able to see that for themselves," she added. "Again, looking back, it would have been better to have two separate phones, two email accounts. I thought using one device was simpler. Obviously, it hasn't worked out that way."
According to reports, Clinton used a private email server that was installed in her New York home as well as her own Internet domain, clintonemail.com, to conduct government business while working under President Barack Obama. The State Department confirmed that Clinton's use of a private email account was not prohibited, provided that the former Secretary of State kept records of her communications. Clinton has turned over 55,000 pages of emails at the department's request, and the documents will be put on a publicly-accessible website after they have been reviewed in a process that could take months.
Clinton, who left the State Department in 2013, initially released numerous emails from her tenure, but Republicans have continued to question Clinton's transparency and ethics. Tuesday's press conference on the private emails also relieved pressure from Democrats who have joined with Republicans in the call for full disclosure.
"I saw it as a matter of convenience, it was allowed, others had done it," Clinton reiterated during Tuesday's questions. "It was my practice to correspond with State Department government workers on their .gov accounts so those emails would be automatically saved in the State Department system to meet record keeping requirements."
Also during the press conference, Clinton denied deleting any government related emails from her personal account before submitting the documents to the State Department.
"I have absolute confidence that anything that is in any way work-related is now in possession of the State Department," she told reporters.
Criticism over Clinton's non-government email account is only the latest controversy surrounding the presumed front-runner for the 2016 Democratic presidential nomination. Last month, donations including those from Middle East governments to the The Bill, Hillary & Chelsea Clinton Foundation came under scrutiny, as did contributions from organizations that do not uphold Clinton's views concerning equal and fair treatment of women and girls.
The recent controversy will undoubtedly take a toll on Clinton's presidential campaign, which is expected to begin in the next few weeks, according to political pundits.