Hillary Clinton calls law banning 'adult cabaret' shows for kids 'absurd'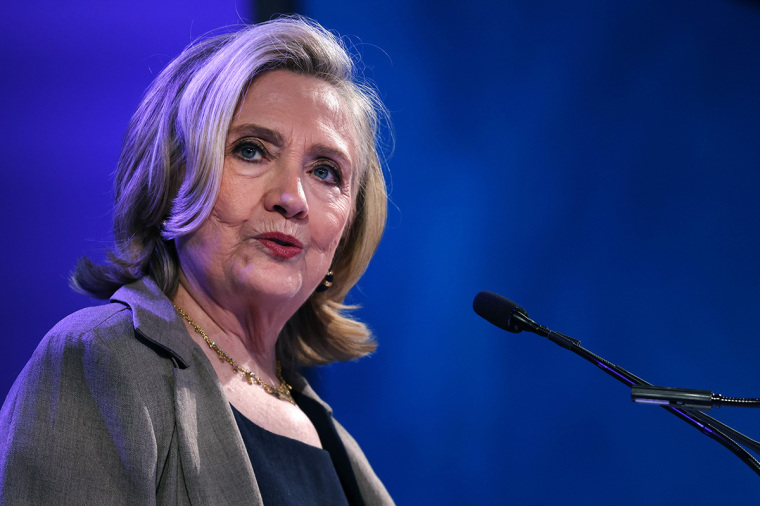 Former Democratic presidential candidate Hillary Clinton called a Tennessee law banning "adult cabaret" performances from taking place on public property or where children are present "absurd," expressing hope that such laws would go "the way of the dinosaur." 
The former secretary of state and first lady attended the opening night on Broadway of "Bob Fosse's Dancin'" on Sunday when a New York Times reporter asked her about Senate Bill 3 in Tennessee. The legislation was signed by Republican Gov. Bill Lee earlier this month.
The reporter asked Clinton to offer her opinion on whether the bill means that shows such as "Some Like It Hot," which tells the story of two men who dress as women to escape the mob, could be banned from performing in the state. 
"It's a very sad commentary on what people think is important in our country," Clinton told the outlet Sunday. "I hope that it goes the way of the dinosaur because people will recognize that it's just a political stunt."
The law, which goes into effect on April 1, "creates an offense for a person who engages in an adult cabaret performance on public property or in a location where the adult cabaret performance could be viewed by a person who is not an adult." 
According to the bill's definition of an "adult cabaret performance," this includes shows that involve exotic or topless dancers, strippers, go-go dancers, or male and female impersonators providing entertainment that "appeals to a prurient interest." Drag shows are performances typically featuring men who dress up to impersonate women. 
The New York Times suggests that such legislation could ban Shakespeare plays that feature cross-dressing characters or a current tour of the musical "1776" with a company that consists of "an all-female, trans and nonbinary cast." 
"I guess they're going to shut the state borders to anything that is Shakespearean?" she said. "Are we going to stop exporting any kind of entertainment?"
Proponents of the legislation, including the bill's sponsor, Republican Sen. Jack Johnson, have argued that the law seeks to protect children from sexually explicit content. 
"This bill gives confidence to parents that they can take their kids to a public or private show and will not be blindsided by a sexualized performance," Johnson tweeted on March 2 after passing the state Senate. 
The American Civil Liberties Union of Tennessee argues that the legislation's definition of "harmful to minors" is "very narrow" and that drag performances are protected by the First Amendment. 
"We are disappointed that Governor Lee chose to sign a bill that politicians intended to censor drag performances," Stella Yarbrough, ACLU of Tennessee legal director, said in a statement. 
"However, I want to be abundantly clear: the law that was just signed does not make it illegal to perform in drag in Tennessee," she continued. "The law bans obscene performances, and drag performances are not inherently obscene."
Yarbrough believes lawmakers will "abuse" the legislation to "censor" people based on "subjective viewpoints" about what is appropriate for children. Yarbrough claimed that the bill sends a message to "LGBTQ Tennesseans that they are not welcome in our state." 
ACLU of Tennessee could challenge any enforcement of the law that attempts to "punish" drag performers or shut down a family-friendly LGBTQ event," she said. 
As The Christian Post has previously reported, multiple drag shows throughout the country marketed as "family-friendly" have faced backlash from lawmakers and critics on social media who argue that they expose children to sexual content. 
One event in particular, the "Drag The Kids To Pride" show hosted last June in Dallas, Texas, prompted Republican Texas Rep. Bryan Slaton to promise he'd introduce legislation banning drag shows. The state representative was reacting to reports of minors attending the event. Slaton finally introduced that bill earlier this month. 
Photos and video footage of the event showed men in drag performing in front of children. One artist danced suggestively under a sign that read "It's Not Gonna Lick Itself" and accepted tips from kids in the audience. 
In December, the James L. Knight Center in Miami and the Plaza Live in Orlando hosted "A Drag Queen Christmas." Both venues received a letter from the Florida Department of Business and Professional Regulation, warning that it would take "any and all actions available" if minors were allowed to attend. 
The letter coincided with an announcement from Florida Gov. Ron DeSantis, stating that DBPR had launched an investigation after receiving "multiple complaints about a sexually explicit performance marketed to children held in Fort Lauderdale." 
The event, hosted by performers "Nina West" and "Trinity The Tuck," featured actors telling stories about Santa while male actors danced suggestively as sexual videos played in the background. 
At one point during the show, a man wearing prosthetic breasts who accepted tips from the audience asked a child at the event, "Are you reaching for my [breasts]? Are you hungry?"