Library to hold 'Pastor Story Hour' on same day as pro-LGBT 'Inclusive Story Hour'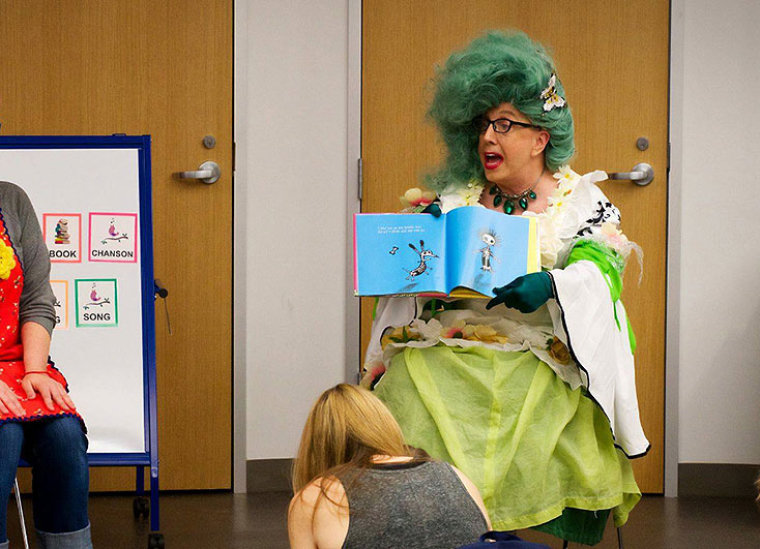 An Arkansas pastor will host a biblical story hour for children at a local library the same day another group plans to hold a separate story hour promoting gender identity and diversity, which may or may not feature a drag queen.
Owen Strachan, an author and pastor at Grace Bible Theological Seminary in Arkansas, will read a picture book to children about "God's design of the sexes" at the Conway Public Library on Saturday, according to a post on his Facebook page.
The event is not sponsored by any organization or church, and the pastor invited all children and families in the area to attend. 
In an interview with The Christian Post, Strachan said that the purpose of the pastor story hour is to share Christ's love at a time when many libraries throughout the country invite drag queens to read to children.
"We're the ones who are called to be like Christ, and Christ is the one who welcomes the little children to him," Strachan told CP. 
"So we simply want to do that in a small way by having a story hour at a public building, a building the taxpayers like us pay for, and to welcome people and give them an opportunity, especially in a confused climate like ours, to hear the truth about boys and girls and the truth about the Gospel of Christ." 
The pastor estimates that 50 to 75 people will attend since he has promoted the event on his Facebook page and received a flurry of responses. 
"I think there's a real hunger for the compassionate but clear witness on the part of God's people," the pastor said, pointing to Christian actor Kirk Cameron hosting Christian-themed story hours for children. 
"I'm not the pioneer of this and don't want to be represented as thinking that I am. I know others have done this as well, and I anticipate many other pastors and godly men will stand up and do this in days ahead," he said. "I certainly pray that will be the case."
Shortly after Strachan announced the event, the Faulkner County Coalition for Social Justice revealed in a Sunday tweet that it would have an "Inclusive Story Hour" on the same day at the same library to "drown out the hate of the 'Pastor Story Hour.'" 
FCCSJ will be hosting an Inclusive Story Hour to drown out the hate of the "Pastor Story Hour" this Saturday (1/14) from 10-11:30 at the library in Meeting Room 2.

We are looking for volunteers to read/lead activities and bring supplies. Please reach out to volunteer! pic.twitter.com/eNPaudwpQ3

— Coalition for Social Justice (@fc_csj) January 8, 2023
The group objects to Strachan's biblical view of the sexes and his opposition to female preachers. 
In addition, the group pointed to Strachan's book Christianity & Wokeness: How the Social Justice Movement Is Hijacking the Gospel, which criticizes critical race theory and argues that the concept compromises church unity. 
Leah Bilokury, a coalition member, said in a public statement that the group will read books featuring "Black, Brown, Queer, Trans, GNC, and Disabled People," admitting that she did not know whether drag queens would appear at the event. 
John McGraw, director of the Faulkner County Library System, told The Christian Post that the library offers "public meeting room spaces for the public but do not have any role in what the public [does] with those rooms provided that the activity is legal and noncommercial."
"The rooms have been used for church services and concealed carry classes and I do not know what all," he wrote in an email. "If I learned tomorrow that the concealed carry class was taught by a drag queen, it would be news to me. The Library does not make decisions about the use of the room that have been determined to be unconstitutional by the courts."
McGraw stated in an email to The Arkansas Times that the library allows anyone that can abide by its room policies to conduct events in its public spaces. He emphasized that these are outside groups holding events at the library, not the library putting them on. 
The Faulkner County Coalition for Social Justice did not immediately respond to CP's request for comment. 
Strachan said the Pastor Story Hour is not intended to be a match between him and the other group. He also clarified that he responded to the coalition in a Monday Facebook post to clarify that the story hour is not about promoting hate. 
"We're holding this event because it's of love," Strachan said. "Love for fellow sinners like us, whether they agree with us or not, and all are welcome."
As CP reported, Cameron, a Christian actor and children's book author, was told by multiple libraries that he could not host a reading of his new faith-based children's book, As You Grow. The actor threatened legal action.
Cameron recently hosted the story hour at libraries that he claims previously denied his request and have hosted drag queen story hours.
The Indianapolis Public Library in Indianapolis, Indiana, claims it never told Cameron and his publisher, Brave Books, that they couldn't rent a room but that the library wouldn't be an official sponsor of the program. Cameron held the event at the library on Dec. 29, attended by hundreds. 
"I'm happy that the two libraries changed their decision and will allow my voice to be heard and my book to be read," Cameron told Fox News last month. 
"I hope they realized that their position of denying me a story hour reading was not only unfair and illegal but that we would all be better off if we listened to each other's perspectives."