Hillary Clinton, Bernie Sanders Are 'Dishonest,' 'Socialist,' Americans Say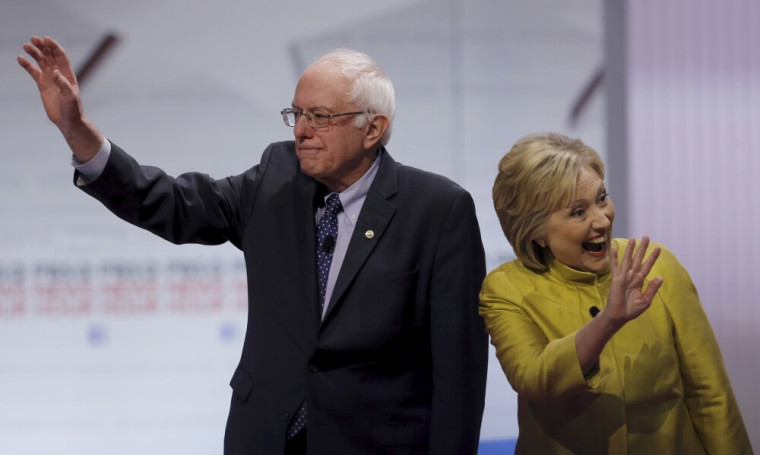 Americans use the words "dishonest" and "socialist" most when describing Democratic presidential candidates Hillary Clinton and Bernie Sanders, respectively, a Gallup poll found.
The survey, which asked voters to describe the candidates in an open ended question, found that the most common answer for former Secretary of State Clinton was "dishonest/liar/don't trust her/poor character" (21%), while the most common answer for Vermont Senator Bernie Sanders was "socialist" (12%).
Clinton's other negative comments included unlikeable (9%), criminal (7%) and bad for the country (3%). Her most common positive comments were likeable (8%), qualified (7%) and experienced (5%).
The next most common descriptions of Sanders were old (6%), favorable (5%) and fresh face/new ideas/change for the better (5%).
Overall, 51 percent of respondents offered negative characterizations of Clinton while 29 percent were positive and six percent were neutral.
For Sanders, 20 percent were negative while 26 percent were positive and 32 percent were neutral. ("Socialist" was categorized as neutral. However, a Gallup poll from June 2015 found that only 47 percent of Americans would vote for a presidential candidate who identifies as a socialist.)
Unsurprisingly, Republicans were more likely than Democrats to be negative for both candidates.
"77% of Republicans' top-of-mind impressions of Clinton are negative, with their most frequent responses focusing on views of her as dishonest and crooked. By contrast, 29% of Republicans' views of Sanders are negative, with many of the rest either neutral or in the 'no opinion' category," Gallup wrote.
For Democrats, overall responses for Clinton were 52 percent positive and 27 percent negative.
For Sanders, 38 percent of the Democrat responses were positive and 12 percent were negative.
Sanders and Clinton have been neck in neck in several of the state primary votes, with the former Secretary of State beating out the Vermont Senator by the slim margin of 5 percentage points in the Feb. 20 Nevada Caucus.
Clinton also edged out Sanders in the February 1 Iowa Caucus with 49.9 percent of the vote over his 49.6 percent.
However, Sanders defeated Clinton by a wide margin in the February 9 New Hampshire primary with 60 percent of the votes over Hillary's 38 percent.
The Democratic candidates are now preparing for the February 27 South Carolina primary vote. An analysis released Tuesday by NBC News indicates that Clinton carries a strong presence in the important African American voting bloc as she heads to the southern state.
The former First Lady maintains a 65 percent likeability among national black voters, compared to Sanders at 22 percent, according to a Feb. 15-21 NBC/Survey Monkey poll.
As the New York Times reports, while Sanders has maintained close voter results to Clinton, he lags far behind in the delegate count, holding only 70 delegates compared to Clinton's 502.
Tad Devine, a senior adviser to the Sanders' campaign, told the NY Times this week that his candidate will need to shore up victories in each state to keep up with Clinton's delegates.
"The Clintons can get a delegate lead quicker than we can, and they have a way to gut out the delegate fight," Devine said, adding "We have to turn victories in state after state into big momentum that can change the numbers."
Gallup's Feb. 13-14 poll sampled 1,014 U.S. adults. The margin of error is plus or minus four percentage points.