Donald Trump Keeps Frontrunner Status Winning SC as Rubio Edges Out Cruz for 2nd Place
Jeb Bush Bows Out After Spending $96 Million
Donald Trump Keeps Frontrunner Status Winning SC as Rubio Edges Out Cruz for 2nd Place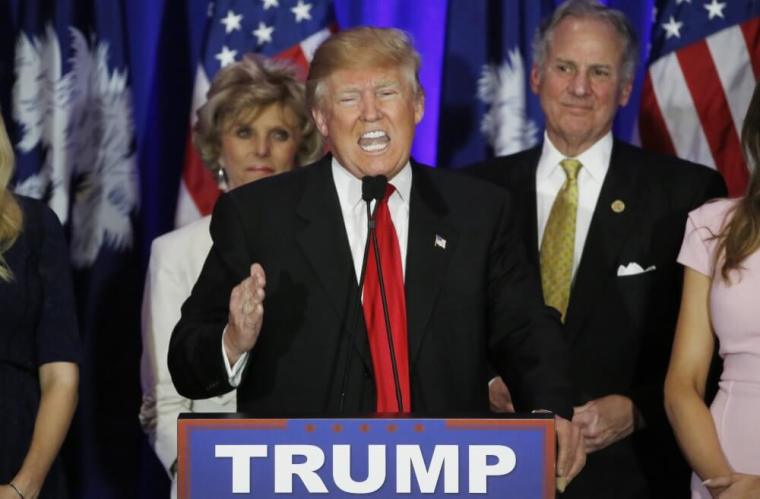 Donald Trump firmly established himself as the frontrunner for the Republican presidential nomination after winning the South Carolina primary, as former Florida Gov. Jeb Bush suspended his bid Saturday. In the Democratic caucus vote in Nevada, Hillary Clinton managed to hold off Bernie Sanders' ascent with her narrow victory.
Trump received 32.5 percent of the vote, while his rivals Marco Rubio and Ted Cruz garnered a little more than 22 percent each, as on early Sunday with 99.9 percent of precincts reporting.
The victory is significant for the billionaire businessman, as there is no precedence of a candidate winning New Hampshire and South Carolina and then going on to lose the nomination.
"There's nothing easy about running for president, I can tell you. It's tough, it's nasty, it's mean, it's vicious, it's beautiful," the billionaire businessman told his supporters at his victory rally in Spartanburg Saturday, according to NPR.
Rubio stood second, with less than a 1 percentage point lead over Cruz, but a significant improvement since the New Hampshire vote.
"Tonight here in South Carolina, the message is pretty clear. This country is now ready for a new generation of conservatives to guide us into the 21st century," Rubio was quoted as saying.
Evangelical or born-again Christian voters made up about 74 percent of the electorate in South Carolina, according to early polls, CNN said.
Asked which candidate "ran the most unfair campaign," 41 percent said Trump compared with 32 percent for Cruz.
About 53 precent said they feel "betrayed by the Republican Party," and about 40 percent said they are "angry" at the federal government. Both Cruz and Trump are supported by the voters who feel "betrayed" by the GOP, and 42 percent of those who say they are angry at the federal government back Trump.
About 48 percent of South Carolina's Republican voters say the next president should have experience in politics and 48 percent say the next president should be from outside the political establishment.
Meanwhile, with 84 percent of the precincts reporting as on early Sunday, Clinton had 52.5 percent of the vote, and Sanders stood at 47.5 percent.
"I want to congratulate Sen. Sanders on a hard fought race here," Clinton said in her victory speech in Las Vegas. "To the millions of people across our country who are supporting our campaign — thank you from the bottom of my heart. We hear you, we see you, we're incredibly grateful to you. Because we're in this together."
She continued: "Americans are right to be angry, but we're also hungry for real solutions. … Tens of thousands of men and women with kids to raise bills to pay, and dreams that won't die — this is your campaign. And it is a campaign to break down every barrier that holds you back."
Amid celebrations by Trump and Clinton, Bush suspended his presidential bid.
According to Federal Election Commission filings, the Right to Rise super PAC spent at least $95.7 million out of the $118.6 million it had collected by the end of January, for Bush's candidacy, The Washington Post reported.
Bush's favorable rating fell from 63 percent in July 2015 to 44 percent in January 2016, according to Washington Post-ABC News polls of Republicans nationally. And now the question is which candidate Bush's supporters will back.