Hillary Clinton Put on Defense by Sanders, O'Malley in Second Democratic Debate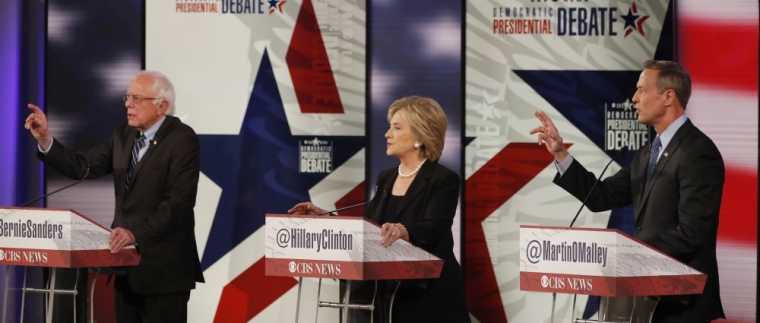 Former Secretary of State and Ex-New York Senator Hillary Clinton found herself on the defensive during the second Democratic Debate on Saturday evening.
Senator Bernie Sanders of Vermont and former Maryland Governor Martin O'Malley both took jabs at Clinton on various issues, including financial reform and gun reform.
Moderated by CBS News and hosted at Drake University in Des Moines, Iowa, the debate focused on issues such as foreign policy, the economy, and financial reform.
On the issue of Wall Street's influence, Clinton argued that she has introduced a comprehensive plan to regulate Wall Street, go after corruption in big banking, and curb compensations.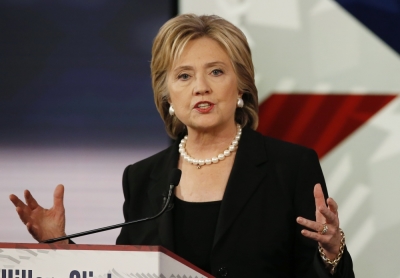 "Not good enough," said Sanders in response, garnering loud applause. He then asked, "why, over her political career has Wall Street been … the major campaign contributor to Hillary Clinton? You know, maybe they're dumb and they don't know what they're going to get, but I don't think so."
Clinton denounced Sanders' portrayal of her, saying that he "used his answer to impugn my integrity" and insisted that Sanders' proposal for Wall Street regulation did not go far enough.
Later on, the issue of gun control was brought up. While the candidates agreed in increasing restrictions, former Gov. O'Malley denounced Clinton's position on the issue, arguing that it was a changing position based on poll numbers.
"But Secretary Clinton, you've been on three sides of this. When you ran in 2000, you said that we needed federal robust regulations. Then, in 2008, you were portraying yourself as Annie Oakley and saying that we don't need those regulations on the federal level and now you're coming back around here," said O'Malley.
"There's a big difference between leading by polls and leading with principle. We got it done in my state by leading with principle and that's what we need to do as a party for comprehensive gun safety."
The Democratic Debate was moderated by John Dickerson of CBS News, questions also came from a panel featuring CBS News colleague Nancy Cordes, Kevin Cooney of local station KCCI, and the Des Moines Register's Kathie Obradovich.
While many have long viewed Clinton as the expected nominee for the Democratic Party come next November, she has faced a strong challenge from Sanders.
The debate featured fewer candidates than the first, as former US Senator of Virginia Jim Webb and former Rhode Island Governor Lincoln Chafee have dropped out.