Hillary Clinton, Bernie Sanders Discuss White People Problems at Democratic Debate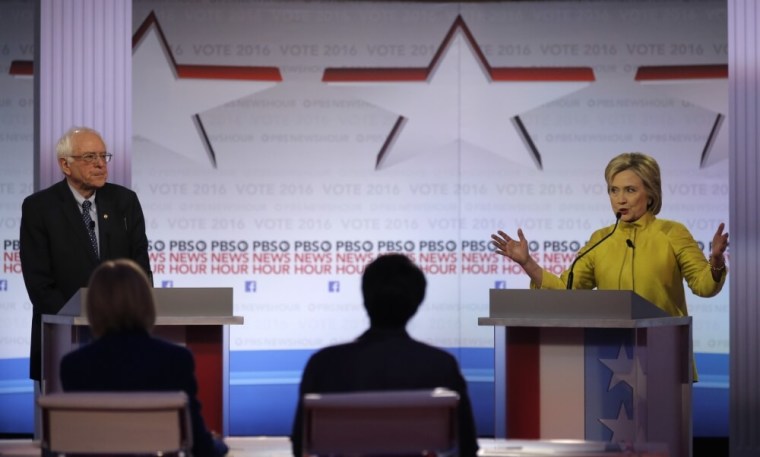 As much of the media focuses on America's racial divide from the perspective of minority communities, Democratic candidates Hillary Clinton and Bernie Sanders were given the opportunity Thursday night to discuss overlooked problems facing America's white population.
As the two candidates discussed how to ease the contentious race relations in the United States during the PBS Newshour debate in Wisconsin, moderator Gwen Ifill switched the conversation to a lesser discussed topic.
"Let me turn this on its head, because when we talk about race in this country, we always talk about African-Americans, people of color," Ifill, an African-American, said. "I want to talk about white people, OK?"
Ifill stated that by the middle of the century, the nation will be majority nonwhite and that white working-class Americans are about to be outnumbered. Ifill explained white people are already becoming underemployed and due to issues of substance abuse are dying sooner due to epidemic levels of suicide.
Ifill cited a study released in November, which found that death rates among white Americans ages 45 to 54 are rising. Ifill then asked Clinton if white people "have a reason to be resentful."
The former Secretary of State explained that she has come forward with a plan to help address the rising levels of drug abuse among the white community by revitalizing "coal country" and "the coalfield communities that have been so hard hit by the changing economy, by the reduction in the use of coal."
"You know, coal miners and their families who helped turn on the lights and power our factories for generations are now wondering, has our country forgotten us? Do people not care about all of our sacrifice?" Clinton said.
Clinton went onto explain that in looking at the numbers, there are as many white communities, if not more, than minority communities that are "truly being left behind and left out."
She said she favored a plan by Rep. Jim Clyburn, D-S.C., to spend more federal dollars in communities with "persistent generational poverty."
"So, yes, I do think it would be a terrible oversight not to try to address the very real problems that white Americans — particularly those without a lot of education whose jobs have no longer provided them or even no longer present in their communities — because we have to focus where the real hurt is," Clinton asserted. "And that's why, as president, I will look at communities that need special help and try to deliver that."
Iffil then turned the conversation over to the self-proclaimed "Democratic Socialist" senator from Vermont by asking him if the problems can really be characterized as a matter of race.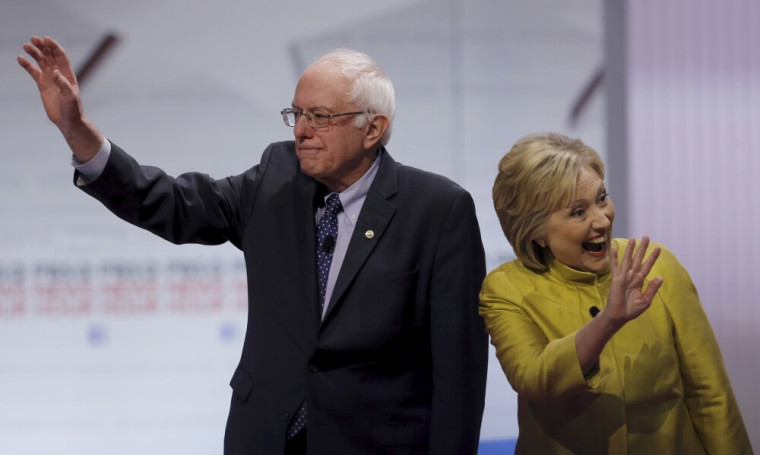 The 74-year-old Sanders agreed that it could be a matter of race, but stated that it's a matter of race in the sense of the issues facing minority communities. He added, however, that the employment problems facing white and minority communities is more of an economic problem.
Sanders went on to criticize trade agreements like the North American Free Trade Agreement and permanent normal trade relations with China, for being a major reason why high school graduates today receive significantly lower wages. He added that he and Clinton disagree on the issue of trade agreements.
"Now no one thinks that working in the factory is the greatest job in the world. But you know what, you can make a middle class wage, you have decent health care, decent benefits," Sanders said. "You once had a pension. Those jobs, in many cases, are now gone. They're off to China. Now you are a worker, white worker, black worker, who had a decent job, that manufacturing job is gone."
"What have you got now? You are working at McDonald's? That is why there is massive despair all over this country," Sanders added. "People have worked their entire lives. They're making a half, two-thirds what they used to make. Their kids are having a hard time finding any work at all."
Sanders agreed that the loss of good-paying, middle-class factory and manufacturing jobs has had a major impact on the life expectancy of middle-aged white people.
"And that's why this study, which shows that if you can believe it today, for white working class people between 45 and 54, life expectancy is actually going down," Sanders said. "Suicide, alcoholism, drugs, that's why we need to start paying attention to the needs of working families in this country, and not just a handful of billionaires who have enormous economic and political power."
Christian Post political analyst Napp Nazworth noted in January an increased concern among certain Democrats over the plight of working class whites.
"As the [Donald] Trump campaign figures out the challenges of its core supporters [blue collar whites], on the other side of the political divide some Democrats are wondering how they lost these voters, and how they might get them back," he wrote.