Hillary Clinton Concussion: Secretary of State Falls and Hits Head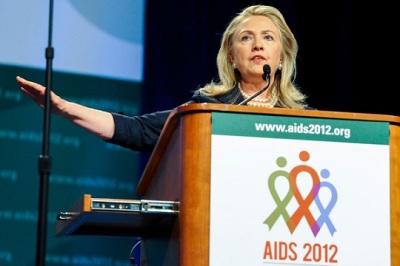 Hillary Clinton has suffered a concussion after fainting earlier this week. The U.S. Secretary of State reportedly fell and hit her head, causing the concussion, after suffering from a stomach virus that had led her to become dehydrated.
An aide to Clinton has confirmed the incident on Saturday, with Deputy Secretary Philippe Reines explaining to the press, "She has been recovering at home and will continue to be monitored regularly by her doctors. At their recommendation, she will continue to work from home next week, staying in regular contact with Department and other officials. She is looking forward to being back in the office soon."
It was explained that no ambulance was required and that Clinton was not hospitalized through the fall, according to the state department.
It was reported recently that Clinton had been taken ill, forcing the cancellation of her scheduled trip to Morocco in which she was supposed to meet top leaders to discuss the future of Syria's opposition.
According to that release by the State Department, Deputy Secretary of State Bill Burns was sent in her place.
State Department spokesman Philippe Reines has said, "Since she's still under the weather, we'll be staying put this week instead of heading to North Africa and the Middle East as originally planned."
The statement added: "In her place, Deputy Secretary Burns will travel to Marrakech for the Friends of the Syrian People meeting. We will let you know when she shakes this bug and resumes a public schedule."
The meeting that Clinton missed involved the foreign ministers from allied nations, who came together in Morocco to discuss the situation in Syria. Following that meeting, Clinton was scheduled to move on to Tunisia and then the United Arab Emirates, according to the State Department.
Meanwhile, in other recent news about the Secretary of State, it was revealed that Clinton received a 75 percent approval rating in a Siena poll.
Maryland Gov. Martin O'Malley has further said that Clinton would make a "great president" should she seek the Democratic nomination for 2016. Former GOP candidate Newt Gingrich has also admitted that Clinton would have a good chance at winning any run for the White House at the next presidential elections.
"She's great. I think she's an outstanding leader, and I think she could be a great president, if she chooses to do it," said O'Malley, who endorsed Clinton when she sought the 2008 nomination against President Barack Obama.
About his own ambitions, the governor said, "I don't know that anyone in their right mind, you know, looks at that awesome responsibility without having to do a lot of soul searching and a lot of discernment and introspection." But then he also added, "The reason I'm able to hear people talk about that possibility and not be wigged out by it is that I know it's a reflection of the good things the people of our state have done in these difficult years."
President Bill Clinton's aide James Carville said a vast majority of the Democrats want the Secretary of State to run for president.
"I don't know what she's going to do, but I do know this: The Democrats want her to run. And I don't just mean a lot of Democrats. I mean a whole lot of Democrats, like 90 percent across the country," Carville said on ABC's "This Week With George Stephanopoulos."
"We just want to win. We think she's the best person and shut it down. And that's across the board."