Hillary Clinton Leaving State Department; Preparing for 2016 Presidential Run?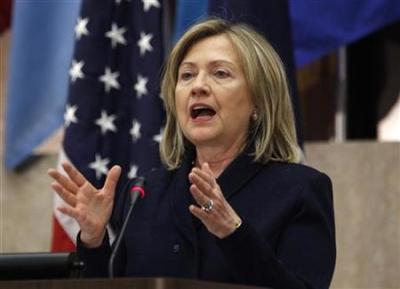 Hillary Clinton is believed to be preparing to step down from her position as Secretary of State, sparking widespread rumors about her potentially making her own run for the White House in 2016.
Despite the fact that it has only been days since President Barack Obama has been re-elected for a second term, the rumor mill is already picking up steam that Clinton is maneuvering into position and making preparations for her own campaign in four years time.
As Republican presidential candidate Mitt Romney left the stage following his concession speech early Wednesday the hashtag #Hillary2016 was already trending on social media site Twitter.
All the hype comes despite Clinton previously saying she would not run for president again. However, pundits have also highlighted her words saying she always would want to be "in service to my country," and have taken those words as enough to indicate a White House bid is very much on the cards.
Even on Wednesday, just a day after Obama was re-elected, U.S. State Department spokeswoman Victoria Nuland was asked about Clinton's plans as she spoke to reporters during her daily briefing. She said, "I don't think the secretary's plans have changed. You've heard her say many times that she intends to see through a transition of a successor and then she will go back to private life and enjoy some rest and think and write and all those things."
However, those comments indicating a Clinton who wants a more quiet, private life have not washed with many, who still believe her stepping down is just another sign that she is simply preparing for 2016.
One further indicator many are using to claim it is only a matter of time before her presidential ambitions are made official is her popularity. Clinton has remained popular throughout the last four years despite President Obama's own popularity declining significantly from when he won the presidency; she recently was recorded with approval ratings of nearly 70 percent. One poll released in recent months also suggested that had Clinton been running rather than Obama she would have won by a landslide.
The Secretary of State has also been in the White House before as the First Lady, as well as previously being New York Senator. That is more experience than most candidates she could possibly come up against and is another box ticked for her presidential credentials.
However, the dust is still settling on the 2012 presidential elections so no one will expect any kind of announcement anytime soon, although her actions over the coming few years will certainly speak louder than words as an indicator for her ambitions for 2016.
Hillary Clinton Running for President in 2016