Hillary Clinton Tells Pennsylvania Church Presidential Election Is About 'Love Over Hate'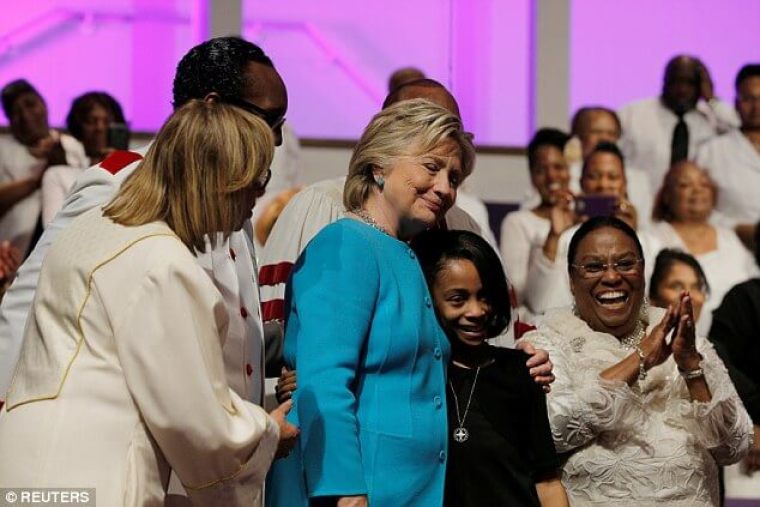 Democratic presidential nominee Hillary Clinton spent her final Sunday morning before Tuesday's election at a Pennsylvania church service, where she argued that the choice between her and Republican rival Donald Trump is one of love versus hate. 
"Here in America, when our founders said all men are created equal, well they left out African Americans, they left out women, they left out a lot of us, but that didn't stop generations of Americans from pushing forward, making clear we were not satisfied with just half measures," Clinton said to the largely African-American congregation of Mount Airy Church of God in Christ, according to Breitbart News.
"We didn't all get to vote, did we?" she added.
Clinton called on Americans to make a wise choice on Tuesday and help move the country forward towards a "more perfect union."
"We know the painful chapters of our past, but the greatness of our country lies in the willingness and our ability to right these wrongs," Clinton argued.
Philly.com pointed out that Clinton also urged voters to "stop the movement" that she argued was seeking to destroy President Barack Obama's legacy, in reference to the campaign of Republican rival Donald Trump.
"It's about choosing unity over division, love over hate," she said.
The report stated that "the congregation of several hundred greeted Clinton with cheers and shouts of 'hallelujah' and 'amen' as she spoke of Jesus' great commandment to love one another."
The Democratic candidate apparently said that "Jesus knew that we all weren't gonna love each other, but we had to get up every day and keep trying."
Clinton, who is a Methodist, has argued on a number of occasions in the past that her Christian faith has guided her views on politics and life.
"I have been raised Methodist. I feel very grateful for the instructions and support I received starting in my family but through my church, and I think that any of us who are Christian have a constantly, constant, conversation in our own heads about what we are called to do and how we are asked to do it, and I think it is absolutely appropriate for people to have very strong convictions and also, though, to discuss those with other people of faith," she said earlier this year.
Trump, on the other hand, has sought to paint a very different picture of Clinton, and late in October argued that evangelicals will lose their religious freedom if Clinton wins the election.
"The truth is, religious liberty is under tremendous stress. Second Amendment is under stress, if Hillary Clinton gets in you're not going to have religious liberty," Trump said in an interview.
Some evangelical theologians, such as Michael Brown, have also warned that conservative Christians have much to lose from a Clinton presidency.
"She will declare war on certain aspects of your faith," Brown wrote in an Op-ed for The Christian Post.
"Your religious liberties will be targeted, and your biblical beliefs will be branded disturbing, if not downright dangerous," he added.