Hillary Clinton's Sunday Pulpit Address: Romans 12 Says Be Nice to Reporters (Video)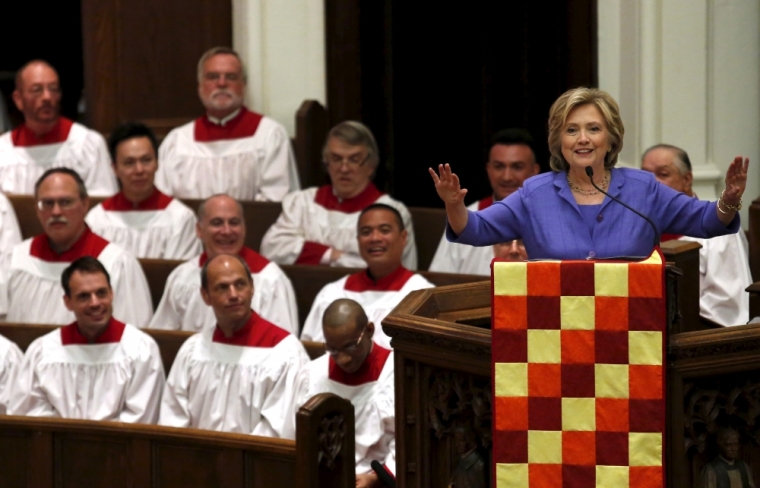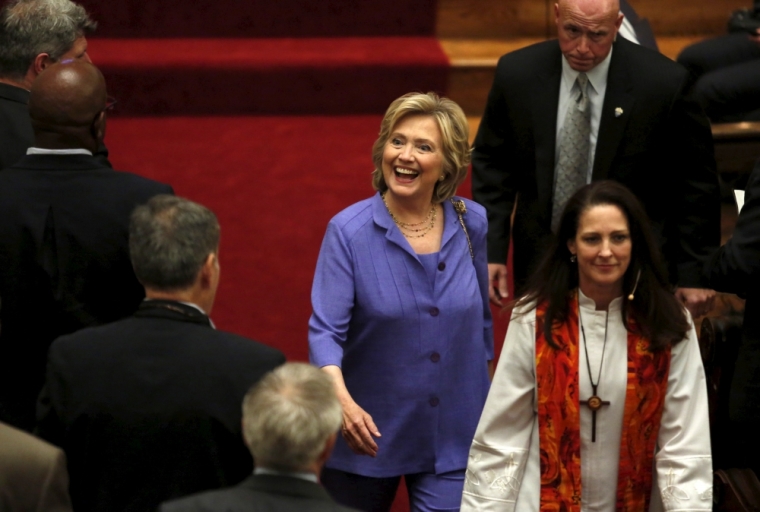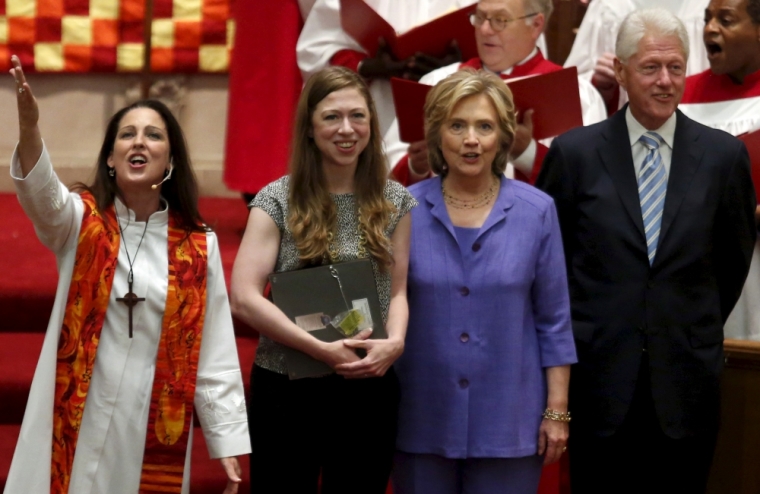 View Photos
Democratic Presidential frontrunner Hillary Rodham Clinton vowed to be much nicer to the press during a speech at the bicentennial celebration of the Foundry United Methodist Church in Washington on Sunday.
Two months after Clinton campaign aides roped off reporters at a 4th of July parade in New Hampshire and subsequently drew criticism from Republicans, the lifelong Methodist has promised to be nicer to reporters. The issue was raised when Clinton received unsolicited advice from the church's former pastor J. Philip Wogaman, who ministered to the Clintons during President Bill Clinton's two terms in the White House during the 1990s.
Clinton was joined by Bill, her daughter Chelsea and fellow congregants at Foundry's 200th anniversary celebration where she spoke from the pulpit.
"I got some advice from Dr. Wogaman just earlier this morning, which I promise I will put into effect, He basically said, 'if you're going to read and listen to Romans 12 you got to be nicer to the press,'" Clinton, 67, said.
The self-described "Methodist both by birth and by choice" added: "So to my friends in the press, I will certainly take that to heart."
Foundry UMC did not respond to The Christian Post's request for comment by press time.
The Epistle to the Romans is the sixth book in the New Testament and it was written by the Apostle Paul. It speaks to the need for salvation through Jesus Christ as well as the importance of humility, love and acceptance.
Romans 12: 9-14 reads: "Love must be sincere. Hate what is evil; cling to what is good.
"Be devoted to one another in love. Honor one another above yourselves … Bless those who persecute you; bless and do not curse. … Live in harmony with one another. Do not be proud, but be willing to associate with people of low position. Do not be conceited."
In the past, Clinton has been criticized for having a seemingly tense relationship with the press, although she now appears to be working to improve this under advice from her aides.
Also during her speech, Clinton touched on how faith and family remains at her forefront, while alluding to the need for unity and strong leadership in the White House.
"Now, too many people want to let their light shine but they can't get out from under that bushel basket," she said. "It is way too heavy to lift alone. And that's where the village comes in. Together as a church, a community and yes a country we can open doors that are still closed. We can lift each other up and leave no-one behind."
At one point Clinton, who was raised in the First United Methodist Church in Park Ridge, Illinois, cited Paul's letter to the Romans while alluding to the importance of honoring one another's talents and lifting others as we climb.
"The longer I live, the more places I go and people I meet, the more certain I am that everyone has gifts to be recognized and celebrated," she said. "Together our contributions add up to something greater than we could offer on our own. Isn't that the goal of a community or a congregation?"
She added: "It is not enough to just use our gifts, we also have to make it possible for other people to discover and use their gifts, too. ... Talent is universal, but opportunity is not. Too many people are held back by economic pressure and social barriers. There are still hard truths to face about race, gender and sexual orientation in America."
Last year, Clinton referred to the Bible as having "the biggest influence on my thinking" in a New York Times interview.
The United Methodist Church is the largest mainline Protestant denomination and the third-largest Christian denomination in the United States.
Clinton previously opened up about her Methodist faith while speaking to nearly 7,000 women at the United Methodist Women's Assembly in Louisville, Ky.
"I have always cherished the Methodist church," she said, "because it gave us the great gift of personal salvation but also the obligation of social gospel."
The Presidential hopeful once appeared on televangelist Pat Robertson's show, "The 700 Club," and said: "My faith has sustained me, it has informed me, it has saved me."