Women's Chorus Replaces 'Jesus' With 'Hillary' in Song at Clinton Campaign Stop in New Hampshire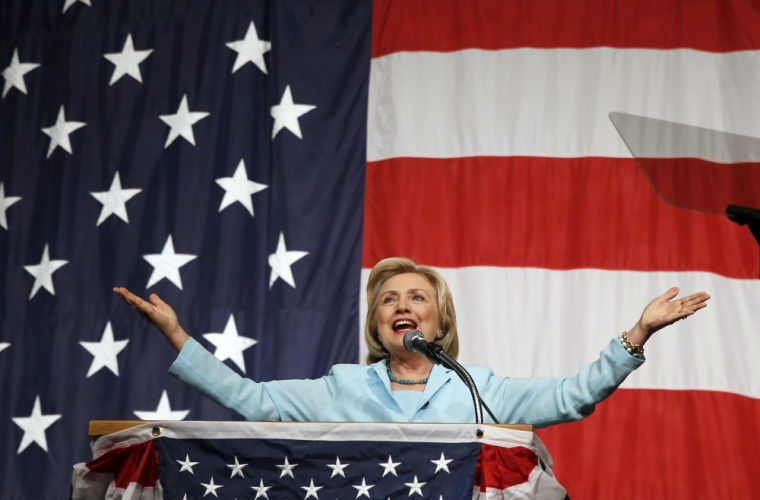 A women's chorus has been taped replacing the name "Jesus" with "Hillary" while singing the African-American spiritual song "Woke Up This Morning" during a campaign stop for Democratic presidential candidate Hillary Clinton in Portsmouth, New Hampshire.
Voices From the Heart, which consists of 200 members, was invited by Clinton to sing at the event on Saturday, The Daily Caller reported.
The group decided to sing the African-American spiritual song "Woke Up This Morning (With My Mind On Jesus)," but as shown in the video, decided to replace "Jesus" with "Hillary," such as in the line "Woke up this mornin' with my mind, stayin' on Hillary."
Clinton has been hoping to improve her polling numbers in the state, after an NBC News/Marist poll released on Sunday showed Vermont U.S. Sen. Bernie Sanders leading by nine points.
Voices From the Heart have also sang songs for other Democrats, including a 2009 YouTube video tribute to President Barack Obama to celebrate the beginning of his presidency.
The Facebook page of the group announced in a post its excitement at Clinton's invitation:
"CALLING ALL VOICES SINGERS, Active Singers and Sabbatical Singers! Please check your email for details of an amazing invitation we've received from the Hillary Clinton campaign to sing SATURDAY MORNING in PORTSMOUTH," a message read.
A description for the chorus states that it "sings a rich mix of soulful music from many cultural and musical traditions. Women of all ages and all walks of life attend weekly rehearsals at South Church in downtown Portsmouth."
Clinton has talked openly about her Christian faith on a number of occasions. She was raised in the First United Methodist Church in Park Ridge, Illinois, and said that a relationship with God has been important to her since a young age.
Clinton, who is a former secretary of state, has also said that she wants to change the perception that Democrats are hostile toward religion.
"[It] has been viewed as a part that didn't understand the values and way of life of so many Americans," the presidential candidate said in 2008 at the CNN Compassion Forum. "It's important that we make clear that we believe people are people of faith because it is part of their whole being. It is what gives them meaning in life."