'Hillsong — Let Hope Rise' Film Director Says He's Not a Believer, but Praises Worship Band's Mission to 'Make Music to Save Souls'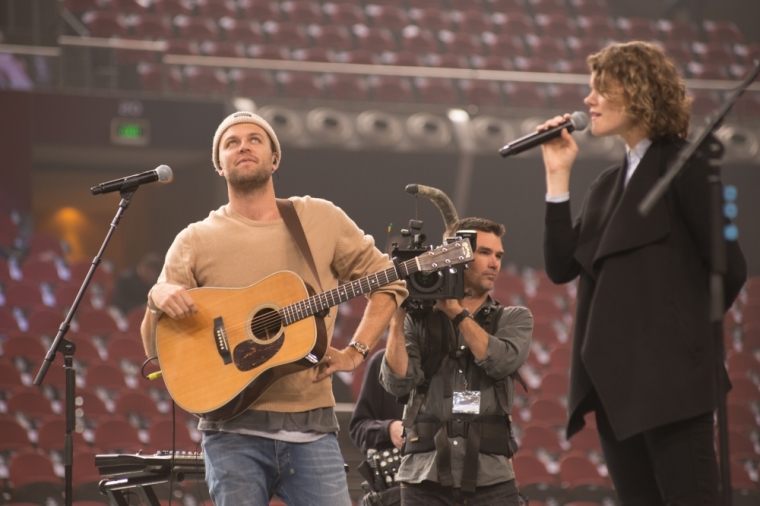 The first-ever film about Australian megachurch band Hillsong United will hit theaters across the United States in September. Michael John Warren, who directed "Hillsong — Let Hope Rise," says working with the group has made him a better person, even though he's not a believer.
The highly anticipated film chronicles the journey of Billboard award-winning Australian worship band, Hillsong United, which began in Sydney in 1998 as a pastime for youth at church, has since grown into a global sensation. The band is led by Joel Houston, the son of Hillsong founders and pastors Brian and Bobbie Houston, and all 11 band members are either volunteers or employees of the internationally recognized church.
"Their mission — without exaggeration — is to make music to save souls. They are trying to get people to discover Jesus," Warren, who has worked with Jay Z and Nicki Minaj, among other Hollywood stars, said in a statement on the film's website. "That's probably the most righteous reason to make music. Whether you're religious or not, it's hard to look at that and not feel good about it."
"I'm not a religious person," he added, "but I learned things from working with and becoming friends with the members of Hillsong United. They are lovely people. They are sincerely giving. They are sincerely supportive. I don't believe the same things they believe, but I'm learning from them and I'm taking lessons from them, and I believe I've become a better person having spent a year studying them."
Hillsong United was not available to provide comment about Warren's statement by press time.
"Hillsong — Let Hope Rise" is produced by Jonathan Bock of Grace Hill Media, along with Matthew Weaver and Ben Field. Phil Cooke of Cooke Pictures has been named as an executive producer, along with Wayne Hughes Jr. and Greg Campbell of Cantinas Entertainment, who's financing the project.
In January, Warner Bros. abruptly pulled the film from its distribution and Relativity Studios, the third-largest mini-major film studio in the world, will now distribute the project. The film is now slated for release on Sept. 30.
"My hope is that the film gives people new perspective of what it actually looks like to believe in who Jesus is, and what it means to live a life that reflects His acceptance and love," band member Jad Gillies said previously. "I hope it encourages those who have never been into a church that perhaps church could be a safe place for them — somewhere that they could feel at home, encouraged and inspired to do great things."
In 2013, Hillsong United's third studio album Zion peaked at No. 1 on Christian album charts in Australia, the U.S. and the United Kingdom. Last year, the band scored its first-ever American Music Awards nod and in May, they won a Billboard music award in the Top Christian Artist category ahead of the release of their fourth studio album Empires.
Joel previously told The Christian Post that while the accolades are gratifying, the band's purpose has always extended far beyond industry recognition.
"I feel like this award belongs to the many in our church and others around the world who faithfully give their time and energy week in week out, often behind the scenes and with no desire for accolade or applause," Joel told CP in May. "If anything these songs and whatever they achieve are the overflow of that spirit to simply serve God and serve others."
He also shared that the band's goal is never to write "cool" music, but rather to share the incredible story of Jesus.
"I'm not trying to write songs that are cool or hip or that keep up to date with whatever is out there on the radio," he said. "We're genuinely just trying to write songs that are honest reflections of a creative God and music that helps people connect with God."
Hillsong, which is headquartered in Sydney, has churches around the world with more than 100,000 weekly attendees, including thriving congregations in New York and Los Angeles. An estimated 50 million people sing their songs every Sunday.