Hillsong's Joel Houston declares on tour God is doing something new in America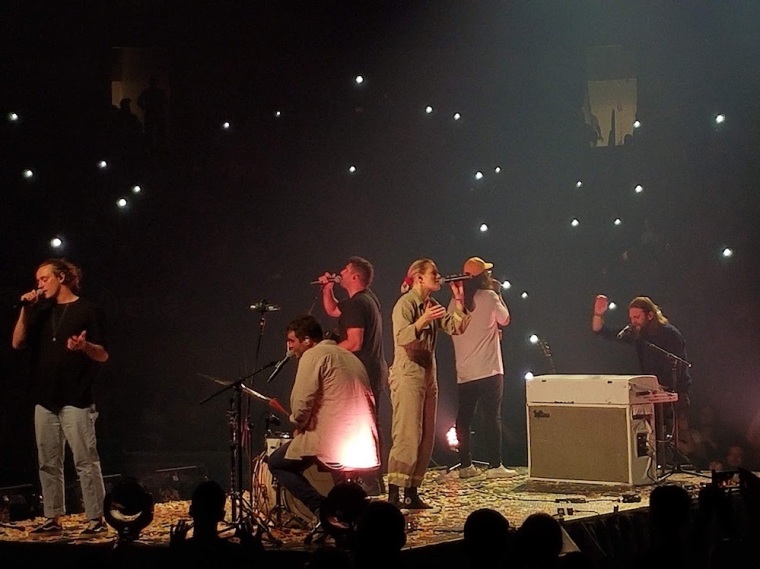 ORLANDO — Multiplatinum-selling and award-winning Christian worship band Hillsong UNITED is currently on The People Tour MMXIX and during a recent stop in Florida, frontman Joel Houston said he is seeing a change in the way God is moving in America.
"If ever there was a time for people to get together and to be unified around something, that ultimately is the only thing I believe in this world has the ability to bring anything and everyone together, that's the message we have in Jesus," Houston said at his Orlando concert Tuesday (May 7). "The Gospel is for all people, whosoever."
Hillsong Church was founded by Houston's parents, Brian and his wife, Bobbie, in the suburbs of Sydney, Australia, in 1983. It has now grown from a single church to an international ministry that has churches in 21 countries on six continents, including London, England; Paris, France; Sao Paulo and Rio de Janeiro, Brazil; Cape Town, South Africa; Tel Aviv, Israel; and three cities in the United States.
The church has an average global attendance approaching 130,000 weekly.
In the U.S., Hillsong is recognized for its thriving congregations in New York City, Los Angeles and Phoenix, and their services are frequently attended by many A-list celebrities.
Houston is currently the worship pastor of Hillsong NY but it's been a couple of years since UNITED has toured the country together. 
The minister revealed that since he's been on the road last, he's noticed a difference in the spiritual atmosphere.
"We've had an incredible week, seen God do amazing things," Houston testified at the concert attended by The Christian Post. "Every single place we've gone to it's just like something's happening. It's different than the last time we were here."
"I believe God's doing something, stirring something up and the news might not be talking about it yet because they don't know. When He starts moving, He starts moving in the hearts of His people and that's us. So why not start something here tonight in Orlando, Florida," he encouraged.
Along with performing their hits songs, "Oceans" and "Not Today," UNITED encouraged everyone at the UCF campus CFE Arena to trust in Jesus. They even led the band in reciting the sinner's prayer.
"God loves you more than you could ever imagine just the way you are, you don't have to change anything, just you, He knows you," Houston preached.
UNITED has sold more than 4.7 million albums and remains the No. 1 Christian artist on all social media platforms with over 10.5 million fans combined. Their new live album PEOPLE, which is now available, just celebrated its largest career debut to date coming in at No. 1 on Billboard's Top Album, Top Christian/Gospel Album and Top Current Album charts. The album also garnered the No. 1 spot on HITS Top 50 Chart and No. 2 on Billboard's Top 200.
The album is centered around "unity" as revealed in a prior interview between CP and UNITED.