Hindu Extremists Threaten to 'Cut Christians Into Pieces' If They Continue to Worship Christ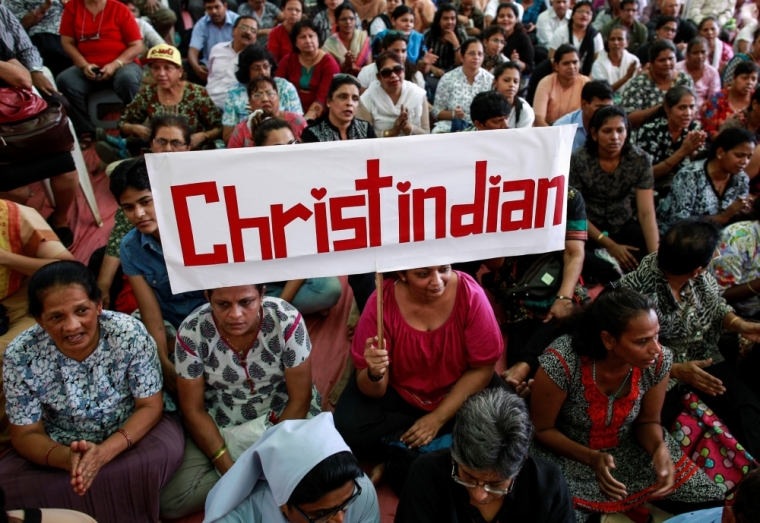 Hindu radicals in India have intensified their threats, forced conversions and persecution of Christians, saying they would cut them "into pieces" if they continue to worship Christ. Such threats have already forced at least 10 Christian families in a northwest province to flee from their homes and villages.
Church leaders told the Christian persecution watchdog Morning Star News that the 10 families fled from their homes in the Indian state of Rajasthan, which shares a border with Pakistan, because of death threats coming from Hindus seeking to turn Christians away from Christ and "reconvert" them to Hinduism.
The Hindu extremists have threatened to harm anyone who mentions Christ's name or participates in church functions. The threats have prevented Christians in the area from worshiping for over two months.
"Since June 27, we have not been able to have any kind of worship meetings," pastor Malkeet Singh told Morning Star. "The extremists threatened to harm us if we utter the name of Christ or conduct any Christian meetings."
The Hindu community's pressure against Christians got even worse in mid-July when hundreds of Hindus held a "homecoming to Hinduism" gathering in front of the home of Pastor Pratap Singh. But Singh, who has preached to his village for over 15 years, had been in hiding for over a month as a result of death threats he has received since last Christmas.
However, the Hindus hunted Singh down and brought him to his house for the conversion gathering. He and his family were forced to sign statements saying they are Hindu, according to the regional secretary of the Friends Missionary Prayer Band, Rajamman Johnson.
"The extremists had been following the movement of Pastor Singh closely for a long time, and then they dragged him back from his hiding place to forcefully convert him, along with 10 members of his family, to Hinduism in an hour-long Ghar Vapsi [conversion] ceremony,"
"About 600 people gathered in front of Pastor Singh's house, put up the idol of the Hindu god Hanuman, forced Pastor Singh and 10 family members to worship the idol and forced him to sign a paper which said, 'I am willing to be a Hindu,'" Johnson continued. "They forced them to drink water procured from the Ganga River and put kumkum [red marks] on their foreheads to show that they were now Hindus."
Johnson also explained that in another village about 7 miles away from Singh's village, 50 Christians from surrounding villages were forcefully converted to Hinduism in a late June conversion ceremony.
"The Hindu extremists collected 50 Christians from Nakhnool, Kota and Nikkach villages and conducted a Ghar Vapsi on the land of the FMBP, and the extremists further threatened to kill and cut the Christians into pieces if they ever go back to church again," Johnson explained.
Another Christian leader from the area, Anil Masih, told Morning Star News that Christians in his village have also stopped gathering for worshiping services because of the threats.
"The extremists threatened to socially boycott the Christians if they continue to worship Christ and threatened to kill them if they submit a police complaint against anyone," Masih said.
Johnson explained that since the election of Prime Minister Narendra Modi and the Bharatiya Janata Party-led National Democratic Alliance last may, radicals in Rajasthan have claimed that they are the state leaders of the BJP party and that they have the power to prevent worship if they want.
"The support they get from the police and the village head emboldened their actions," Johnson added.
Persecution against Christians is not just a problem limited to the state of Rajasthan, as worshippers in the Maharashtra state have plotted to prevent Christians from worshiping Jesus, Pastor Benjamin Gomes of New Life Grace Ministries told Morning Star.
"On every Sunday for more than a month now, around 100 Hindu extremists gathered near where we are conducting Sunday meetings and threatened to harm some of our church members if they continue to attend the prayer meetings," Gomes said. "Even the village head told us to stop the meeting."
In the town of Attingal in the Kerala state in late June, hundreds of Hindus surrounded a Christian church during a Sunday church service, broke into the church and attacked the congregation. After the attack, the Hindus vowed to burn the church's pastor alive if the congregation continued to worship there.
"Prime Minister Narendra Modi's first year in power has marked a very difficult year for Christians in India," William Stark, South Asia regional manager of the Christian persecution watchdog group International Christian Concern, told The Christian Post. "The anti-Christian and anti-minority activities of radical Hindu nationalist groups across India has seen a dramatic escalation."
"The culture of impunity these radicals enjoy under the current government has only encouraged more intolerance and violence," Stark continued. "To put things in perspective, it took nine months and two public admonishments from President Obama to get Prime Minister Modi to even speak out on the issue of growing religious intolerance in his country."