Hip-hop duo Grits speak out on faith deconstruction in Christian music, issue challenge to next generation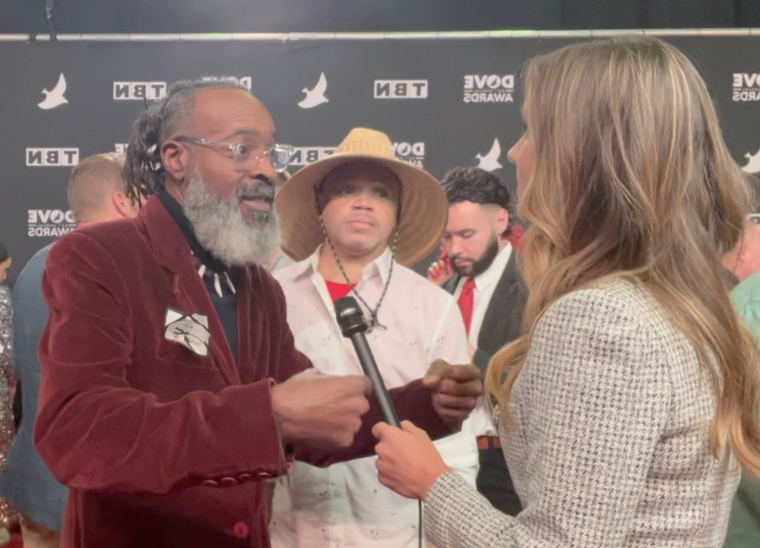 NASHVILLE, Tenn. — Christian hip-hop duo Grits weighed in on their Christian music colleagues who have deconstructed and left the faith in recent years and challenged the next generation of musicians to stand firm on the Gospel amid cultural changes.
Stacey "Coffee" Jones and Teron "Bonafide" Carter, who have been on the Christian music scene since 1995, spoke to The Christian Post on the red carpet of the 2023 GMA Dove Awards about their fellow artists who have publicly renounced Christianity despite having successful careers in CCM.
"The bottom line is, you're going to have people who go on a journey in life, and it comes to a place where they do question what they believe and all that. And guess what? That's OK. It's OK to ask Him, 'Is this really real?' It's OK. Because it puts Him in a position to have to prove it to you. So, He allows you to go with whatever you want, and He won't go anywhere," Carter told CP. 
The artist referenced the story of the Prodigal Son, adding: "[The father] was like, 'I love you, but I'm not going to make you do anything. I'm going to cover you.'"
"Anyone who has 'stepped away from the faith,' that's not really what it is; it's that they're coming to a place where they're really getting ready to get close to Him," Carter continued.
"You know why? Because you only have Him to lean on when everybody else is gone. So the further away you get from Him, you'll realize you get new friends and new stuff, and then one day, you'll be left by yourself and no friends, no nothing. And the only person you can call on is the One that you left back there. But you realize, no, He just followed you the whole way and just played the background until you were ready to really talk."
In recent years, notable Christian singers, from Hillsong's Marty Sampson to Hawk Nelson's Jon Steingard, have publicly renounced their faith after a period of "deconstruction." Worship artist David Crowder previously opened up to CP about his own brief "deconstructive moment" after having a negative "institutional experience" with the Church.
In a recent interview with CP, hip-hop artist Lecrae shared how, after feeling rejected by the Christian community after speaking out against racial injustice, he went to a dark "place of doubt and deconstruction."
"I had kind of made my mind up that this was the only expression and iteration of Christianity that was valuable and that made sense, and if these people have turned their back on me, then maybe it wasn't real to begin with. And that hurt," he said. 
However, the artist shared how his experience with deconstruction actually strengthened his faith: "Many movements from the reformation to the civil rights movement involved deconstruction using Scripture and then reconstruction. I offer this as an encouragement to those struggling. My faith is stronger than ever I've been there and healing is possible," he tweeted in 2022.
Lecrae also told CP, "Deconstruction is not a bad thing if it leads to reconstruction," adding: "Sometimes you have to demolish a building that has mold and then build something else on that foundation."
"We're not getting rid of the foundation. The foundation is Christ. But we're building on that foundation and tearing down some things that were unnecessary."  
As veterans in the Christian music industry, Grits, who performed at the awards show alongside TobyMac, issued a challenge to up-and-coming Christian musicians to stay faithful to the Gospel amid a constantly changing landscape. 
"They need to stay faithful to who they are," Carter stressed. 
Jones highlighted the importance of being a voice of authenticity in Christian music. He lamented that some are swept away by a message that promises prosperity and blessing in exchange for faith, but the reality of the Christian life is far more complex. 
"I would say, go into it selling reality and not fantasy," he said. "And a lot of times, [the church says], 'If you give enough money, God will bless your life.' That's the wrong message to be sending. That's why we're the middleman because we don't have to live under … rules and regulations. We are real."
Carter added that Christianity is not about following a set of rules and rituals but about building a deep, personal connection with God. The duo stressed that faith is a journey filled with questions, doubts and ultimately, a closer walk with God.
"We definitely make it our business to break the bonds and bondage of religious mentality," Carter said. "Religion, by definition, is just tradition and rituals. But He calls us into His relationship. And guess what? Sometimes your relationship, if you are married, doesn't go like the fairy tale that you want to believe, sometimes you don't even like each other [person]. But you were called to love each other. And sometimes that can be painful, and sometimes there can be distance. And sometimes it can be really great."
"That's why we are advocates about pushing away religion," he continued. "And when we say 'church,' we're not talking about everybody; we're talking about a religious mindset that keeps people from having that personal connection that He's longing to have with them."