Hispanic Action Network Founder Says God's Answer to Prayers for Revival in America 'Is Wrapped Up in Immigration'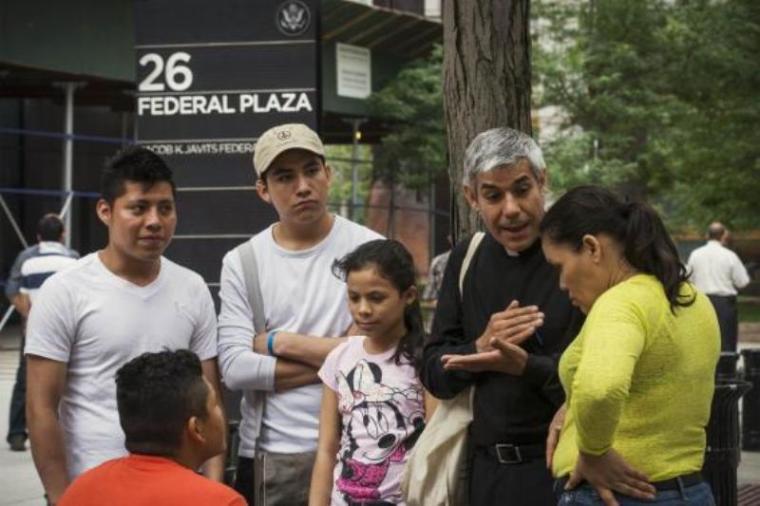 The founder of the U.S. Hispanic Action Network says that God is answering America's prayer for revival and He's "wrapping it up in immigration."
Gonzalez spoke to those assembled at Skyline Church in La Mesa, California, for the Future Conference, calling on the Church to be open to what God is doing through immigration.
"God is bringing them [revivalists], but we let the media and the pundits make it a wedge issue inside the Church," he declared.
He called the issue of immigration "more prophetic" than it is a political issue, but then quickly turned to the political over the prophetic side of immigration and said: "At the end of the day you are going to need 40 percent of the Latino vote to get into the White House.
Gonzalez argued that, in his view, Social Security, Medicare, and other entitlement sustainability will be impossible without immigration.
"We can't keep all of our social programs without Latino immigration," he asserted, praising Latino voters as being "politically conservative" and people who will fight to protect marriage and the right to life.
"Fifty Thousand Latinos become eligible to vote every month, and it will be that way for the next 20 years," Gonzalez emphasized. "The only way any party grows from here on out is by reaching the Hispanic community."
He continued: "What is taking place, and it has been prophesied, is that one of the ways God moves is through people groups. He sets up a model, and moves through people groups, but the blessing is for everybody."
Gonzalez also cited scriptures in Genesis about God's chosen people of Israel to buttress his statement.
"God first moved through the white people, and then he put his finger [using the historically black Church] on the Azusa Street Revival. This third group is the Hispanic Latino Church of America," he said.
Gonzalez then further insisted that "the enemy" is trying to divide us on immigration because "if we get this right the revival will sweep through this nation."
He pointed to efforts in Florida, where Hispanic voters in churches helped elect the Republican governor over a more liberal candidate.
While Gonzalez said he doesn't support blanket amnesty for illegal immigrants, he noted that programs like E-verify, guest worker reform, and comprehensive background checks and tests to secure an opportunity for a path to legalization are all needed.
He also stressed the importance of allowing nuclear families, despite current immigration law, to be able to stay together or be reunified in the U.S. Immigration reform has largely been stalled by lawmakers in Washington because of political opposition and a federal district court in Texas recently halted President Obama's executive action this month.
Gonzalez added that because of the new wave of immigration, the "best days for America" are still ahead of us."