House Democrats pass 'No Ban Act' to prevent future presidents from instituting a 'Muslim ban'
House Democrats pass 'No Ban Act' to prevent future presidents from instituting a 'Muslim ban'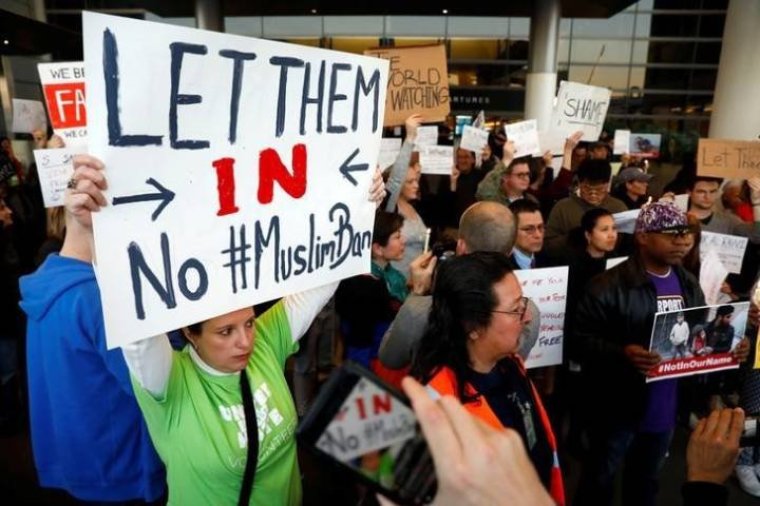 The Democrat-led House of Representatives passed two bills in response to former President Donald Trump's efforts to stem illegal immigration and limit travel from countries tied to terrorist activity, the latter of which was pejoratively called a "Muslim ban."
Even though President Joe Biden lifted Trump's travel ban by executive order in January, the House passed the National Origin-Based Antidiscrimination for Nonimmigrants Act, also called the NO BAN Act or H.R. 1333, by a vote of 218-208 Wednesday. 
"This bill imposes limitations on the President's authority to suspend or restrict aliens from entering the United States," noted the bill's official summary. "It also prohibits religious discrimination in various immigration-related decisions, such as whether to issue an immigrant or nonimmigrant visa, unless there is a statutory basis for such discrimination."
In 2017, Trump signed an executive order that limited immigration from certain Muslim-majority countries where individuals were deemed to pose a terror threat to the United States. 
The countries that were affected by the travel ban before Biden's revocation included: Eritrea, Iran, Kyrgyzstan, Libya, Myanmar, Nigeria, North Korea, Somalia, Sudan, Syria, Tanzania, Venezuela and Yemen.
The travel ban was first set in motion by former President Barack Obama, who in December 2015 signed into law the Visa Waiver Improvement Program and Terrorist Travel Prevention Act, which designated Iraq, Iran, Syria, Yemen, Sudan, Libya and Somalia as countries of concern.
While Biden lifted Trump's travel ban on Jan. 20, five days later he imposed his own travel ban on non-U.S. citizens from South Africa, Brazil, Europe and the U.K. in response to the COVID-19 pandemic. A week earlier, Trump had rescinded the entry bans on non-U.S. citizens who had been in the U.K., Brazil and many countries in Europe, but the Biden administration reversed it and added South Africa. 
The House also passed the Access to Counsel Act, also known as H.R. 1573, by a vote of 217-207. The bill guarantees that individuals seeking to legally enter the U.S. can contact a family member or adviser if in custody for an extended time period.
Democrat House Speaker Nancy Pelosi, a supporter of both bills, said in her speech before the House voted on the NO BAN Act that it made sure "that no president or administration can ever again abuse its authority by waging discrimination on the basis of religion."
"The NO BAN Act strengthens the Immigration and Nationality Act to prohibit discrimination on the basis of religion. And it restores the separation of powers by limiting overly broad executive action to [issue] future religious bans, which are fundamentally un-American," said Pelosi.
"Passage of these bills, that both are on the floor — the NO BAN bill and the Access to Counsel bill — should not be controversial. Over 400 immigrants' rights organizations, faith based organizations, business groups and civil rights organizations support the NO BAN Act. And many more support the Access to Counsel Act."
Rep. Tom McClintock, R-Calif., opposed the Act, noting in a speech before the House that the measure hindered national security and anti-terrorism efforts.
"Ronald Reagan and George Bush used this authority to protect our country. So too did Barack Obama and even Joe Biden as recently as January 25th," he said.
"The President's ability to protect against threats, negotiate security protocols and when necessary to retaliate against discriminatory actions by other countries depends on having this power at his immediate disposal."
Trump garnered controversy and litigation when he instituted a travel ban in 2017. 
In June 2018, the United States Supreme Court ruled 5-4 in Trump v. Hawaii that the president could in fact issue a travel ban for the sake of national security concerns.
Then Supreme Court Justice Anthony Kennedy authored a two-page concurring opinion to the slim majority, warning that such travel bans should be respectful of religious freedom issues.
"[It] is an urgent necessity that officials adhere to these constitutional guarantees and mandates in all their actions, even in the sphere of foreign affairs," wrote Kennedy.
"An anxious world must know that our Government remains committed always to the liberties the Constitution seeks to preserve and protect, so that freedom extends outward, and lasts."