House Republicans Sing 'Amazing Grace' Together to Open Debt Limit Meeting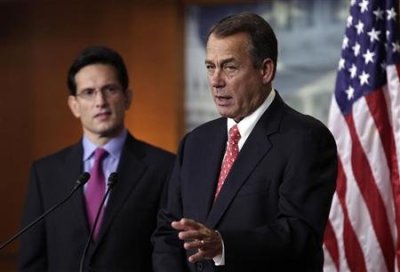 House Republicans opened a debt limit meeting Tuesday morning with a group singing of "Amazing Grace."
"All three verses, without the words written out," Rep. Michael Burgess (R-TX) told a New York Times reporter. "Isn't that impressive?"
Rep. Steve Southerland (R-IL), who was in charge of leading the morning prayer, broke out in song, and slowly the entire group began to sing along, a LA Times writer reported.
After hearing about the other chamber's singing exploits, Rep. Gerry Connolly (D-VA) could not resist commenting.
"Isn't that usually sung at funerals?" he told The Huffington Post.
House Republicans are currently discussing legislation that would delay a tax on medical devices for two years and eliminate health care subsidies for the president and Congress, although Congressional staffers would still be covered.
The bill contrasts with a Senate bill that barely touches Obamacare. Both the bills could potentially set the stage for another financial showdown next year as they call for the government to re-open through mid-January and extend the debt-limit into February. However, they would also require that a broader tax and spending plan into the next decade be reached by negotiators in December.
Unless Congress and the President pass a bill before Thursday that raises the debt ceiling, the threat of the government potentially defaulting on its loans would be possible, as it would not having enough money to provide for all areas it had planned. According to The New York Times, repercussions would likely be broad and wide-ranging, affecting anywhere from state budget offices, foreign capitals, stock markets and corporate boardrooms.
Currently, the federal government is in the midst a 15 day government shutdown. Both Republicans and Democrats have blamed the other party for reaching an impasse. According to an ABC News/Washington Post poll released yesterday, 74 percent of Americans disapprove of how congressional Republicans have handled budget negotiations. Meanwhile, 61 percent of Americans also disapprove of the way Democrats have handled the stalemate. As for President Barack Obama, over half the country, or 53 percent of Americans, also disapprove of his performance.