House Speaker Mike Johnson 'wholeheartedly' endorses Trump: 'I'm all in'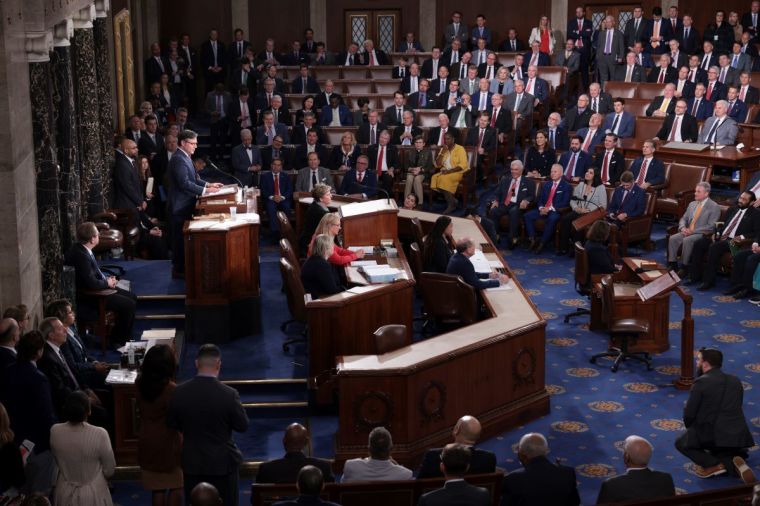 House Speaker Mike Johnson, R-La., formally endorsed former President Donald Trump on Tuesday, asserting the necessity of making President Biden a "one-term president."
"I have endorsed him wholeheartedly," Johnson said during an interview with CNBC host Joe Kernen, who probed regarding the new speaker's position on the former president.
Johnson said he had been "one of the closest allies that President Trump had in Congress."
"He had a phenomenal first term those first two years, as you all know. We brought about the greatest economic numbers in the history of the world, not just the country, because his policies worked, and I'm all in for President Trump," he added.
.@SpeakerJohnson: "I'm all in for President Trump. I expect he'll be our nominee...we have to make Biden a one term president." pic.twitter.com/oVtmkRkQVj

— MAGA War Room (@MAGAIncWarRoom) November 14, 2023
Johnson believes Trump will likely be the Republican nominee amid the dwindling GOP primary field. Sen. Tim Scott, R-S.C., withdrew earlier this week, following in the footsteps of former Vice President Mike Pence, who dropped out on Oct. 28.
While he was still serving as a state lawmaker in Louisiana, Johnson had been critical of Trump during the 2015 GOP primary, claiming in a Facebook post that he lacked "the character and the moral center" to be president, according to The New York Times.
"I am afraid he would break more things than he fixes," he wrote. "He is a hot head by nature, and that is a dangerous trait to have in a Commander in Chief."
Johnson, who first ran for Congress in 2015 and was elected the next year, told the outlet Monday that his view of Trump, whose style he noted was different from his own, changed after he got to know him.
"During his 2016 campaign, President Trump quickly won me and millions of my fellow Republicans over," Johnson told The Times. "When I got to know him personally shortly after we both arrived in Washington in 2017, I grew to appreciate the person that he is and the qualities about him that made him the extraordinary president that he was."
Johnson also defended Trump during his first impeachment in 2019 and campaigned for him in 2020. He also led the amicus brief signed by more than 100 House Republicans in support of an unsuccessful 2020 lawsuit filed by Texas Attorney General Ken Paxton that urged the U.S. Supreme Court to delay the electoral vote in four swing states amid allegations of fraud.
Johnson's predecessor, Rep. Kevin McCarthy, R-Calif., has yet to formally endorse Trump, telling NBC News last month that while "there is a very good chance I would endorse" him, he is focused on other things.
"Because I've got a Southern border wide open, I have war in the Middle East, I've got things I'm focused on right now," McCarthy said. "I believe President Trump will be our nominee. And I believe President Trump will get reelected."
Despite declining to participate in any debates, Trump has remained the far-and-away leader of the Republican primary pack, garnering more than 58% of support from likely primary voters as of Tuesday, according to national polling data analyzed by FiveThirtyEight. Florida Gov. Ron DeSantis comes in a distant second at roughly 14% support.