Houston Mayor Told Residents to Stay Despite Texas Gov's Warning to Evacuate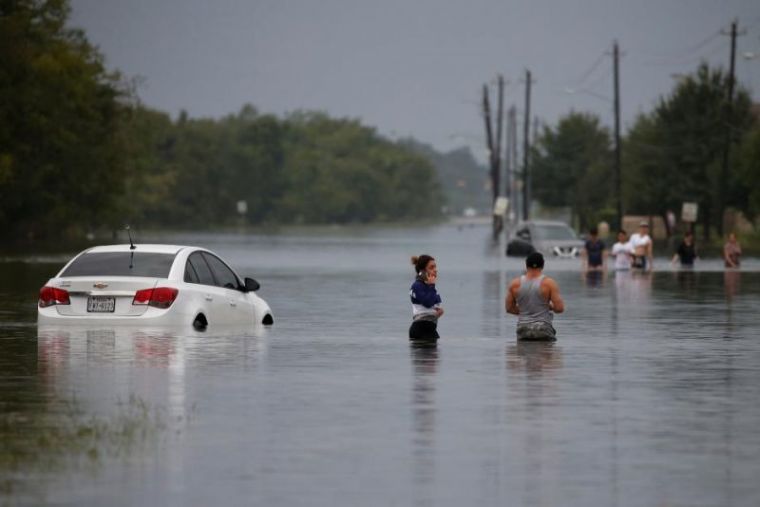 Sylvester Turner, the mayor of Houston where at least five people have died during Tropical Storm Harvey, had told the residents to remain in their homes despite Texas Gov. Greg Abbott's warning about the possibility of flooding and suggestion to "strongly consider evacuating."
At least five fatalities have been reported in the Houston area, according to The Weather Channel, whose meteorologist and hurricane specialist, Dr. Greg Postel, warned that the flooding unfolding in the area "could be the worst flooding disaster in U.S. history."
Mayor Turner said that by Sunday evening, the city had received nearly 6,000 calls for rescues and that more than 1,000 had been rescued, as reported by The Associated Press.
Turner, a Democrat, had not told residents to evacuate even after Gov. Abbott, a Republican, clearly said in a Friday statement to "strongly consider" it due to the deadly Hurricane Harvey, now a tropical storm.
"Even if an evacuation order hasn't been issued by your local official, if you're in an area between Corpus Christi and Houston, you need to strongly consider evacuating," the governor said. "What you don't know, and what nobody else knows right now, is the magnitude of flooding that will be coming. You don't want to put yourself in a situation where you could be subject to a search and rescue."
Retired Army Lt. Gen. Russel Honorè, who led the Department of Defense response to hurricanes Katrina and Rita, said residents should have been asked to flee.
"I'm not trying to be critical of the mayor and history will prove whether they guessed right or they guessed wrong. But I do not believe we should leave people in [a] place we know is going to flood. It's counterintuitive," The Wall Street Journal quoted him as saying.
However, Mayor Turner said Sunday it wouldn't have been wise to evacuate 6.5 million people from Houston and surrounding areas without knowing the course of the storm.
"There is no question in my mind, the best decision and the right decision was to tell people in Houston and Harris County don't get on the road," he stated. "If you think the situation right now is bad and you give an order to evacuate, you are creating a nightmare … The best place is for people to remain in their homes."
Gov. Abbott said he sent messages to Mayor Turner's cellphone, offering assistance, but he didn't hear back from the mayor.
However, Abbott is not criticizing Turner at the moment.
"Now is not the time to second guess the decisions that were made," the governor said. "We have moved beyond whether or not there should have been an evacuation and we are at the stage where we need to respond to the emergencies and necessities the people of Houston have."