Houston Megachurch Hosts All-Star Hurricane Harvey Gospel Relief Concert for Hands-on Relief
Houston Megachurch Hosts All-Star Hurricane Harvey Gospel Relief Concert for Hands-on Relief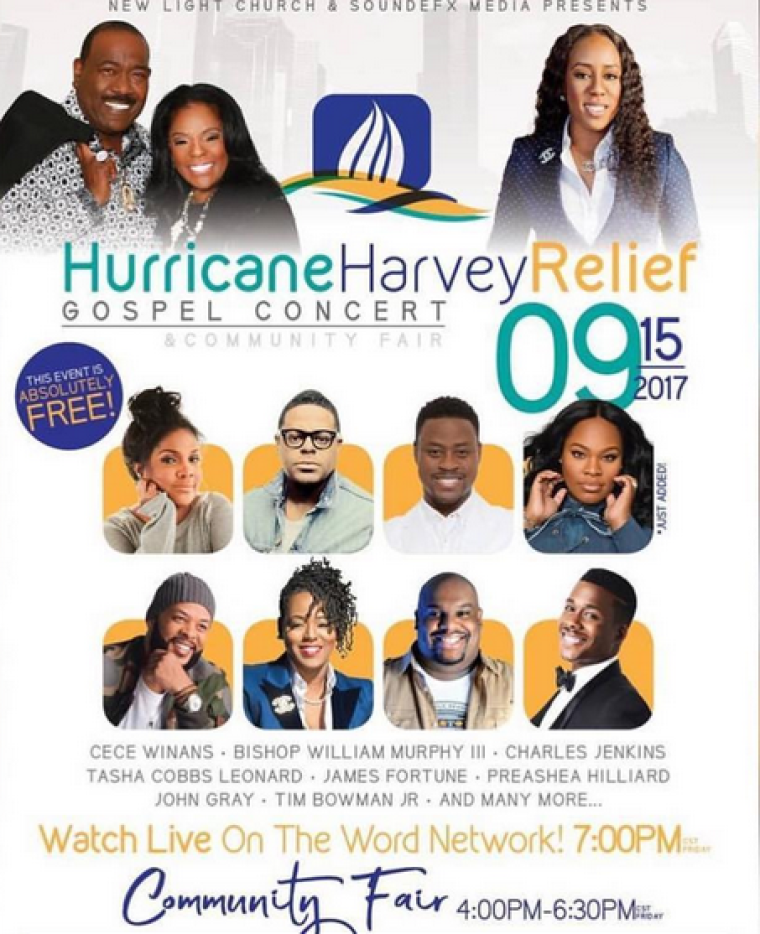 A unique gospel music benefit concert is taking place today to ensure that weeks after Hurricane Harvey devastated areas like Houston, Texas, the countless people who need help will not be forgotten.
On Friday, Houston's New Light Church is hosting Hurricane Harvey Gospel Relief Concert featuring gospel singers CeCe Winans, Tasha Cobbs, James Fortune, Preashea Hilliard, Tim Bowman Jr., Charles Jenkins and Bishop William Murphy. From 4 p.m. to 6:30 p.m., New Light Christian Center will serve as a gospel concert space, distribution center and community fair which will air live on The Word Network.
While a number of people have donated to various organizations and events that have benefited the recent Hurricane Harvey and Hurricane Irma relief efforts, NLC Senior Pastor Designate Irishea Hilliard told The Christian Post why the concert is unique.
"One thing about our Hurricane Harvey relief event, you're going to be able to see that we're actually touching people. We're actually changing lives," Hilliard said. "We're going to make sure that we're making a difference for people."
While the government-backed Federal Emergency Management Agency and the Red Cross provide aid when national disasters occur, Hilliard explained that those resources are not immediately available for everyone in need after disaster strikes.
"Even though you have the assistance of FEMA and the Red Cross, the resources are not there right away to get those things. So we will have the free giveaways on site," she said. "In addition to that, we also have people who have the wisdom because a lot of times you don't have the information you need on how to navigate through this season. I said this from the beginning, it's not a sprint, it's a marathon."
The idea for the Hurricane Harvey Gospel Relief Concert came from native Houstonian Bishop I.V. Hilliard, who founded NLC with his wife, Bridget Hilliard.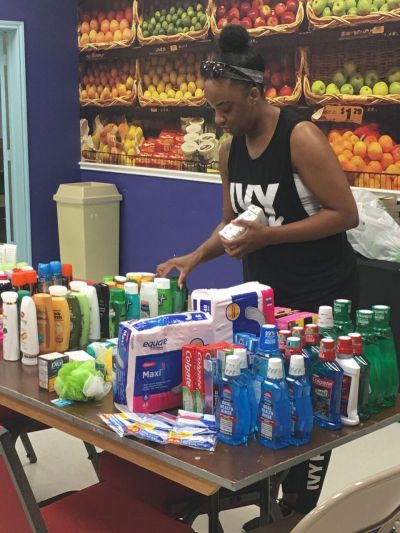 "With all of our hurricane relief efforts it was on Bishop's heart to do a concert and really make it free for the city of Houston. Nothing brings hope like the Gospel and Christian music," Hilliard told CP. "Pulling our resources and relationships together, we reached out to many friends and partners in our ministry to come and be a part of it. So we're excited about bringing a night of hope and also being able to mobilize and do more for our community."
The benefit concert and community fair, supported by Chicago Bulls guard Dwyane Wade's nonprofit organization Wade's World Foundation, will feature giveaways every 30 minutes where cleaning supplies, clothes, toiletries, a dining room and bedroom set will be distributed to those affected by Harvey.
Although the benefit will be hosted at NLC, a well-known preacher from another megachurch in the city is also taking part in the event. Pastor John Gray, the associate preacher at Lakewood Church, is showcasing the unity among members of the body of Christ with an appearance at the concert.
"I think one of the things that you can see in the fabric of Houston and the relief efforts is the ability for us to work together. The thing about Houston, about John Gray and his wife is there is no division in the body of Christ," Hilliard told CP. "To have him on board and to have his wife there, it's just ministering a greater message to city of Houston that the pastors are going to work together to rebuild our city."
The amount of coverage concerning the hurricane may be decreasing, but Hilliard insisted that the needs of the people in and around Houston are not.
"What you saw on TV was real. Every part of Houston was affected and I think that's what made this hurricane more impactful and more devastating on the city," she explained.
"Houston is still in recovery and it's going to take us some time to recover. We still need the support of our country really the support of our believers and people in the body of Christ so that we can continue the path of recovery."
NLC has spearheaded relief efforts in the past, helping those from their neighboring Louisiana who were displaced by Hurricane Katrina in 2005. When Hurricane Harvey began, Hilliard said she used those relief efforts from over 10 years ago as a blueprint to help guide the church.
After places like Florida have been affected by another major natural disaster in the form of Hurricane Irma in recent weeks, NLC is also partnering with churches in the state to aid those in need. However, the church is still focusing heavily on helping the thousands who have been displaced in Houston.
So far, NLC has been able to set up five distribution centers around the city for those in need. Volunteers from the church are also mobilizing to help people clean their homes and connect people to resources like construction companies and realtors.
Some people may need help filling out FEMA paperwork, while others need more immediate financial care which is why Hilliard stressed the importance of people around the nation donating to the benefit concert that will air on The Word Network.
The event has the backing of major government officials in the city like Congresswoman Sheila Jackson Lee and Mayor Sylvester Turner who, Hilliard said, calls Houston a city of faith. The pastor insisted that people must not let go of that faith during a trying rebuilding process.
"Most people think faith is for material possessions, to get some money or to get the things you desire. But your faith is supposed to see you through tough times and situations," Hilliard said.
"This is the time to stay confident, keep your trust in God, know that God is committed to bring us out of every situation and to have the faith in what we talk about. Have faith that we will come out of this situation stronger and better."
The Hurricane Harvey Gospel Relief Concert is free to attend at New Light Church-North, located at 1535 Greensmark Drive in Houston, Texas. It will air live on The Word Network  at 7 p.m. For more information, visit http://www.newlight.org.