How a Dog Called Obi Changed a Pennsylvania Church and Its Community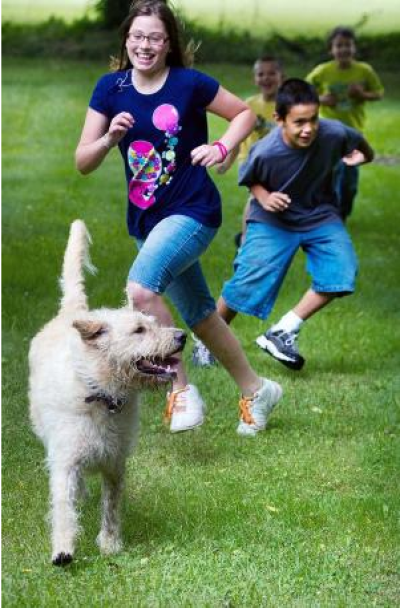 Just under two years ago, the Rev. Marion Haynes-Weller of Kreutz Creek Presbyterian Church in Pennsylvania was struggling to connect with the Hellam Township community. When she took her dog Obi to church one day in the summer of 2011 however, everything began to change.
"We knew we had children in the neighborhood and we would see them and wave to them but most of them are unchurched and they were a little uncomfortable approaching me," Haynes-Weller told The Christian Post in a recent interview about the wary relationship she once had with the small community.
"They would be here when there's nobody else at the church but as soon as people showed up they would kind of scatter," she explained.
Kreutz Creek Presbyterian Church is located on a cul-de-sac in Hellam Township, York County, a place with a population of just 6043, almost as big as some megachurches.
"I started bringing him to work with me when he was just a puppy. So the kids just hung out and played with him. And then I brought him to our casual Saturday night services too when he was really little so people knew he was around during the week and would come in to see him," said Haynes-Weller in describing how Obi got involved in her church's ministry.
As Obi grew, The Reverend began noticing little nuances in how he responded to different people he attracted to the church.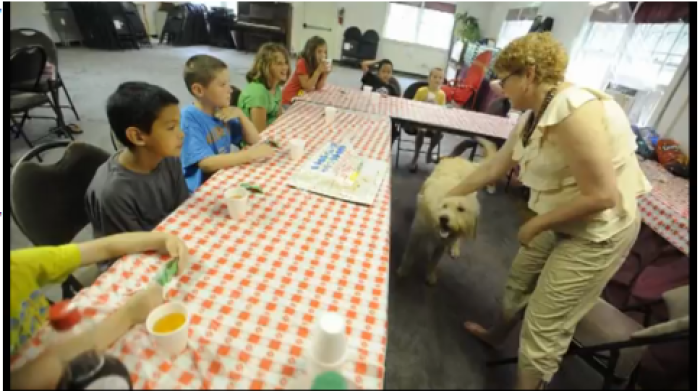 "My husband is a psychologist and they have a cat that works in their office so I was already kind of tuned into the benefits of having an animal around and I noticed that he'll snuggle up to people who are having a hard time, not just kids, but he loves children and really does well with children," said Haynes-Weller.
And Obi's presence at the Kreutz Creek Presbyterian Church has been more than intuitive.
"With the dog here and me saying 'yeah come on, come see the puppy' then the conversations started and it really only needed to start and maybe four kids and then all the children in the neighborhood knew," said Haynes-Weller.
"The attitude towards the church in the neighborhood changed. So from zero to basically the other 20 homes that are on the street now in some way being connected. So that's pretty huge," she said of the effect Obi has had on the community around the church.
"It's not just the kids but it's the parents, it's the people that don't have children who now come down and walk their dogs here and engage. It has dramatically increased the traffic in the church, on the church property, because people know that they're welcome here. They were all along, but it was hard to get that message across if they were avoiding the contact," she noted.
The church is now conducting its Vacation Bible School Obi and has been an effective resource in helping children who are learning English as a second language.
"We got a couple kids who English is their second language and they're not real comfortable talking but they can speak dog real easy," said Haynes-Weller.
"Another family has a little boy who has Down Syndrome, he and the dog have just really hit it off and have a great time playing and just snuggling up together so I really didn't have to do very much except make sure he was well behaved," she added.
Despite the excitement over Obi, Haynes-Weller explains that the opportunities the dog has opened up to present Jesus to children between ages 6 and 14 has been the most rewarding part of the church's development.
"It has tremendously increased our opportunities to interact altogether. To share Christ with them. Coming to church programs," said Haynes-Weller.
"One day we were out playing with the dog and I said, 'you know, we could come and plan to meet together and I'll have food for you. We can have lunch and say some prayers and one of the children said 'what's prayer'?'" said the Reverend.
"I said, 'it's when you talk to God' and another child said 'what's God?'"
"So we were starting from zero. And now those children come and pray and know stories from the Bible. We were acting out the story of Moses one day and none of them knew who Moses was. Many of them had heard of Jesus but weren't really sure what that was all about," she noted.
"To have them pray for each other and be prayed for, prayed with, it's just been really a wonderful thing to see God working in that way through whatever tool is in our hand and in this case. It's an 80lb Labrador," Haynes-Weller said with a laugh.