How Both Barack Obama and Donald Trump Inadvertently Help ISIS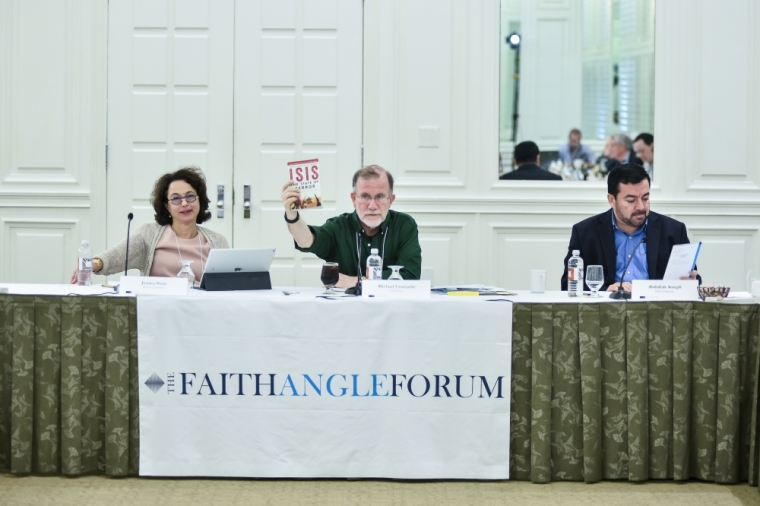 MIAMI BEACH — Both President Barack Obama and Republican presidential candidate Donald Trump use overly-simplistic rhetoric about Islamic extremism that is harmful, Imam Abdullah Antepli argued at Faith Angle Forum.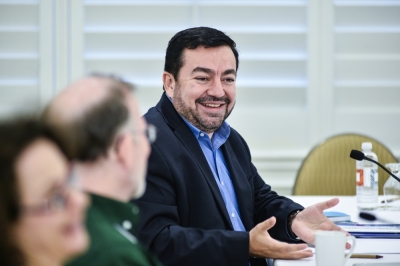 "There are two very unhelpful, extremely reductionist, simplistic forces dominating this conversation about Muslim terrorism [from which] I ... invite us to distance ourselves," Antepli began his remarks to 20 journalists plus other attendees at the March 14 Faith Angle Forum.
Those two positions, at opposite extremes, argue either that 1) Islam is a religion of peace and Islamic extremism has nothing to do with Islam (Obama's position), or 2) Islamic extremists represent the truest form of Islam (Trump's position).
"The reality is much more complex than these two extreme, dominant, simplistic and reductionist voices," Antepli argued.
Imam Antepli, chief representative of Muslim affairs and a faculty member in Islamic Studies at Duke University Divinity School, appeared on a panel, "Terror in the Name of God: Its Causes, its Sources," with Jessica Stern, research professor at Pardee School of Global Studies at Boston University and author of Terror in the Name of God: Why Religious Militants Kill.
"No religion is essentially one thing," Antepli argued. "... To say Islam is a religion of peace, and all the shenanigans, destruction, savagery, and barbarism happening in the name of Islam, all these evil organizations ... It's really silly to say the least, and therefore I have no patience, especially, I guess, if you are a Muslim, you have less patience with your own kind.
"If one more person says, 'This has nothing to do with Islam,' I want to pull my hair and scream."
On the other extreme, Antepli added, some say, "this ISIS terror in the name of Islam is the only authentic expression of Islam. If you take this religion very seriously, if you take this religion by its book, if you take this religion by its own resources and expression, you get ISIS. And anything and everything else, is only the watered down, sugar coated, moderated, diluted version of the religion."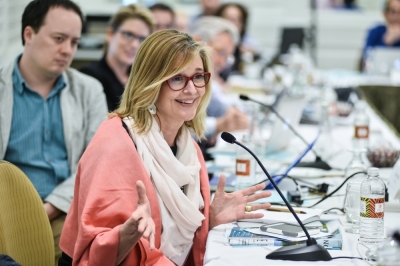 During the Q&A, Washington Post columnist Kathleen Parker asked Antepli, "So I should rewrite my lede to say both Donald Trump and Barack Obama are helping ISIS?"
"In some ways, yeah. I'm sure. I'm hoping not intentionally," he answered. "But more Muslims should stop becoming naïve, unhelpful, apologetic. More Muslims should stop this nonsense of, 'This has nothing to do with Islam.'
"I understand why Obama, as a politician, as a non-Muslim is not saying this, but more Muslims confidently should say, yes these people are Muslim and they claim to do everything they do in the name of Islam. It's an expression of Islam, which has its roots in Islamic history and Islamic facts.
"But it's evil, it's perverted, it's twisted. We should fight against it. I don't understand that Muslim defensiveness that's very common. 'It has nothing to do with Islam' — really?!?."
In Parker's March 15 op-ed, the day after that exchange, she wrote this for her lede: "One wouldn't call them bedfellows, strange or otherwise, but President Obama and Donald Trump are both inadvertently helping the Islamic State through rhetoric that is either too cautious or too rash."
Stern also pointed out that Trump is helping ISIS' recruitment with his rhetoric.
ISIS has two contradictory goals, Stern explained. It wants to establish a caliphate, or its own nation-state, in Iraq and Syria, and it wants a final, end times battle with the West at Dabiq. (It's online magazine is called "Dabiq.")
While those goals are contradictory, there is one method that furthers both of those goals — making Muslims living in Western nations feel unsafe.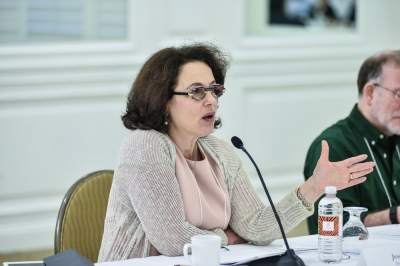 "And for this reason," Stern explained, "I do believe that Trump is falling into a trap. He is helping to destroy that gray zone by making Muslims in the West feel unsafe. If ISIS attacks in the West, it goads us into attacking it in Syria. But ISIS' leaders hope that these attacks in the West will ultimately make Western Muslims feel unsafe, and they hope, more vulnerable to being recruited to ISIS' side.The more ISIS can increase prejudice against Muslims in the West, the more it can actually pursue both parts of its agenda."
Antepli believes military force is necessary in the fight against Islamic extremists, but the war is ultimately a battle of ideas and should be fought with that in mind. "A bad religion, an evil religion, and bad ideology can only be cured and won and defeated by good ideology, and a good religion, and good social structure."
When asked what non-Muslims can do to help peacful Muslims with their fight with violent Muslims, Antepli used a lesson from the Civil Rights Movement. Just as there were non-blacks holding hands with blacks in the struggle for equal rights, non-Muslims can play an important role in the fight against Islamic extremists.
However, peaceful non-Muslims are often too lazy to enter the fight.
"Most peace-loving Christians, like most peace-loving Muslims and Jews and Hindus, regretfully, ... they are lazy, my friend. They are inactive. And they don't understand how their laziness, silence, and inactivity, is empowering the fringe crazies in their communities. ... They understand they are peaceful, but they don't act. They don't pay. They are not motivated. They are not mobilized," he said.
You can listen to the full panel, or read the transcript at the Ethics and Public Policy Center website.