Rise of Donald Trump Due to Desire for Strongman, Christian Philosopher Says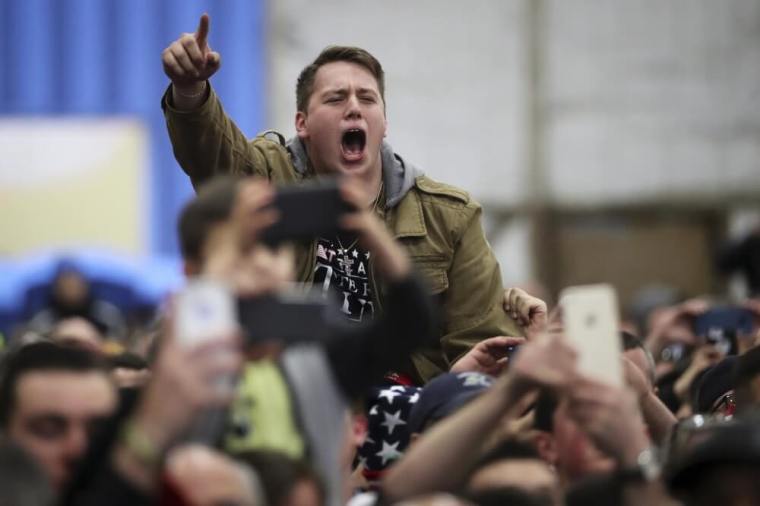 MIAMI BEACH — Christian philosopher James K.A. Smith suggested a connection between secularization and Donald Trump at a March Faith Angle Forum.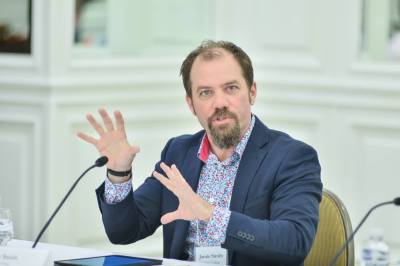 Secularization contributes to a sense of living in a "wasteland," Smith said, citing philosopher Charles Taylor. People react differently to this. One of those reactions might be the "desire for a strongman" to lead an expansive government, he noted in reference to the Republican presidential candidate and celebrity billionaire's supporters.
"I wonder if another possibility, on the other side of that arid wasteland, is a desire for a strongman," he said. "So that, if in that world, the state is all that's left. If everybody shifts and, in a way, foists so many expectations on the state, which I do think is part of a feature of a certain type of moral order, then, what happens is, there will be people who are not experiencing the benefits of that, who are experiencing the wasteland in very tangible ways, will also be looking for a savior who pulls the levers of the state for them."
Different groups can experience secularization in different ways, he added. "How is secularization felt in the working class as opposed to elite educated classes?"
Smith is the Byker Chair in Applied Reformed Theology and Worldview at Calvin College and is the author of several books, including, How (Not) to be Secular: Reading Charles Taylor, and You Are What You Love: The Spiritual Power of Habit, which was published Friday.
His Faith Angle Forum talk, "Re-Imagining Religion in a Secular Age," and How (Not) to be Secular were a reflection on Taylor's A Secular Age (2007).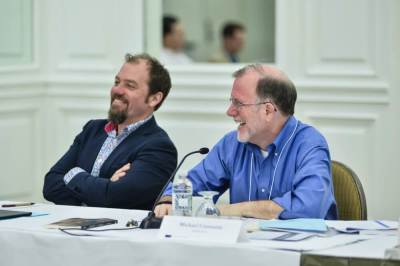 Taylor wrote an important work on how Christians should live in a secular world, but it wasn't accessible to a wide audience, Michael Cromartie, vice president of Ethics and Public Policy Center, said in introducing Smith. How (Not) to be Secular was written to make Taylor's thoughts understandable for pastors and lay Christians.
During the Q&A, Smith was asked why he thinks Trump does well among those who identify as an evangelical.
Smith, who reminded the audience that he's not a sociologist or political pundit, believes there are two explanations: 1) a failure of church teaching about the faith, and 2) a failure of evangelicalism to provide an all-encompassing way of life rather than simply a set of beliefs.
"A spectacular failure of catechesis," Smith answered. "... 'Evangelical' has just been an identifier, a description that people put on themselves, a label that they wear, and insofar that's coupled with a spectacular failure of catechesis, by that I mean actual instruction in the faith, people can almost fill that descriptor with what they think is a certain badge. So, when you ask [Trump voters] ... are you an evangelical? Do you support Donald Trump? ... There's not much experience [in the evangelical faith]."
Regarding the second explanation, Smith said, "My hunch is that evangelicalism as a form of Protestantism is susceptible to turning Christianity into a web of beliefs to which you assent, which then doesn't have to necessarily come with a ton of connection to the way of life that you practice.
"This is never supposed to happen, but you get 'nominal evangelicalism,' ... [people] who became evangelicals because they were 'nominal Lutherans' or whatever, particularly in regions like the South. ... If you dig down to levels of practice and participation, I think you see very different levels of Trump support."
Data has confirmed Smith's hunches.
University of Massachusetts, Amherst Ph.D. candidate Matthew MacWilliams analyzed a national poll of 1,800 voters and found that authoritarian personality was the best predictor of Trump support.
Mark Leary, professor of psychology and neuroscience at Duke University, explained to The Christian Post last month that authoritarian personality includes "rigid adherence to traditional values; the tendency to condemn, reject, and punish people who violate those values; and having a submissive, uncritical attitude toward powerful authorities who support and defend one's values and views."
Additionally, a Public Religion Research Institute survey released Thursday found that about two-thirds, 65 percent, of Trump supporters say that the country needs a leader willing to break the rules. This is 19 percentage points higher than the next highest — 46 percent of Hillary Clinton supporters say the same.
Regarding Smith's second explanation, political scientist Tobin Grant of Southern Illinois University analyzed National Election Study data (a large sample of 1,200 registered voters with more questions than most exit polls) and found that evangelicals who rarely or never attend church are more likely to support Trump than than those who attend frequently (22 percentage points higher) or weekly (26 percentage points higher).