ISIS Locks Girls in Cages With Human Skulls for Violating Shariah Dress Code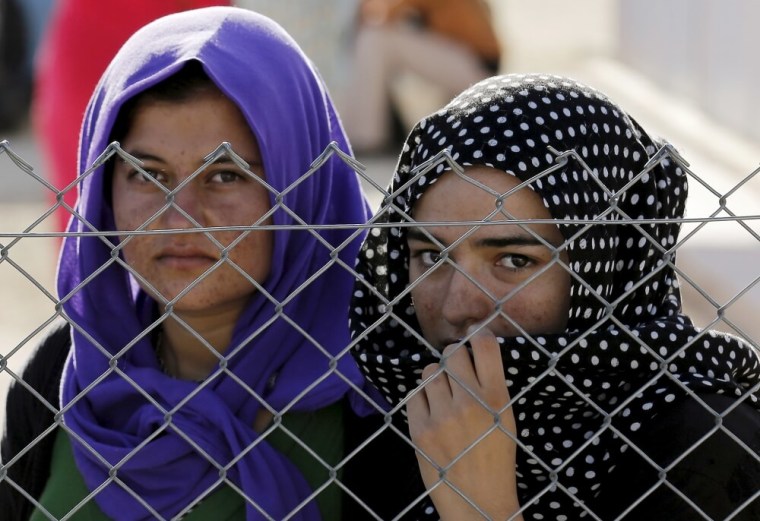 The Islamic State terrorist organization is employing yet another cruel and sick way to punish women who chose not to adhere to the militant group's strict dress code by locking them in cages with skeletons.
Last Friday, the militant group locked at least two women inside cages with skulls as punishment for not following the Shariah dress code in the jihadists' Syrian stronghold of Raqqa, The Independent reports.
According to the British news outlet, the incidents were uncovered by the media activist network Raqqa Is Being Slaughtered Silently (RBSS), which reports on human rights abuses committed by IS (also known as ISIS or ISIL) from inside the group's caliphate in Syria.
According to RBSS, IS first placed a 19-year-old girl in the cage "with some skulls." After being forced to spend four hours in the cage, the 19-year-old passed out and was taken to a local hospital. Later in the day, another girl was placed in the cage near the Al Nour mosque.
RBSS spokesman Mohammed al-Salih told the Saudi-owned pan-Arab news outlet Al Arabiya that there have been other instances of "women locked in cages with skeletons" as punishment for not following the group's dress code. Other women who have violated the dress code have been "forced to sleep overnight in a cemetery," al-Salih explained.
He added that more egregious violations of the dress code could lead to the amputation of limbs and even execution.
IS laws governing what women can and can't do in public is wholly oppressive.
In Raqqa, women are not allowed to go out in public alone. Also, it is believed that women in Raqqa must cover themselves from head to toe and better make sure that their hair and faces are properly covered or else face punishment from IS' all-female police force. Additionally, women in IS territory have often suffered cruel punishments if they are caught breastfeeding in public.
Last December, it was reported that IS' all-female policing unit in Raqqa, the Al-Khansa Brigade, mutilated and killed a woman who was breastfeeding in public.
In December of 2014, one woman detailed how IS militants placed her chest into a medieval-like spiked torture device called the "biter" after she was found breastfeeding in public.
The terrorist group has found many different reasons to kill and punish people in areas under its control over the last two years. The British-based Syrian Observatory for Human Rights has compiled a list of IS executions in Syria that date back to June 2014. The watchdog group has tallied over 4,000 executions carried out by IS since that time.
IS has also used cages in the past to execute prisoners. In June 2015, the terrrorist group executed a group of prisoners by locking them in a cage and drowning them in water. In February 2015, IS burned alive a Jordanian pilot while he was caged.