ISIS Sends Parents Body Parts of Daughters, Video Showing Their Brutal Rape and Torture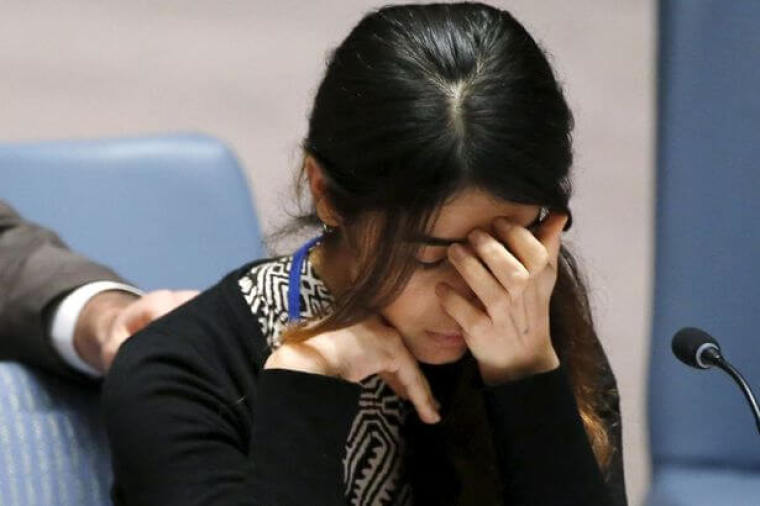 Horrific stories of the ongoing genocide being carried out by the Islamic State terror group against Christians and other religious minorities were shared at a conference in New York last week, with one account revealing that a couple was sent the body parts of their dead daughters, along with a video of them being raped and tortured.
The Catholic News Agency described the stories shared by human rights activists at the #WeAreN2016 international congress on religious freedom as "graphic, brutal and raw."
"One account told of a couple whose children had been captured by ISIS militants. When they answered their door one day, they found a plastic bag on their doorstep. It contained the body parts of their daughters and a video of them being raped and tortured," the report described.
Another account shared that IS fighters in Mosul, Iraq, came to the house of a Christian woman, threatening her to leave or pay the jizya tax. Before the woman could leave the house with her daughter, who was in the shower at the time, the militants torched the house, burning the daughter alive.
The girl reportedly died in her mother's arms, with her last words being "Forgive them."
A Yazidi teenage girl, 15-year-old Samia Sleman, spoke about her six months in IS captivity, revealing that there are thousands of women and girls being held as sex slaves by the extremists. What is more, the jihadists rape girls as young as 7 years of age, and force them to convert to Islam.
"Why are these innocent kids and these innocent people suffering this much in that region?" Sleman asked.
"Why don't we see any action being taken? Even though it's been over a year and a half now, we've seen horrible things happen to us minorities, especially Yazidis and Christians, in that region, and we don't see the international community taking concrete actions against the Islamic State."
The U.S. State Department, the British House of Commons, and the European Union Parliament have all in the past few months recognized the genocide Christians, Yazidis, and other minorities in Iraq and Syria are facing, but victims are saying that specific actions need to be taken.
Congressman Jeff Fortenberry, R-Neb., co-chair of the Caucus on Religious Minorities in the Middle East, said at a lecture event at the Family Research Council last week that the genocide resolution, which he spearheaded and was passed by the U.S. House of Representatives by a vote of 393-0, creates a gateway for further policy considerations.
Fortenberry explained those considerations could include the right to press for a way for persecuted minorities to return to their homelands once IS has been driven out, and also to create safe havens within countries like Iraq and Syria, where people will be protected by joint military power.
"If one group of people can exterminate another in the name of so-called religion, the world has no hope," he warned.
Fortenberry added at the lecture event that "ISIS' attempt to exterminate people with their twisted theology, with their a-century barbarism, unfortunately with 21st century weaponry, is not only a threat to human dignity, it's a threat to the very stability of the Middle East in the future, and the principles of civilization itself."