How Christian Music Can Help Heal Racial Divide (Interview)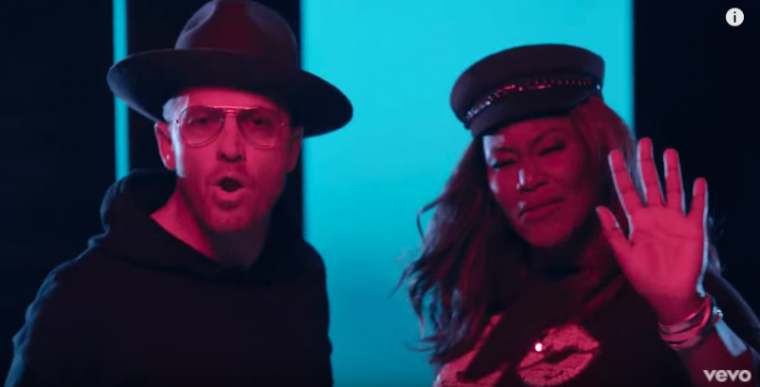 It's been nearly two years since Kirk Franklin's Gospel Artist of the Year acceptance speech at the 47th annual GMA Dove Awards challenged fellow Christian music artists to help promote racial healing. With recent studies proving that Americans view racism as a "big problem" in the nation, can Christian music help heal racial divides?
The number of Americans who view racism as an issue in the country has doubled since 2011, according to the Pew Research Center. In findings released last August, Pew revealed that 58 percent of Americans now view racism as a problem, up from 28 percent six years ago.
In 2016, Franklin, the recording artist, composer and head of the Fo Yo Soul Recordings gospel music label, received a standing ovation at one of the biggest award shows in Christian music when he prayed that industry peers would come together as believers to "control the narrative" concerning racism.
"When police are killed, we need to say something. When black boys are killed, we need to say something, and when we don't say something, we are saying something," Franklin said at the Dove Awards in 2016. "I beseech you brothers in a spirit of humility, at our concerts, in our churches, I beg of you, let's ask the people that we are accountable and stand in front of — let's do it like Nineveh — and ask the people to pray with us for racial healing. Let's don't stay silent on it."
Jackie Patillo, president and executive director of the Gospel Music Association who puts the Dove Awards together, remembers the moment well.
"I couldn't have scripted that. It was a powerful moment," she told The Christian Post. "I was grateful that he was willing to address his music community and the world in such a bold, significant way. We are the light of the world, we are supposed to not be afraid to address any issue."
The message proved to resonate with the Christian music community in instances like contemporary Christian music singer Mandisa using a portion of Franklin's speech in her song "Bleed the Same."
"We all bleed the same, we're more beautiful when we come together," she sings on the track featuring TobyMac. "We all bleed the same, so tell me why, tell me why we're divided."
While Franklin boldy prayed that the Christian music industry would do its part to end racism, a 2015 study published in the Journal of Communication and Religion revealed that collaboration between industry artists could help.
"An implication of this study is that collaborative efforts of artists from both contemporary Christian music and gospel could de-racialize and therefore de-stigmatize each genre," the study, conducted by University of Cincinnati assistant professor of communication Omotayo Banjo and Kesha Morant Williams, assistant professor of communication arts and sciences at Penn State Berks, revealed.
In recent months, a number of artists from different racial backgrounds and genres have come together to collaborate, including Matt Redman and Tasha Cobbs Leonard in the song "Gracefully Broken," released last year. In February, Elevation Worship also showcased collaborative efforts when the CCM worship group teamed up with Israel Houghton and gospel music artists Tasha Cobbs Leonard, Travis Greene, Tye Tribbett, Kierra Sheard, and The Walls Group to reimagine songs for an album called Elevation Collective.
Jason Crabb is no stranger to collaborating with artists who do not look or sound like him musically. He previously joined Pastor Donnie McClurkin and the Clark family with his southern gospel singing group,The Crabb Family, to perform a gospel medley on TBN.
Crabb explained the importance of Christian musicians coming together to help mend divides that exist.
"If we are carriers of the Gospel and Christian music, the Good News, how could we not fight anything that divides us? It's a love issue — it has nothing to do with color, but media, politics have driven a divide in us," he told CP. "If we say we have the love of Christ in us, we are called to love everyone. Coming together with artists of all colors, genres, and styles is important as we show unity in the body of Christ and I think that's important."
Across the country, most churches are segregated with eight-in-10 American congregants attending services at a place of worship represented by a single race, according to a 2014 Pew report.
While a number of artists might be willing to collaborate, gospel singer Todd Dulaney believes the motivation for this type of collaboration begins in the church.
"It has to start on Sunday mornings," said Dulaney, the singer whose album Your Great Name topped the Billboard Gospel Album Charts earlier this year. "If we just started by actually getting to know each other on Sunday mornings and not running from each other because it's not your own."
Carla Williams, the owner of CM Wonder Creative Artist Consultation who previously worked with the likes of Bishop T.D. Jakes at EMI and Kirk Franklin for nearly 10 years, spoke to CP about how much the church impacts Christian music.
"The hub of our church fostered this evolution of gospel music. I see the local church worldwide that's where these music opportunities happen," she said. "I think the church will influence media, will influence radio."
For years, gospel singer Bryan Popin has traveled to hundreds of churches with different racial makeups that featured a variety of music. While he doesn't claim to have all of the answers, Popin believes that Christian artists across multiple genres do have something that brings them together — a desire to worship.
"I don't know how to change the system of a CCM music world, an African-American gospel music genre, or even the southern gospel genre," he told CP. "But maybe we all need to care more and be more open with each other and realize we do all have the same desire — to worship."