How Georgetown U students responded to pro-life activists speaking on campus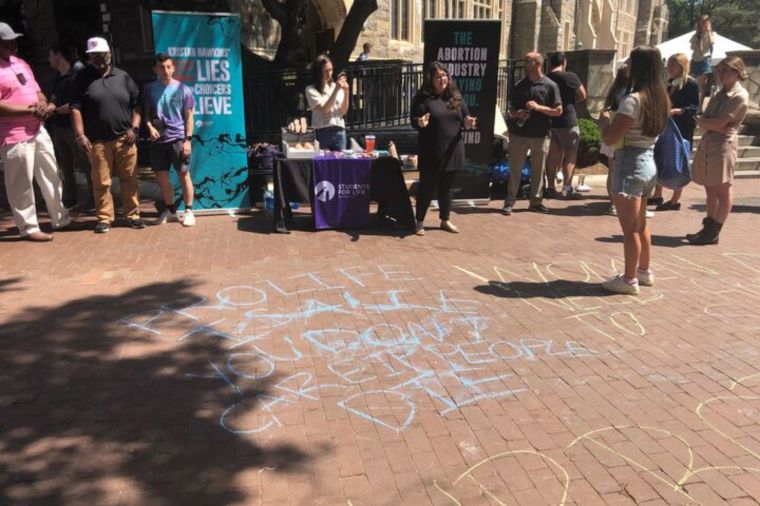 WASHINGTON — Multiple Georgetown University students chalked pro-choice slogans while others showed off their bare feet as a form of protest in response to a leading national pro-life activist engaging in outreach and dialogue on their campus.
On Thursday, Students for Life of America and its president Kristan Hawkins hosted a tabling event at Georgetown University, a historically Jesuit-affiliated research university based in the nation's capital, as part of Hawkins' 2023 "Lies Pro-Choicers Believe" speaking tour.
The event was initially slated to include an evening speech by Hawkins, but during a Monday interview with The Christian Post, the SFLA president said this had been canceled due to a scheduling change. 
The pro-life leader also told the outlet that Georgetown instructed SFLA to pay for its own security, a challenge that made planning the event difficult.
"You can have free speech, but only if you can afford to pay for it," Hawkins told CP.
Hawkins, whose organization is active on thousands of college and high school campuses nationwide, claims her organization counted nearly 100 free speech violations on campuses for the 2022-2023 school year, ranging from personal property violations to censorship by school administrators. 
Hawkins predicted that if the pro-choice people on Georgetown's campus found out about the event, they'd come to protest it, stating that such groups are quite "active" on that campus. Since the U.S. Supreme Court overturned Roe v. Wade last June, Hawkins has noticed an increase in free speech violations and vandalism cases on college campuses. 
"Students are fearful," she said. "They've never lived in an America without abortion, and you have the abortion lobby fueling the fire and stoking their fears."
"So when they meet a conservative pro-lifer, they feel justified in overturning the table, stealing a fetal model, screaming or shouting in someone's face. You know, dehumanizing the other human being, not even being willing to engage in a peaceful conversation with them." 
But how did the students at the Roman Catholic-affiliated institution respond? 
The following pages highlight ways Georgetown University students reacted to SFLA's outreach event on campus.