Florida students face felony charges for stealing pro-life sign, assaulting police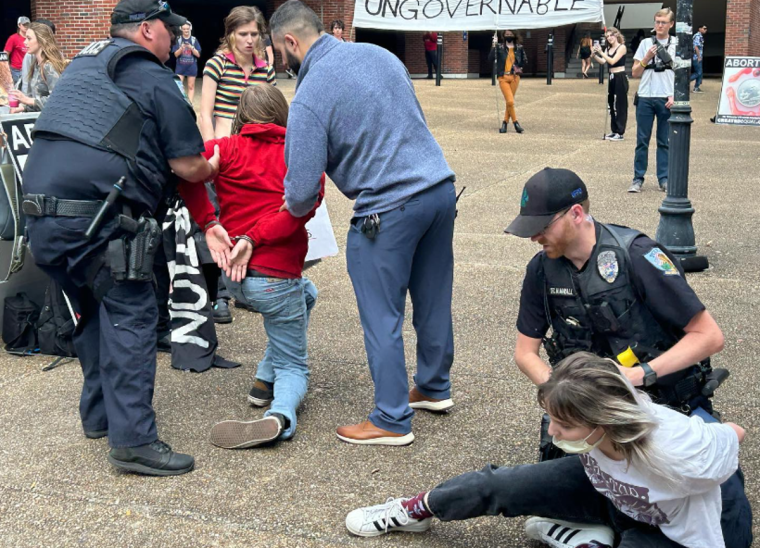 Two students at the University of Florida have been arrested and charged with felonies after assaulting police and violently resisting arrest after one stole a pro-life group's display during an authorized on-campus demonstration.
The pro-life advocacy group Created Equal shared video footage from "pro-life outreach" the organization held last Friday at the University of Florida campus in Gainesville on its Facebook page.
The video shows a man in a red sweatshirt grabbing a pro-life sign on display at the campus and transporting it to his car. One of the pro-life students affiliated with Created Equal followed the man after he stole the sign, calling the police and discovering that he had a knife.
The video identifies the man in the red sweatshirt as Ian Dinkla. Dinkla, 21, warned a school administrator to "back the f*** up" as she confronted him for taking the property while he placed it in his car. He drove away with the pro-life display in his vehicle. 
Dinkla emerged at another "outreach site" on the University of Florida campus later in the day, where he approached another pro-life display. When confronted by a plainclothes man who identified himself as a detective, Dinkla resisted arrest. When the detective tried to subdue him, another student, identified as Bryn Taylor, intervened. A scuffle ensued as a uniformed police officer arrived to arrest Dinkla.
Taylor, the 26-year-old president of the UF Graduates Assistant United union, repeatedly shouted, "Get off of him!" as she jumped on top of the plainclothes police officer who initially approached Dinkla. The officers eventually placed both Dinkla and Taylor in handcuffs as Taylor expressed outrage that "these people are allowed to exist here," referring to the pro-life activists.
Identifying herself as a "student on this f***ing campus," Taylor insisted that "it's a peaceful protest." She derided the officers for "defending people who come here and harass people." 
Taylor asked, "how come he is not being arrested right now," referring to the plainclothes police detective. "He's the one who touched him! He's the one who started the violence! He grabbed him!" she maintained.
Dinkla has been charged with "robbery and resisting an officer with violence" while Taylor has been charged with "aggravated battery on a law enforcement officer" and "resisting arrest without violence." 
"It is no surprise that those who advocate for the killing of preborn humans resort to violence towards those with whom they disagree," Created Equal CEO Mark Harrington said in a statement. "Created Equal condemns abortion-related violence and we will continue to promote equality for all humans — both born and preborn."  
Harrington expressed gratitude that "no staff members were injured in this incident."
"We also appreciate the efforts of the university and its law enforcement officers to protect the peaceful exercise of our First Amendment rights," he said. 
Last week's incident comes as pro-life pregnancy centers and activists have been subject to varying degrees of violence and vandalism following the May 2 publication of a leaked draft U.S. Supreme Court decision in the case of Dobbs v. Jackson Women's Health Organization, which indicated that the justices were poised to overturn the Roe v. Wade ruling that established a constitutional right to abortion. The justices overturned Roe in the Dobbsdecision published on June 24. 
The Dobbs decision allows each state to determine its own laws regarding abortion. Over the past year, over a dozen states have banned all or most abortions. In that period, the violence and vandalism primarily directed at pro-life pregnancy centers and churches continued. 
Individual pro-life activists have also faced violence in the wake of the Dobbs decision. Last summer, a teenage girl knocking doors on behalf of Kansas' "Value Them Both Amendment," which would have declared that the state constitution does not contain a right to abortion, was assaulted. Last fall, an elderly pro-life volunteer was shot as she campaigned against a proposal to establish a constitutional right to abortion in Michigan.