Actress Jane Fonda under fire for suggesting 'murder' of abortion opponents on 'The View'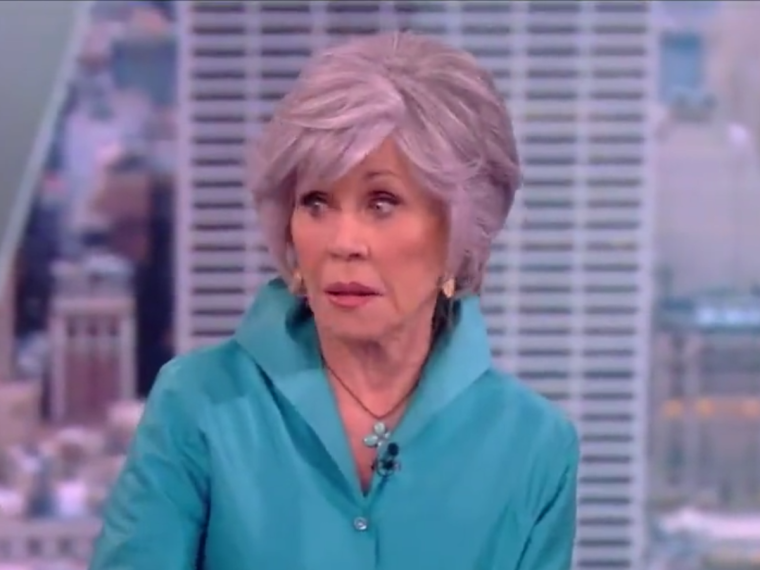 Actress Jane Fonda has sparked outrage in the pro-life movement for suggesting the "murder" of abortion opponents as she insists that she means no harm and merely made the remark "in jest." 
Fonda, along with her "Moving On," "80 for Brady" and "Grace & Frankie" co-star Lily Tomlin, appeared on ABC's "The View" Friday. As a guest on the daytime talk show, the outspoken left-wing activist expressed outrage over the U.S. Supreme Court's Dobbs v. Jackson Women's Health Organization decision overturning the 1973 Roe v. Wade ruling that legalized abortion nationwide.
"We have experienced many decades now of having agency over our body, of being able to determine when and how many children to have. We know what that feels like," she said. "We know what that's done for our lives. We're not going back. I don't care what the laws are."
"Besides marching and protesting, what else do you suggest?" co-host Joy Behar asked in response to her assertion. Fonda responded that "it does involve murder" as the panel continued to engage in crosstalk.
Tomlin asked her to clarify her remark and she restated the word "murder." Behar insisted that Fonda was "just kidding" as Tomlin urged her "don't say that" and Behar warned "they'll pick up on that," referring to critics of the program and the mainstream media as a whole. As Behar reiterated that Fonda was "just kidding," the actress turned toward the panelist with an unhappy look on her face.
Pro-life activist Abby Johnson took to Twitter Friday to denounce what she characterized as Fonda's suggestion that "pro-life politicians should be murdered for trying to protect unborn children." Johnson concluded that "I guess she believes in killing people both in and out of the womb."
Rep. Anna Paulina Luna, R-Fla., announced on Twitter Friday that she had "notified Capitol Police of Jane Fonda's call to murder pro-life politicians." Luna condemned "calling for the murder of a pro-life [politician]" as "dangerous" and "incredibly sick," adding "this leads to targeting and can result in someone being seriously hurt." 
In a statement to Fox News Digital, Fonda insisted that her "comment on The View was obviously made in jest." According to Fonda, "My body language and tone made it clear to those in the room — and to anyone watching — that I was using hyperbole to make a point."
Fonda also doubled down on her pro-abortion activism in her statement, describing "women's reproductive rights" as "a very serious issue" that is "extremely important to me" and expressing concern that "women across the country are facing real threats when it comes to our bodies."
She maintained that "people lose faith in our mission to protect women when others choose to focus on tangential issues and passing jokes instead of the actual problem at hand." 
Even before Fonda's comment on "The View" Friday, the pro-life movement has found itself subject to an upsurge in violence and vandalism dating back to immediately after Politico's publication of a leaked draft decision of the Dobbs ruling last May. In that time, pro-life pregnancy centers and churches have been firebombed, defaced with graffiti and had their windows broken. 
In addition to pro-life organizations, pro-life activists themselves have become the target of violence as well. In September, an elderly volunteer was shot as she knocked on doors in opposition to Proposition 3, a measure that established a right to abortion in Michigan. 
Last summer, a volunteer with Students for Life of America was assaulted as she campaigned on behalf of Kansas's "Value Them Both Amendment," which would have clarified that the Kansas constitution "does not require government funding of abortion and does not create or secure a right to abortion." 
Shortly after the publication of the leaked Dobbs draft, the U.S. Department of Homeland Security issued a memo warning that violent threats against stakeholders in the abortion debate were "likely to persist and may increase leading up to and following the issuing [of] the Court's official ruling."
The agency vowed to work with "partners across every level of government and the private sector to share timely information and intelligence, prevent all forms of violence, and support law enforcement efforts to keep our communities safe."
Supreme Court Justice Brett Kavanaugh, one of the justices who voted with the majority to overturn Roe, was the target of an assassination attempt last June. Authorities arrested the would-be assassin before he could carry out the crime.