How ISIS Is Similar to the Protestant Reformation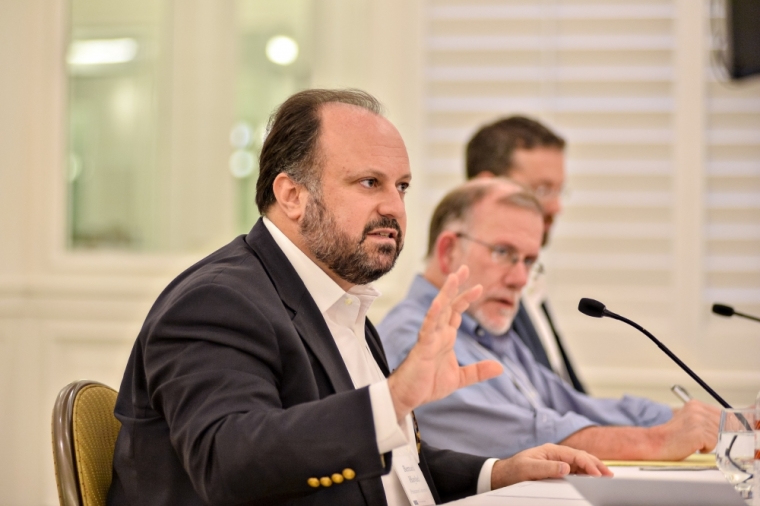 MIAMI BEACH — A Middle East expert drew comparisons between the Islamic State and the Protestant Reformation at a recent Faith Angle Forum.
If there are any lessons about ISIS that can be drawn from what happened during the Protestant Reformation, Bernard Haykel said, those lessons are "terrifying."
"If we're embarking or are actually already in something like the Reformation in the Muslim world, then, you know, hold on because we're in for a really wild ride with lots of violence," he added.
Haykel is professor of Near Eastern studies and director of The Institute for Transregional Studies at Princeton University. He was joined on the May 4 panel, "The Islamic State: Understanding its Ideology and Theology," by William McCants, a fellow in the Center for Middle East Policy and director of its Project on U.S. Relations with the Islamic World at The Brookings Institution.
The panel was moderated by Michael Cromartie, who heads the Faith Angle Forum and the Evangelicals in Civic Life program for the Ethics and Public Policy Center.
During another part of the discussion, Haykel reminded the audience of the violence that occured during the Reformation.
"And the people who argue sloganistically that Islam is a religion of peace or Christianity is a religion of X or Judaism is a religion of Y, what does that mean? That's not just inelegant, it's also a very sloppy use of language. There is no such thing as a religion of something. Christianity was a violent religion at times, extremely violent, in fact, much more violent than what we're seeing with the Islamists today. If you think of the 30 Years War, something like 30 percent of Germany's population was killed, tens of millions of people," he said.
Haykel also noted that ISIS is similar to the Protestant Reformation in its emphasis on individualism.
"The individual is at the core of this [ISIS] movement, the autonomy of the individual, the decision of the individual to make decisions despite, and even against one's own family, which flies in the face of Arab and Muslim tradition," he said.
Cromartie asked Haykel to clarify what he meant by "wild ride."
"It's violence," he answered. "Basically, it's groups in the name of God, killing each other to establish their rule. ... Calvin was a really nasty guy. Okay? I mean, read up about him — and there's a huge, a big statue of him in Geneva today — but people forget actually what the city he led was like under him."
Haykel acknowledged that the similarities are imperfect, "because we live in a much more complicated world than back then and much more globalized world and so on," but added that "there are really striking parallels, and they're terrifying, actually."
The Washington Post columnist E.J. Dionne, referring to Cromartie, then joked, "I think we should have our Calvinist host defend Calvin."
As the participants laughed, Cromartie retorted, "over drinks tonight."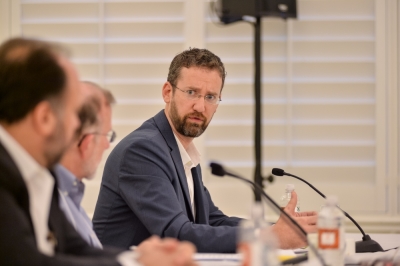 Rabbi Lord Jonathan Sacks, chief rabbi of the United Hebrew Congregations of the Commonwealth of Great Britain, who spoke the next day on "A Religious Response to Religious Violence," noted that the Reformation also produced thinkers, such as John Milton, Thomas Hobbes, John Locke and Baruch Spinoza, who laid the foundation for our modern ideas that helped end the religious violence.
"Have you found such voices in Islam?" Sacks asked.
Haykel answered that there are some, such as Rachid Ghannouchi, leader of the Muslim Brotherhood of Tunisia, but many of them are being killed by radical Muslims for what they teach.
Islamic reformers who preach nonviolence "don't have a long shelf life or survival rate in the Islamic world. The people arrayed against such people are extremely violent and they have no problems using that violence, and we see it on a daily basis," he said.
McCants added that there have been liberal reformers in Islam for two centuries now, but they used to be protected by imperialist Western nations, so today Islamic conservatives associate that liberal agenda with Western imperialism.
"Because of the fact that a number of these more liberal reformers were speaking and writing under occupation and often working with the colonial governments, their project was tarred and feathered with the colonial project. And so today, conservative religious critics associate liberal reformers with the imperial project. Even if [liberal reformers] are great critics of Western power in the Middle East, South, Southeast Asia, it is still a slam against your reforming opponent, your liberal reforming opponent, if they say anything at all that looks like it might be an endorsement of Western culture or Western politics," he said.
The Faith Angle Forum brings about 20 journalists twice a year to Miami Beach for in-depth discussions about religion, politics and public life with about three to five distinguished scholars.
The EPPC website has a transript and audio of the full panel.