How the faithful are partnering with developers to save affordable housing and America's homeless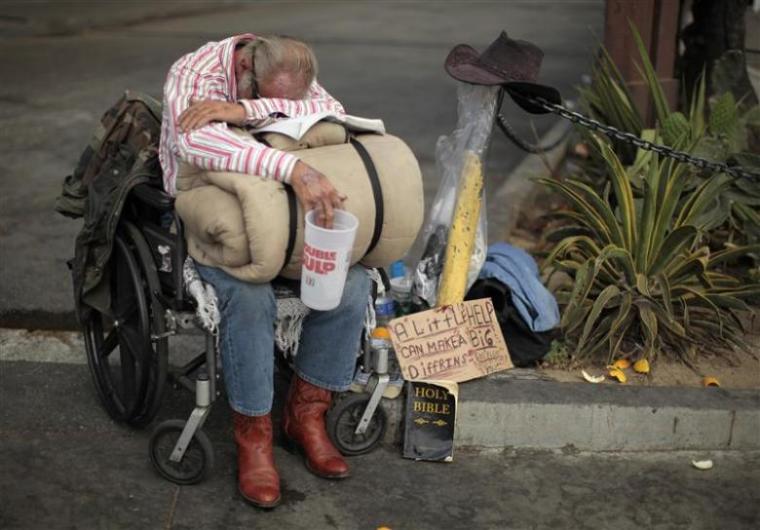 Sen. Elizabeth Warren, D-Mass., said she had a plan to build 3.2 million housing units to address the affordable housing problem that also continues to be exacerbated by redlining — an unethical practice that puts services, financial and otherwise, out of reach for residents of certain areas based on race or ethnicity. It can be seen in the systematic denial of mortgages, insurance, loans, and other financial services based on location and that area's default history, rather than an individual's qualifications and creditworthiness.
"I've got a plan for 3.2 million housing units in America. Those are housing units for working families, for the working poor, for the poor poor, for seniors who want to age in place, for seniors with disabilities, for people who are coming back from being incarcerated. It's about tenants' rights but it's about one more piece," she said.
"Housing is how we build wealth in America. The federal government has subsidized the purchase of houses for decades for white people and has said for black people you're cut out of the deal. That was known as redlining. When I built a housing plan, it's not only a housing plan about building new units, it's a housing plan about addressing what's wrong about government-sponsored discrimination, how we need to address it," Warren said.
Leveraging church real estate and activism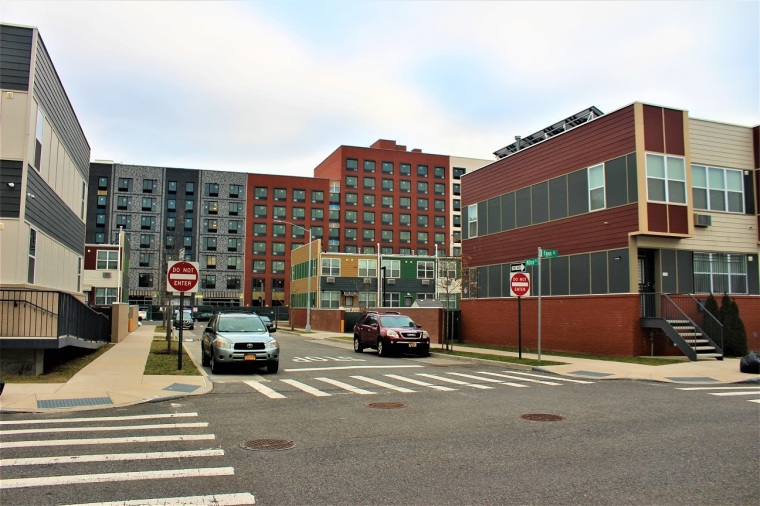 While the presidential candidates debate what to do about affordable housing and homelessness, coalitions of churches and other housing advocates like the EBC have been busy addressing the issue for decades through activism and investment.
Now, new evidence cited by housing advocates suggest increasing effective partnerships between developers and faith-based organizations with underutilized or vacant real estate holdings could help ease the nation's affordable housing crisis.
When these partnerships are done right, said Rev. David Bowers, vice president and Mid-Atlantic market leader for Enterprise Community Partners — a national nonprofit that brings together know-how, partners, policy leadership and investment to multiply the impact of local affordable housing — they can significantly increase the development of affordable housing nationwide.
"One snapshot that I have to answer this question was actually a data-point that was presented just a couple of months ago at our annual Faith-based Development Initiative Summit here in Washington, D.C., in collaboration with the Washington National Cathedral," he said of a presentation delivered by the Urban Institute.
"They did a snapshot look at 800 parcels, vacant parcels owned by houses of worship in the DC Metro area. What they found was … you could potentially build anywhere from 49,000 to 109,000 units of housing. That's just on the vacant parcels, not the actual land with the house of worship on it … in just four jurisdictions in one metropolitan area," he continued, noting that his organization is now working with churches across the country to tap into that potential.
"There's so much land owned by houses of worship across the country in communities of all sorts. It's one of those universal things in America. And so there's tremendous potential with that land. And part of our push, we've been working on for the last 13 years with our faith-based beltway initiative, has really been around how do we work with houses of worship who may have interest in activating that land for community benefit through affordable housing and or community service facilities," he said.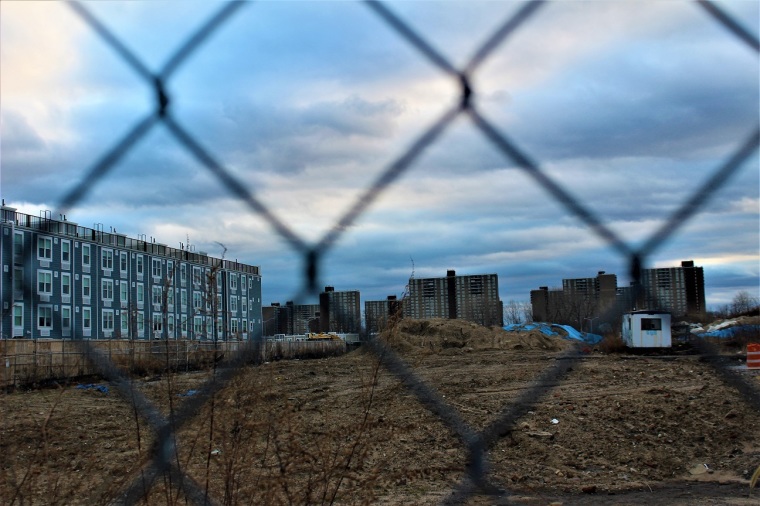 To help that campaign along, the ECP recently published a report on how faith-based organizations can leverage their real-estate for the public good in a sustainable fashion and they are hoping it can serve as a catalyst for more churches with assets that can be invested in the affordable housing to join the fight for change.
"If we can continue and have the faith community move into this modality of an intentional concerted approach that focuses on housing affordability in general with their land and homelessness, in particular, … it has the potential to 1) bring units online, affordable units that can meet that need in a very tangible way. The second thing is there's the potential to bring the power of the voice of the church in an advocacy role, in an influential role to bring more resources into the system, and more of a sense of urgency for both the government sector and the private sector," he said.
Fighting for affordable housing in New York City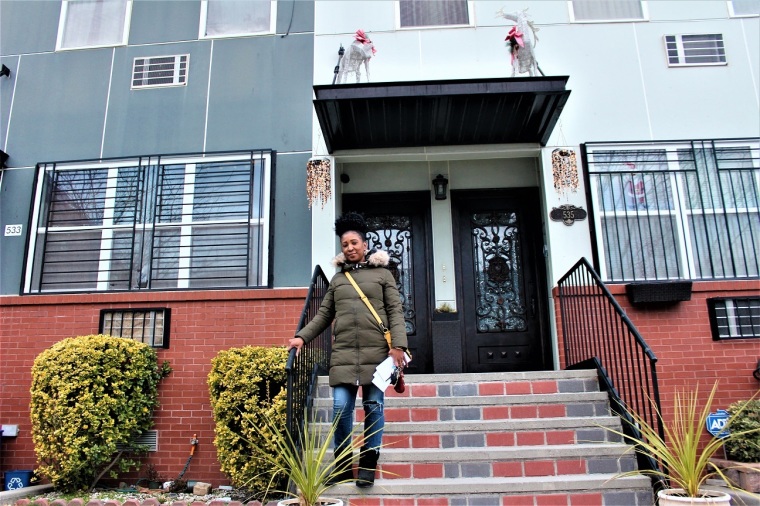 In New York City, there have already been several successful prominent variations of these development partnerships as well as failed ones too. And the success stories are looking to build on their best practices.
The Nehemiah Housing Development Fund Co. is the real estate arm of East Brooklyn Congregations that was founded in the mid-1980s by local preachers to rebuild East New York. The group has worked in partnership with the city to bring some 6,000 affordable housing units to the neighborhood and the South Bronx since their work started, Rev. David K. Brawley, senior pastor of the St. Paul Community Baptist Church who also serves as co-chair of the EBC, told The Christian Post.
Brawley explained that the EBC, which represents a coalition of about 40 different institutions, including churches, was forced to organize in the "self-interest" of the community and they have not stopped advocating on that mission since their founding.
"One of the areas in which we have been working for years now is in the area of affordable housing. Nehemiah back in the early 1980s was our first attempt and we're still doing Nehemiah. Somewhere now in the area of 5,000 affordable homes have already been constructed and have changed life for so many … If I include the work in the South Bronx, it would be 6,000," he said.
"Back in the early '80s, St. Paul, as one congregation, put $250,000 up towards building Nehemiah homes. And we continue that legacy today by way of organizing money and organizing people," Brawley said.
In 2017, for example, about 1,000 members of St. Paul Community Church were part of a group of about 6,000 under the EBC banner that protested in the rain to demand affordable housing for the city's growing older adult population as well as repairs for New York City Housing Authority buildings that house low-income residents.
"That's our work and our way of fighting for the interest of our community. And it's got two components to it. One is people who understand what's at stake. The second is you have to put your money where your mouth is. And we've been doing that now for about 40 years as an institution and 40 years as an organization," he said.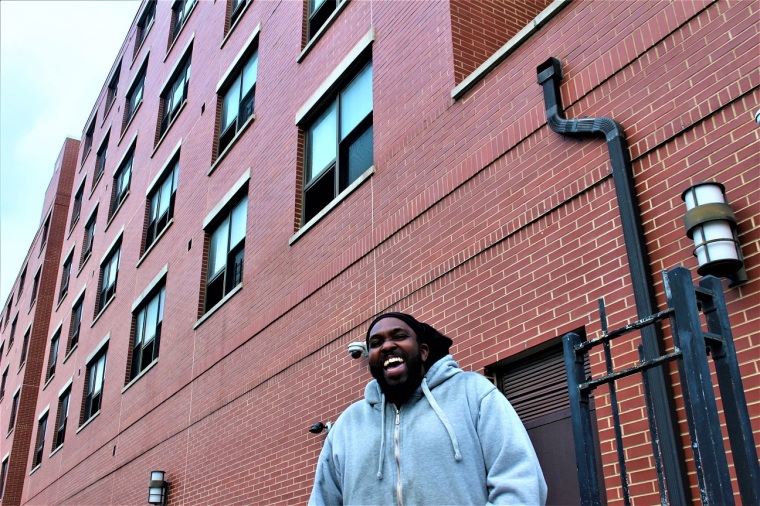 The Rev. Shaun J. Lee, lead pastor of the historic Mount Lebanon Baptist Church, told CP that his congregation joined up with EBC in 2015 due to concerns over affordable housing for seniors in the city.
"We've been focusing on senior affordable housing because with gentrification, affordable housing in New York City has completely taken a different face and has become this gargantuan thing. So we've been focusing on trying to develop senior affordable housing and one project that was done was Redwood [Senior Living] over in East New York. We're now trying to replicate that throughout the city because it's worked so well," he said.
Redwood Senior Living offers 80 permanently affordable apartments designed to help older adults, 62 years and up, from the Brownsville area of Brooklyn age in place.
"I came on board because the organization was doing things to help people I thought the city left behind or left out. Looking at NYCHA and having all these conversations with parishioners and hearing all the stories about how high rent is and how seniors were having a hard time to keep pace, being able to afford to live in the city, one of the projects that organically grew out of that was this fight for senior affordable housing," Lee said. "Our congregants are older and have been in the city for decades. And now the hardest thing for them is to stay in. Through our conversations, that was a recurring theme."
In 2018, New York City reached a settlement with the federal government to spend over $2 billion on NYCHA due to mass negligence over the safety violations of thousands of residents. The city was ordered to spend $1 billion over the next four years following the settlement and $200 million per year after that.
"I think for the most part, the city has shown that it doesn't care a lot about black or brown people. I think when you look at issues of criminal justice, affordability and housing, they are focusing on trying to make city life easier for a new crowd that is just coming in. They have begun to neglect the people that have been here for the past 20, 30, 60 years," said Lee, who is a New York City native.
"Our organization is there to make sure that those who may not have a voice, we help them make their voices heard, … we help them stick up for themselves so that they won't be ignored because the city has just ignored them."
Trinity Wall Street Episcopal Church in Lower Manhattan is the richest Episcopal church in the world and one of New York City's most influential players in the real estate market. It boasts a diverse investment portfolio worth $6 billion thanks in large part to a gift of 215 acres of land from Queen Anne in 1705. The church still owns about 14 acres of that grant and has evolved into a "big time" developer itself.
Bea de la Torre, managing director of the housing and homelessness team at the church, told CP that they have always been concerned about homelessness in the city from a "race-equity" standpoint.
"We're really looking at addressing the intersection of racial justice and homelessness. A lot of people with justice involvement coming out of state prisons or jails have a very, very hard time securing housing. And many of them end up finding themselves revolving around these two systems," Torre said.
She said based on the research they have done, they know that there is a lack of funding in this area.
"It's not something that many funders are doing right now. So we think that's really important and we think we can make a really big impact," she said.
She also explained that the church had an interest in family homelessness, noting that on any given night there are about 60,000 people in homeless shelters in New York City, including about 22,000 children.
"Many of those kids, around 25% are under the age of 5 so they're very young and they're not just going for a day or a week or a month. They are staying there for a long period of time. A year and a half, sometimes even up to two years," she said.
"The reason this is so incredibly important to address right now is that there is so much research that indicates that children that experience trauma with homelessness, with homelessness being a traumatic event in their life, depending on the level of trauma and how many traumatic events they have been through … it really marks their trajectory in life as adults," Torre explained.
She said Trinity Wall Street is very much in support of organizations that are investing in affordable housing development and that they have been involved with a new Down Payment Assistance Fund, launched just under a year ago, to speed the production of supportive and affordable housing across New York. The DPAF is being overseen by Forsyth Street and owned jointly by Enterprise Community Partners and Local Initiatives Support Corporation.
Trinity Wall Street is also one of several funders of LISC NYC's New York Land Opportunity Program. NYLOP prepares mission-driven organizations to make informed decisions about their land by providing them with extensive technical assistance. This support includes pro-bono architectural, legal, and financial modeling assistance to help groups understand what they could develop on their property to address the city's housing crisis — while enabling their organization to remain in the community.
Grace Chung, LISC NYC lead on the NYLOP program, said funding from Trinity and other philanthropists, including banks and private foundations, will help them graduate the program from a pilot into a regular offering from LISC NYC due to its success.
"In 2019, we were incredibly grateful to receive additional funding from JPMorgan Chase — a $500,000 grant from JPMorgan Chase — and then also a grant from Trinity Church Wall Street which will allow us to formalize NYLOP as one of LISC NYC's ongoing offerings," Chung said.
When asked how much of Trinity Church's real estate had been dedicated to affordable housing, Torre was quick to highlight St. Margaret's House, a  20-story apartment building that features 251 rental apartments strictly for older adults, ages 62 and over, and mobility-impaired people, ages 18 and over, who all receive Section 8 rent subsidies.
"That's a development that we are very proud of and committed to continuing," she said, while noting that Trinity Wall Street is also looking at different ways they can do more, including supporting faith-based institutions that want to leverage their properties to create affordable housing.
"I do think there's great opportunities with faith-based [organizations to balance the slant towards the luxury market by developers] with land air rights, owned by faith-based institutions. It's one of the reasons why we want to ensure that those organizations are well-equipped in terms of analyzing and assessing what they can do," Torre said.
As a trained urban planner, Torre said that she personally believes in mixed-used and co-located housing as viable solutions to the affordable housing crisis.
"There's no reason you cannot have affordable housing over a church, over a public library," she said, agreeing that educating churches about the development process is a good place to start to ensure successful development partnerships.
"We have seen in New York City, sadly, some churches have gone into deals that have not been really beneficial for the churches and ultimately don't end up getting the churches the things that they want, such as a replacement church and the type of affordable housing that they want," Torre said.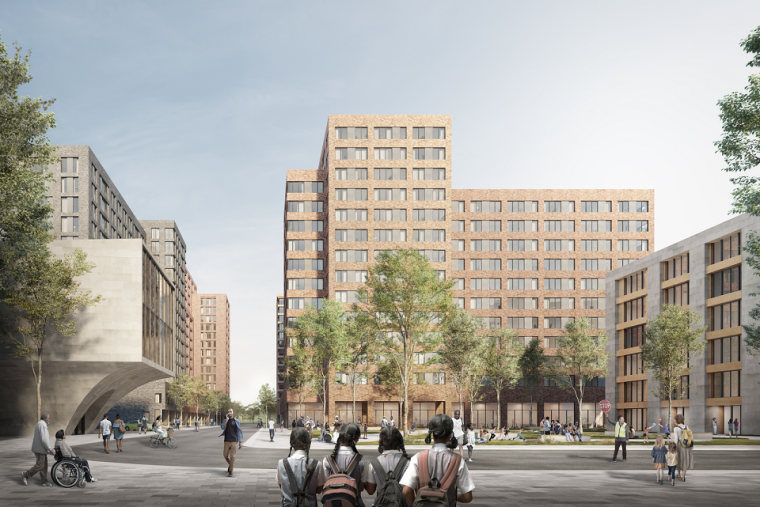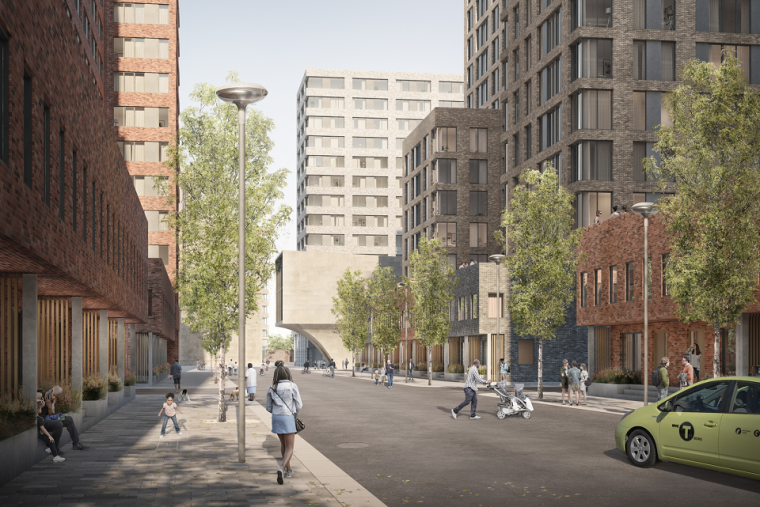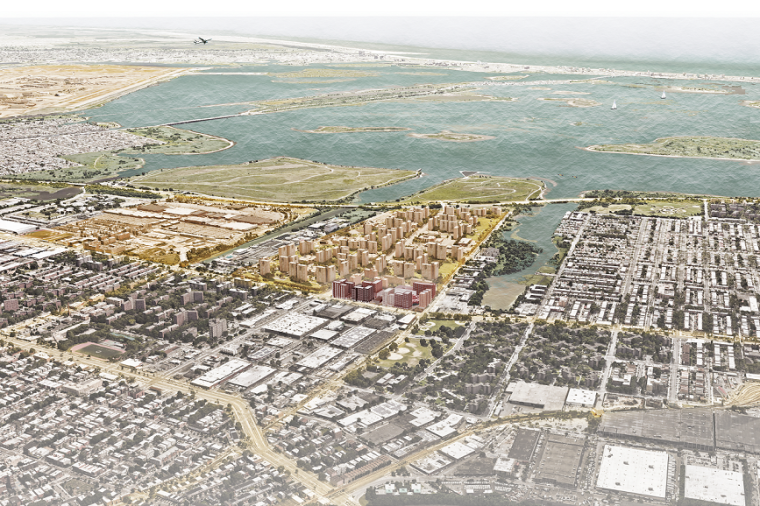 View Photos
The Rev. A. R. Bernard, pastor of the Christian Cultural Center, which is the largest evangelical church in New York City with 43,000 members, has plans to build 2,100 affordable apartments on his church's 10-acre parking lot next to Starrett City, the nation's largest federally subsidized apartment complex.  
The church is partnering with Gotham Organization for the project, designed by Practice for Architecture and Urbanism. Called "Innovative Urban Living," the plan, which is currently undergoing an environmental quality review process, will be a mixed-use community, with 13 buildings ranging from two to 17 stories. The development will also include retail space, a daycare, a school, parking, a trade school, and a public park.
The church did not respond to a request for an interview about the project but Ruschel Jones, a member and neighbor of Sandra Martinez in the Nehemiah Spring Creek neighborhood, told CP that Bernard recently discussed the development with the church and the community is excited.
Like Sandra, Ruschel managed to score a two-family home in the housing lottery 10 years ago for just $250,000 and is excited that her investment is now valued at more than $700,000 while her mortgage is a comfortable $1,800 per month.
Thanks to the help of her affordable housing investment from which she also generates rental income, the EKG technician said she is now thinking about investing in property in New Jersey where she hopes she can pay her blessing forward by renting at affordable rates to tenants struggling in the tight housing market.
"We count our blessings. We live comfortable. I don't have to kill myself working overtime … because we can afford to pay," she said.
"I feel it's a great thing that they (the churches) are doing for people who can't afford it. It's a wonderful thing. It's a blessing because it's not easy. I hear my co-workers speaking about the same thing. They can't afford it because it's $2,500 and they're only making this amount of money and they got to work overtime so I think it's a blessing that the churches are coming together and doing that for people," she said of the development partnerships.
Like Trinity Wall Street's Torre, the EBC's Rev. Lee agrees that a big part of making sure these partnerships between churches and developers are successful is education. One of the reasons some churches with available real estate have been hesitant to join the affordable housing partnership conversation, he said, is that they have seen too many bad deals.
"There have been churches that have been willing to do it, to have their properties be mixed-use properties but they have gotten into some shady deals with some shady developers. And I've seen a lot of churches have to close because developers or the churches themselves didn't have all the necessary tools that they needed to go through the paperwork and understand everything that's going on," Lee said.
"Developers have just abused whatever power they had. This is why I think it's good for churches not to do it just in isolation but to do it collectively. I think it puts more onus, more accountability, more eyes. The more people you have, the more power you have," he said.
Lee further noted that because every church's situation can be so different and creating affordable housing is so complex, they will all need different types of assistance to create successful partnerships with developers.
"I think it's not going to be one silver bullet. It's going to be a lot of different things of pulling together — whether it be technical assistance, whether it be seed money, whether it be churches coming together collectively. It's not going to be one thing; it's going be a mixture of a whole lot of things. The monster is just that big. The issue is just that difficult," he said.
When asked if the city could quantify the role the faith community is currently playing in responding to homelessness, Jose Bayona, director of Community & Ethnic Media in the New York City Mayor's Office, said the faith community is an "important partner," in a statement to CP.