Family advocates offer advice on how to help kids struggling with porn, sexting and exploitation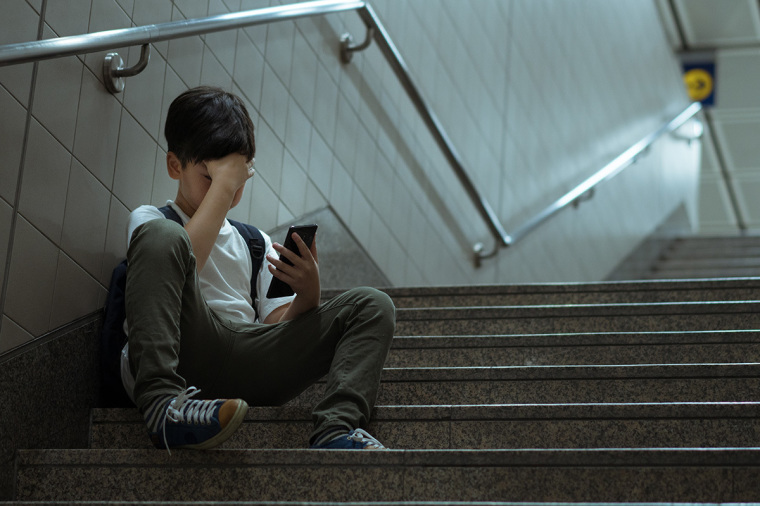 Youth struggling with a porn addiction can benefit from a loving, parental connection and a relationship with God, says Christian family expert Adam Holz. 
Holz, the director of PluggedIn, a publication operated by Focus on the Family designed to provide parents with detailed information about the content found in popular entertainment, told The Christian Post there is no "one-size-fits-all strategy" for helping teens struggling with porn addiction. He also warned that this type of addiction in children can lead to isolation and shame. 
As Holz noted, a young mind cannot fully understand or process explicit imagery, and exposure to pornography can lead to different behavioral outcomes in children. 
"Those outcomes can include compulsively seeking out more of the same until an addiction to those images is created, as well as acting out sexually with other people as kids get older," he wrote. 
The relational breakdowns and isolation kids can experience due to a pornography addiction might be the result of a child knowing deep down that they've chosen something sinful, added Holz. "The first focus, then, is on relationship, on building a relational connection where kids know they can talk to you without fear of being further shamed — in their relationship with you, as parents, and in their relationship with God."
"That relationship, though, needs to be paired with concrete solutions to protect and restore a young person, which can involve pastoral help, accountability (either one-on-one or in a support group), and potentially professional counseling or even an in-patient program in extreme cases," he continued. 
The Christian director clarified that the goal would be to help children know they're loved by God and to model grace for them. In addition, there must be an "embrace of truth," which might include limited access to screens as families "re-embrace healthy and Godly choices in this area." 
He also highlighted filters and parental control features on electronic devices as another method for protecting children from pornography. However, Holz warned that filters aren't "foolproof," as some children might have friends who own devices that do not have similar protection. 
"Thus, relationship again is paramount here," the Christian director advised. "Talk openly and regularly about the purpose of God's design for sexuality and our bodies. Let your kids know that they can always talk to you if they've made a bad choice or been exposed to a hurtful image." 
"Keeping lines of communication open gives our kids an asset that's critical in helping them to navigate this tough issue," he concluded. 
In Germany, according to one police report containing 2022 crime statistics, 41.1% of suspects who distributed pornographic materials were younger than 18. The report's findings were described in a March 30 press release. 
"With the increase in the distribution, acquisition, possession and production of youth pornography (+ 32 percent) and child pornography (+ 7 percent) content, it can be seen that children and young people in particular share pictures in group chats without any knowledge of a criminal background," a translated version of the press release reads.
Haley McNamara, vice president of the National Center on Sexual Exploitation, noted that when children engage in "sexting," a term for sending sexually explicit photos or videos, the images often reach more than the intended recipient and are then further shared by others.
"It's a disturbing reality that many minors engage in sexting which is a self-production or sharing of child sexual abuse material (or child pornography)," McNamara told CP, citing a November 2012 study that examined the availability of self-generated sexual content featuring young people and how often it's redistributed online.
The study, authored by technical researcher Sarah Smith, assessed 12,224 images and videos that met the research criteria, a total of 7,147 images and 5,077 videos. The content analyzed in the study appeared on 68 different websites in a variety of geographical locations throughout the world.
"Of the 12,224 images/videos logged during the course of the study, 10,776 of these were assessed as appearing on parasite websites," the study found. "Therefore, 88.15% of the content assessed as part of this study had been redistributed from its original upload location.
Regarding the impact of exposure to adult pornography on children, McNamara cited two NCOSE reports that broke down various studies that analyzed the damage exposure to porn can have on kids. 
"Children experience negative effects of exposure to adult pornography: studies show frequent pornography use in adolescents is linked to sexual violence, social isolation, poorer academic performance, engaging in harmful behavior, and numerous other adverse effects," she said. "Other studies show that exposure is a tool in grooming and those exposed are more vulnerable to assault and predatory acts."
The anti-sexual exploitation advocate believes that the burden of protecting children from pornography cannot rest on parents' shoulders alone. 
"The technology industry must take more steps to protect children from pornography," McNamara said. She asserted that Congress needs to pass bills like the Kids Online Safety Act to create further protections. 
The bill, introduced in February 2022, aimed to provide improved online safeguards by allowing parents to disable addictive features and opt out of algorithmic recommendations. McNamara also noted that eight states are considering model legislation — the Device Filter Bill — which would require smartphones and tablets to automatically filter sexually explicit content when the devices are turned on. 
"Utah passed this in 2021, but it must be approved by five more state legislatures before it can be enacted," the anti-sexual exploitation advocate explained. 
She also highlighted a Louisiana law that holds publishers and distributors of harmful material to minors accountable for their actions. The bill passed in June 2022 and went into effect in January. The NCOSE vice president said that such legislation is critical, noting that pornography websites, including Pornhub, have hosted filmed child sexual abuse and other non-consensual materials. 
As CP reported, an Alabama mother filed a lawsuit in October against MindGeek, Pornhub's parent company, for distributing footage of an adult male sexually abusing her 12-year-old son. The woman is referred to in the lawsuit as "CV1 Mother," and her son is called "CV1" for privacy reasons. 
According to the legal filing, Shay Franklin, who's listed as a defendant in the suit, lived with the mother and her minor children from July 2018 to October 2018. Franklin assaulted her children during this time period, with the suit claiming that he "overpowered" them, in addition to drugging the children so he could record them performing sexual acts. 
"In total, videos of CV1's molestation generated an astonishing 188,000 video views with over 1,100 subscribers on Pornhub," the complaint reads. "One video ... generated over 50,000 views by itself."
Another video Franklin uploaded in October 2019 was up for sale on Pornhub for $15. According to the complaint, authorities warned MindGeek three times in November and December 2019 about the videos, but the company did not remove them till mid-December.
In September 2019, the Alabama Law Enforcement Agency received 67 tips from the National Center for Missing and Exploited Children, prompting an investigation that allowed authorities to track down Franklin through his IP address. After authorities conducted a search warrant of his residence, Franklin was detained in the Alabama jail in Butler County.