Huckabee Says Obama's Iran Deal Is Like Giving Matches to Pyromaniac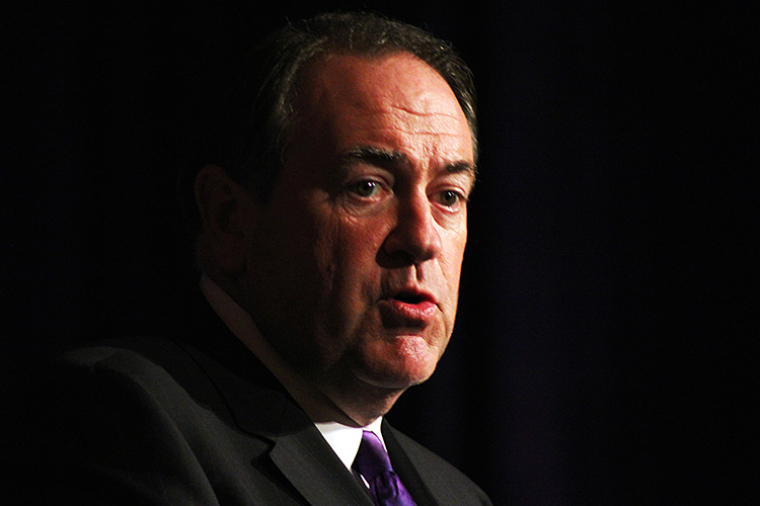 Former Arkansas Gov. Mike Huckabee, a potential 2016 GOP presidential candidate, said President Obama's leaked draft nuclear deal with Iran is "terrible" and can be compared to giving a book of matches to "a pyromaniac in our neighborhood."
"It's a terrible deal," Huckabee told Newsmax TV, referring to a draft of the nuclear-limits deal by the Obama administration that would lift economic sanctions on Tehran if it cuts its nuclear centrifuge supply by 40 percent, as reported by The Associated Press.
"One of the reasons [Israel's Prime Minister Benjamin] Netanyahu came to the U.S., spoke to Congress and thereby speaking to the American people, was to tell us we can do better than this. And frankly, to do better, means that we make it clear that nuclear options are not viable for Iran. Not now, not tomorrow, not ever," Huckabee said.
According to the draft, Iran would be required to reduce centrifuges from the 10,000 it now has to 6,000 for at least 10 years. Initially, Washington wanted Tehran to cut its centrifuge supply to 1,500.
"The thought of giving them 6,000 centrifuges — this is the equivalent of saying we got a pyromaniac in our neighborhood. We're not going to let him have a 50-gallon drum of fuel and a cigarette lighter, but we are going to let him have a 10-gallon gas can and a book of matches," Huckabee added.
The deal amounts to just holding the pyromaniac back so "he can't burn as much down," he said. "Would anyone in his or her right mind allow that? Of course, we wouldn't."
Former Army Gen. David Petraeus, who served as Commanding General of Multi-National Force in Iraq during the 2007-2008 surge, told The Washington that Iranian-backed Shia militias are a bigger threat than the Islamic State terror group to long-term stability in Iraq and the region.
"I would argue that the foremost threat to Iraq's long-term stability and the broader regional equilibrium is not the Islamic State; rather, it is Shiite militias, many backed by — and some guided by — Iran," he was quoted as saying.
Republican Sen. Lindsey Graham also warned last month that Obama will soon "unleash hell" on the Middle East if he carries on with his plans on the nuclear deal without listening to Congress and his critics.
"The Arabs and the Israelis are not going to allow the ayatollahs in Iran to have a nuclear capability only contained by the UN. … So Obama is about to unleash hell on the Mideast," Graham said. "He's about to create a nuclear arms race by wanting a deal with the Iranians so badly that he's about to make the mistake of a lifetime."
Obama's critics say that the negotiation process is diverting from the original aim of removing Iran's potential to make nuclear weapons, to tolerating and only temporarily restricting Tehran's nuke capability. And as negotiations are underway, Washington is not making any serious efforts to check Iran's growing influence in the Middle East.
The Obama administration earlier hinted that it would go for a deal with Iran without a congressional vote.