Hurricane Harvey Tracker: Projected Path Map; Devastating Storm Prompts Texas Evacuations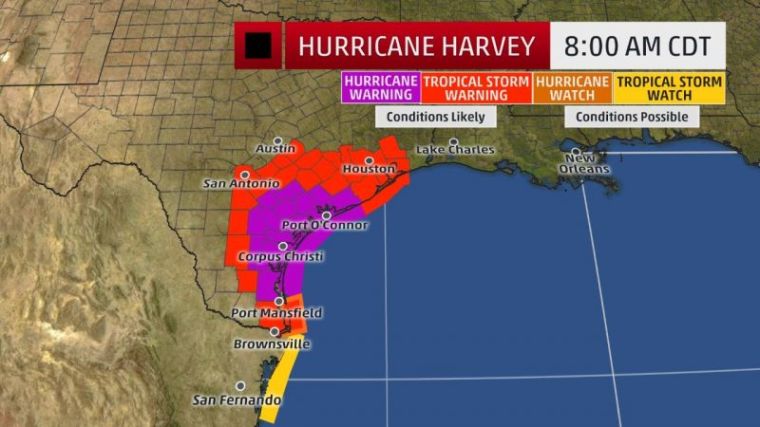 Officials in Texas are urging people in the path of Hurricane Harvey to evacuate as soon as possible, as weather experts are warning of devastating and life-threatening rainfall and floods.
"If it's 10 feet of water, there's a good chance you will lose electricity," Corpus Christi Mayor Joe McComb said, according to Fox News. "So you'll be on the Island with no [air-conditioning], no water, no electricity. We recommend in the strongest terms that you need to get out now or get to higher ground."
Landfall is predicted for late Friday or early Saturday between Port O'Connor and Matagorda Bay, with The Weather Channel warning that the nation's first Category 3 landfall in almost 12 years is set to bring "devastating rainfall flooding, dangerous storm-surge flooding and destructive winds."
The damage could leave parts of the affected areas "uninhabitable for an extended period of time," it added.
A hurricane warning has been issued from the north of Port Mansfield to Sargent, including the city of Corpus Christi. TWC noted that hurricane conditions are likely within the watch area.
"Importantly, tropical storm-force winds may begin to affect the hurricane-warned area above as soon as late Friday morning, making final preparations difficult," it said.
The report further warned: "Outer rainbands are already spiraling ashore as far north as Galveston Bay, bringing brief heavy rain and gusty winds.
"Water levels were already 1- to 2- feet above average tide levels as of Friday morning from S. Padre Island, Texas to Calcasieu Pass, Louisiana."
Forecasters fear the life-threatening storm could bring up to 3 feet of rain, 125 mph winds and 12-foot storm surges.
National Hurricane Center spokesman Dennis Feltgen said that Harvey looks set to continue intensifying right up until landfall.
Texas Gov. Greg Abbott has activated close to 700 National Guard members ahead of the hurricane, with President Donald Trump reportedly calling in to pledge all available federal resources to assist in the preparation, rescue and recovery efforts.
Brock Long of the Federal Emergency Management Agency added: "I encourage residents who will be affected to follow directions from their local officials. Know your threats, heed the warnings, and if you're in the path of the storm, ensure your family is prepared for possible prolonged disruptions to normal services."
Several charities, including the Salvation Army and the Red Cross, have said that they are preparing for Harvey.
"This is a mobile feeding unit capable of feeding hundreds of people a day, three meals a day and we can do it for days at a time; possibly even weeks at a time if the damage is really severe," said Brad Mayhar from the Salvation Army San Antonio Area, according to KENS5.
"We'll serve meals, to not just first responders and volunteers that are on the ground, but we'll also be there to serve the victims themselves, the residents who are displaced," he added.
Libby Castillo from the American Red Cross in San Antonio urged people to get ready.
"Get yourself a backpack, and get enough for each of your family members. Put enough in there for three days. You're going to want to have flashlights with batteries. If you're on any medication, make a stash of that to take with you in your emergency bag as well, because you're definitely going to need that if you do have to evacuate," Castillo advised.