Hurricane Irene Floods NYC; Death Toll Rises to 12 (PHOTOS)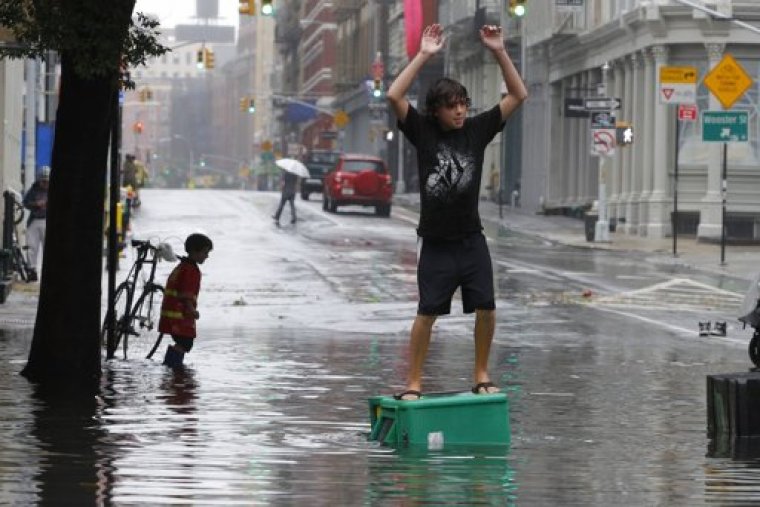 Hurricane Irene, now downgraded to a tropical storm, made landfall in New York Sunday morning, with flooding reported in low-lying areas of New York City, including in Manhattan and Brooklyn.
Irene touched down in New York City about 9 a.m. with winds of 65mph. The latest death toll update for Irene is 12 people in five states. More than 800,000 homes and businesses in Long Island and New Jersey loss power, and the number is expected to grow as the storm continues to batter New York. In total, at least 3.1 million homes and businesses on the East Coast are experiencing a blackout, according to ABC News.
"Do not leave your homes … It is still not safe," New Jersey Gov. Chris Christie said Sunday morning, according to CNN. "We've got flooding everywhere and flash flooding in all different parts of the state."
There was flooding reported in all five boroughs of New York City, but wind and flood damage was much less severe than anticipated. The most severe flooding occurred in low-lying areas in Brooklyn, Queens and Staten Island, where water in some places reached thigh-high, according to The New York Times.
But on Staten Island, the situation was more severe, with dozens of people having to be rescued from their flooded homes, the Times reported.
According to ABC News, workers are trying to prevent water that had breached the seawall in lower Manhattan from spreading into the subway system, where it could damage transformers.
New York's mass transit system and all its airports will reportedly be shut down on Monday, and hopefully be reopened on Tuesday.
Tornadoes have been reported in Virginia and Delaware, and can form anywhere along Irene's path.
Another tropical storm, Jose, is forming near Bermuda, according to the National Hurricane Center. But it is expected to lose strength starting tomorrow.