Hurricane Irma Tracker: Projected Path Map; Florida Braces for Direct Hit as Tens of Thousands Flee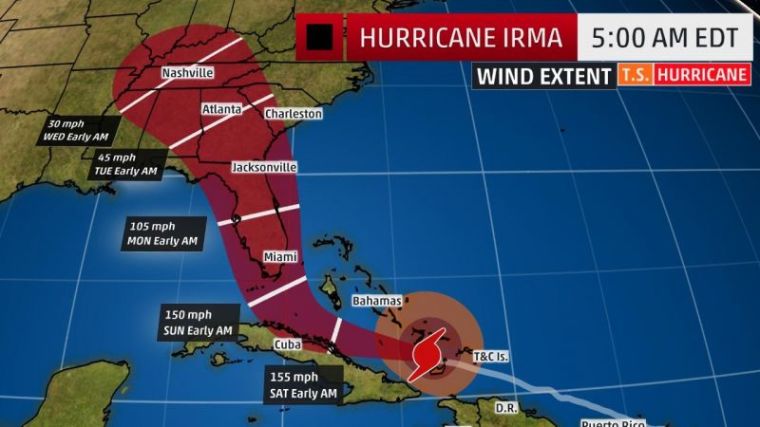 Hurricane Irma, which has already battered the Bahamas and Cuba, causing at least 14 deaths, is set for a direct hit on Florida this weekend, with parts of Georgia and the Carolinas in danger as well.
Irma is set to become the strongest hurricane to strike Florida since Charley 13 years ago, The Weather Channel warned Friday morning, noting that it has dropped to a still formidable Category 4 hurricane with winds of 155 mph.
"This is not a hurricane you want to risk riding out. If a mandatory evacuation is issued, you are strongly urged to leave."
According to the National Hurricane Center, the earliest tropical-storm-force winds could arrive Saturday morning in South Florida.
The Weather Channel warned that "Irma will remain an intense hurricane, at least Category 4, as it approaches South Florida this weekend, with potential devastating impacts."
"Hurricane warnings have been issued for Florida's Jupiter Inlet southward around the peninsula to Bonita Beach, the Florida Keys, parts of the northern coast of Haiti, the Bahamas, the Turks and Caicos Islands and the Cuban provinces of Camaguey, Ciego de Avila, Sancti Spiritus and Villa Clara," the weather report stated.
"A hurricane watch is also in effect for portions of Florida, from north of the Jupiter Inlet to Sebastian Inlet, as well as north of Bonita Beach to Anna Maria Island, along with the Cuban provinces of Guantanamo, Holguin, Las Tunas and Matanzas."
Irma's exact path is uncertain, with the weather report stating that "Irma's center could track along either side of the Florida Peninsula. Where Irma turns north on Saturday or Sunday will be critical for determining what parts of southern, central and northern Florida experience the most dangerous impacts from Irma."
Depending on how Irma moves, it could cause "devastating to catastrophic" damage to buildings and lead to major power and communication outages. Moreover, southern Florida could see a "life-threatening water-level rise of five to 10 feet above ground level," coinciding with a high tide on Sunday.
Georgia and the Carolinas are also expected to be affected starting late Sunday-Monday morning.
Fox News reported that tens of thousands of drivers have been fleeing northward in Florida to escape the incoming hurricane, causing massive traffic jams.
"There was no gas and it's gridlock. People are stranded on the sides of the highway," Mari Michaud, a Florida resident who left her home with her husband and two children, told The Associated Press. "It's 92 degrees out and little kids are out on the grass on the side of the road. No one can help them."
Reports on Wednesday said that traffic had doubled and even tripled on major roadways and interstates.
Florida Governor Rick Scott said that he traveled on Thursday to meet with local officials and to ensure communities that they have the resources they need.
"Hurricane and Storm Surge Watches are in effect for portions of South Florida and the Florida Keys. Additional watches should be expected," a statement on the governor's website read.
"The Governor will continue to be in constant communication with state and local emergency management officials, city and county leaders, and utility officials who are also working to ensure the state is prepared to respond to any potential impacts from Hurricane Irma."
Christian charity groups, such as Samaritan's Purse, which continues to carry out major relief operations in Texas in the wake of Hurricane Harvey, said that Irma is leaving "death and destruction" through the Caribbean as it makes its way for Florida.
"Samaritan's Purse will first respond to the island of St. Maarten, where Irma ripped apart buildings and claimed multiple lives," the group said in an update.
"On Friday we're sending critically needed supplies and a disaster assistance response team to relieve suffering in the Name of Jesus Christ. Via our DC-8, we will airlift heavy-duty shelter plastic, family hygiene kits, and blankets for more than 2,000 families. Additional flights are expected over the coming days to other hard-hit nations."