Hurricane Irma Tracker: Projected Path Map; Several Dead, Millions Without Power as Georgia Braces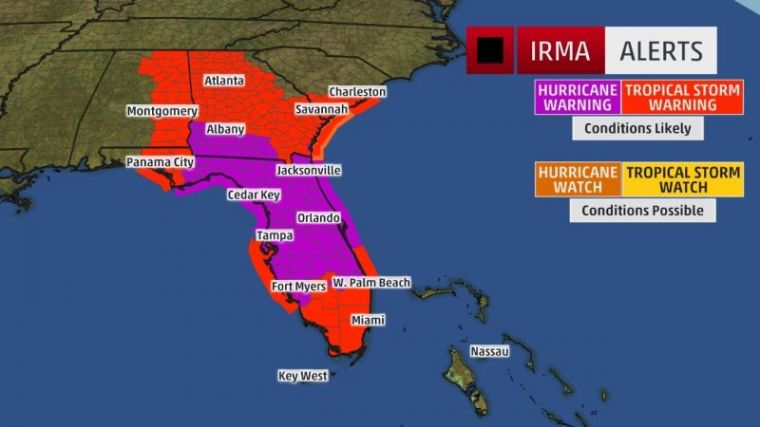 Hurricane Irma has led to at least five deaths in Florida after it crashed through the Florida Keys on Sunday, leaving seven million people without power.
The hurricane has been downgraded to a Category 1, but is set to cause further damage on its course for Georgia.
According to ABC News, 27 people have been killed in the Caribbean due to the storm, with another five casualties reported in Florida.
Residents have been fleeing and looking for shelters, though one Naples mother with her 10-year-old son said that she was turned away by two shelters before being accepted into one.
"We have a dog and there were not that many shelters that accepted dogs," the woman said. "We didn't want to be that far away from our home," she added, noting that her husband and their dog have stayed at home.
The Weather Channel reported that the damaging winds are set to spread into parts of the Southeast from Alabama and Tennessee to Georgia and the Carolinas through late Monday, while coastal flooding will peak Monday in South Carolina, Georgia, and northeast Florida.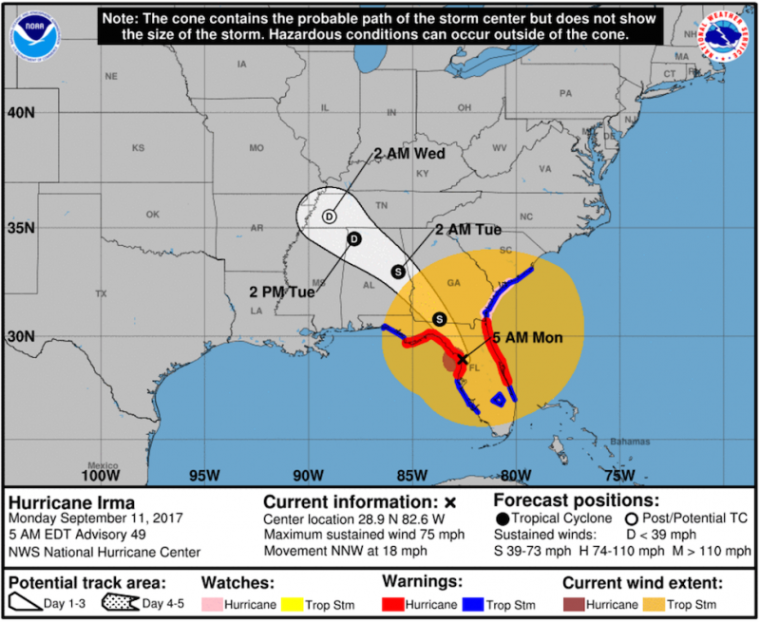 One of the hardest hit areas on the U.S. mainland has been Jacksonville metro, with wind gusts from 80 to 90 mph downing multiple trees at the National Weather Service office.
Miami, meanwhile, was lashed with winds approaching 100 mph, causing two crane collapses in the city.
"The first bit of good news is that some hurricane warnings have been downgraded to tropical storm warnings in south Florida," the weather report noted.
"Hurricane warnings extend north of Jupiter Inlet on the east coast to Fernandina Beach and from Bonita Beach to Indian Pass on the Gulf Coast. Hurricane warnings are also in effect well into southern Georgia. Included in the hurricane warnings are the Tampa/St. Petersburg metro, Jacksonville, Tallahassee, Thomasville and Valdosta."
Florida Gov. Rick Scott has warned residents that storm surges could reach 10 to 15 feet above sea level in the Naples area.
"Do not think the storm is over when the wind slows down," Scott said, pointing out that the dangerous storm surge "will rush in and could kill you."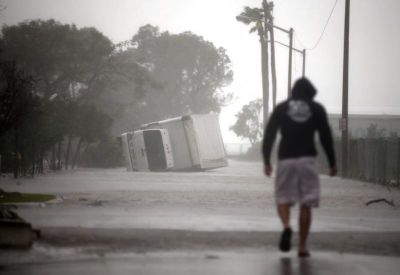 Christian relief groups are mobilizing to help in recovery efforts with Irma, much like they did with Hurricane Harvey and the damage it caused in Texas.
World Vision said that it has trucks filled with supplies that are ready to be shipped to affected areas.
"Supply trucks are filled with food, water, hygiene supplies, and other items. Several trucks have been deployed, and each truck's supplies can help about 2,500 people. Preparation for this storm will not detract from World Vision's continued response to Hurricane Harvey," the children's charity said.
"World Vision staff in Haiti and the Dominican Republic are responding to damage in their countries and are grateful their countries weren't hit as hard as expected. Food packets, water, and some essential supplies have been distributed to those affected."
The Billy Graham Rapid Response Team, which sends relief supplies along with spiritual and emotional counseling to victims of disasters, has also said that it is ready to send in chaplains to help with Irma.
"We're also identifying chaplains on the East Coast who have volunteered for Harvey, to redirect them to Irma, because we've had such an overwhelming response from our chaplains," said Jack Munday, international director of the Rapid Response Team.
Speaking about the havoc wrecked across the Atlantic, Munday added: "My heart goes out to the people on these islands because they didn't have the resources, the shelter, the ability to prepare as we would have on the mainland, which makes them more vulnerable."