Hurricane Michael Tracker: Projected Path Map of Catastrophic Storm; 'Last Chance' Evacuations Plea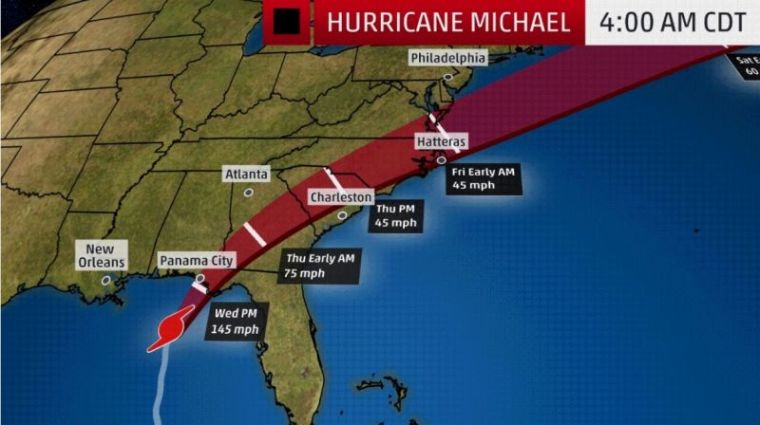 Hurricane Michael is intensifying into a Category 4 hurricane as it sets to make a life-threatening landfall on Florida's northeastern gulf coast, with "last chance" evacuation orders sent out.
The National Hurricane Center reported early Wednesday morning that the "extremely dangerous" storm is set to strengthen further as it heads toward the Florida panhandle. It warned of a "life-threatening storm surge," "hurricane force winds," and heavy rainfall that is expected to hit the northeastern gulf coast.
The National Weather Service office in Tallahassee, Florida, warned on Tuesday evening that a "potentially catastrophic event is developing."
"Locations may be uninhabitable for weeks or months," it added.
Authorities said that people need to heed any and all evacuation orders.
"Early this morning is your last chance to move to a safer location," the message highlighted.
Florida Gov. Rick Scott issued a similar warning in a tweet that was re-tweeted by President Donald Trump.
"If you're in an evacuation zone, I am urging you to leave RIGHT NOW. Do not risk your life or the lives of your loved ones—get out now," Scott wrote on Tuesday.

"Tonight the @NHC_Atlantic forecasted that Hurricane Michael will be a Category 4 storm when it makes landfall. Just as we've said over & over, this storm is DEADLY and could be catastrophic to the FL Panhandle," the governor continued in another tweet. 
"Do not take this lightly—take action now to protect your life & the life of your family. Stay vigilant & listen to your local authorities and local news reports for the most up-to-date information," he added.

Landfall is projected along the Florida Panhandle for Wednesday afternoon, with conditions set to deteriorate on the northeastern gulf coast in the morning.
Michael is then expected to accelerate inland across the southeastern U.S., bringing heavy winds and rain, along with enhanced rainfall in the mid-Atlantic and southeastern New England for Thursday night and Friday.
Phil Klotzbach, a tropical scientist at Colorado State University, pointed out on Twitter that if Michael does indeed make landfall as a Category 4 storm, it will be the strongest hurricane to hit the state since at least 1851.

Looking at the path map, the hurricane center explained that Michael is "moving toward the north near 13 mph (20 km/h). A turn toward the north–northeast is expected this morning, with a turn toward the northeast expected this afternoon or tonight."
"A hurricane warning is posted for the Florida Gulf coast from the Alabama/Florida border to Suwanee River, Florida, including Pensacola, Panama City, Destin and Tallahassee," The Weather Channel added.
"The hurricane warning also extends inland to southwestern Georgia, including Albany. Hurricane warnings are issued 36 hours before the anticipated arrival of tropical-storm-force winds (39-plus mph), which is when outside preparations become dangerous."
The U.S. is still recovering from the deadly hurricane-turned-storm Florence that hit the East Coast in September, which caused over 30 direct deaths and inflicted billions of dollars in damage.