Hurricane Sandy Live Tracker: Projected Path Latest Map (Live Video Updates, Photos)
Hurricane Sandy has continued on its projected path towards Maryland, New Jersey and New York City areas. The National Hurricane Center has reported that winds are currently being measured at 85 mph and landfall is expected Monday late evening. A Hurricane Sandy Live Tracker Update Video can be seen below:
 LIVE Hurricane Sandy Coverage - The Weather Channel
The effects of Sandy are already being felt across the East Coast of the United States with winds picking up to more than 30 mph early Monday morning, and wind gusts in excess of 50 mph are being reported in various areas.
Sandy is moving towards the U.S. coastline now at about 15 mph and is expected to make landfall tonight around midnight. On its current track it will make landfall at southern New Jersey, near Atlantic City, which will create a massive storm surge across that region as well as up to the New York harbor areas.
The hurricane force winds are extending out about 175 miles from Sandy's center, and Tropical Storm force winds extend out even further - about 485 miles. It is expected to expand out even further once the storm hits the U.S. coastline.
It has also been predicted by experts that the strongest storm surges will be felt north of where Hurricane Sandy makes landfall, as a funneling of water drives up 8 to 10 feet of water into the New York City area. Zone A areas are already under mandatory evacuation orders, and places such as Battery Park are expected to suffer significant and potentially dangerous flooding.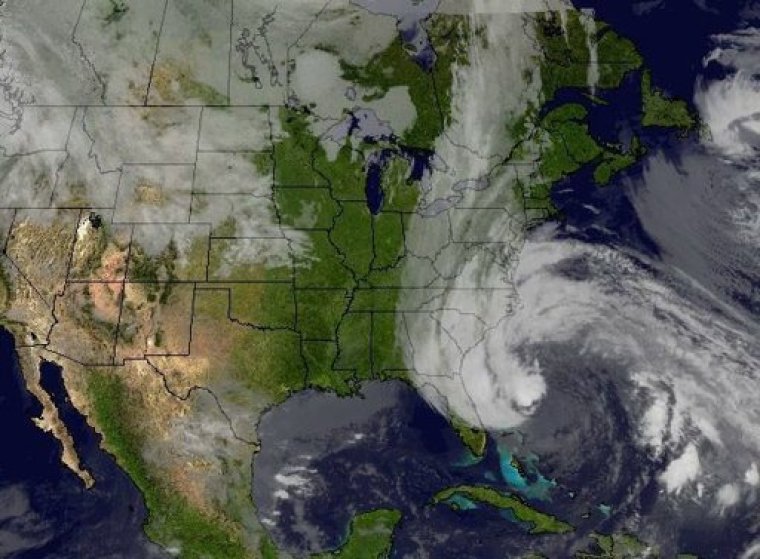 NYC Mayor Bloomberg made an announcement on Monday just before midday saying that schools would remain closed on Tuesday, with transport links also likely to remain down as the affects of Hurricane Sandy are expected to be felt in the city throughout Tuesday and into Wednesday.
South of landfall the storm surge could be about 3 feet high at Ocean City, MD.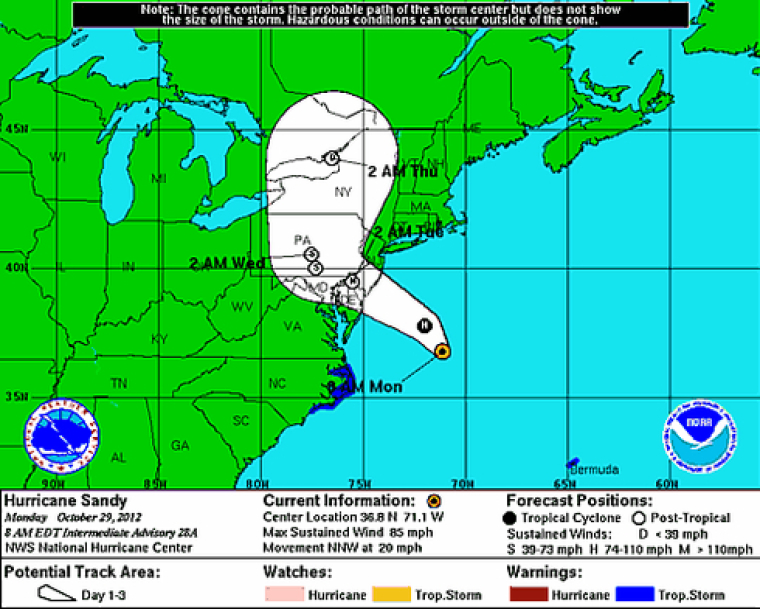 About 350 miles of coastline will feel the severe impact of the hurricane force winds in excess of 80 mph, and an even greater area the weaker but still very dangerous tropical storm winds.
Rainfall is expected to be heavy and about 6 inches of rainfall is expected in many areas. That would make trees more susceptible to being uprooted by the strong winds. Leaves could also pose a problem as they pile up and block storm drains, further adding to the expected flooding.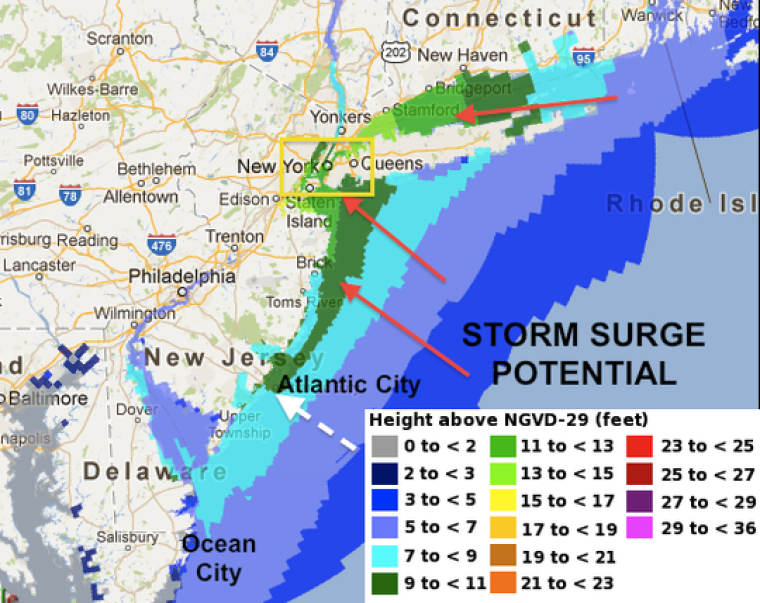 Despite Sandy only being a Category 1 hurricane, its Pressure level is 946 mb (27.94 inches) which is equal to a Category 3 storm.
The new predictions for extensive flooding will be amplified further by the astronomical High Tide on Monday evening with the Full Moon.
In Western Maryland, and western parts of PA and West Virginia there could be up to 2 feet of snowfall.