'I Believe Jesus Would Approve Gay Marriage,' Says Former President Jimmy Carter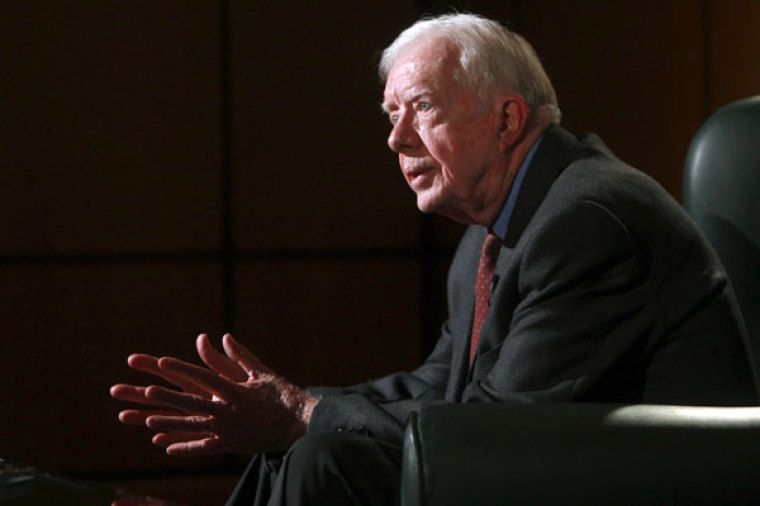 Jimmy Carter, the 39th president of the United States, said Tuesday that in his personal opinion Jesus Christ would approve of same-sex marriage.
Carter's remarks come less than two weeks after the U.S. Supreme Court ruled in a 5-4 decision that state-level gay marriage bans are unconstitutional. His belief, however, does not align with a number of conservative Christians, both from evangelical and Catholic traditions, who've said that God has made marriage between one man and one woman, and have been disappointed by the Supreme Court's decision.
"I believe Jesus would. I don't have any verse in Scripture. ... I believe Jesus would approve gay marriage, but that's just my own personal belief. I think Jesus would encourage any love affair if it was honest and sincere and was not damaging to anyone else. And I don't see that gay marriage damages anyone else," Carter told HuffPost Live in an interview on Tuesday.
Carter has backed gay marriage on a number of previous occasions, though he has also said that churches and states should be allowed to decide for themselves whether or not to marry gay people.
"Well, I kinda draw what I consider to be the right line. I don't think that the government ought to ever have the right to tell a church to marry people if the church doesn't want to. I'm a Baptist and the congregation of our church will decide whether we have a man or woman as pastor and whether we'll marry gay people or not," the former president said in October 2014.
President Barack Obama also hailed the Supreme Court's June 26 ruling as a "victory for a America." But prominent Evangelicals, such as the Rev. Franklin Graham, have said that the court's decision might bring the wrath of God's judgment upon the nation.
"Our nation has a spiritual problem and we need God's forgiveness and we need to repent of our sins and turn from our sins, because I do believe that God's judgement will come on this nation," Graham stated after the ruling.
"When we read in the Scripture, we see how God judged Israel time and time again, when they would turn their back on Him and begin to worship other gods, foreign gods, and God would bring judgement on Israel. I believe God could bring judgement on America."
Pastor Robert Jeffress of the 11,000-member First Baptist Church in Dallas added that Matthew 19 in the Bible shows that according to Jesus, man is supposed to leave his parents to "cling to his wife" and become "one flesh."
Jeffress insisted that no matter the consequences, Evangelicals cannot afford to 'fold their biblical principals of marriage.'
The Roman Catholic Archbishop of Washington, Cardinal Donald Wuerl, also said earlier this week that the Supreme Court's ruling cannot change the Gospel's message on marriage.
"The law of the land is the law of the land," said Wuerl in a WTOP report. "We certainly follow what the law says. That doesn't mean we change the Word of God. That doesn't mean we change the Scriptures, or the church's millennia-long tradition of what marriage is."