Obama Needs to 'Shut Up and Go Home' With His 'Gay Agenda,' Says Politician at Kenyan March to 'Protect the Family'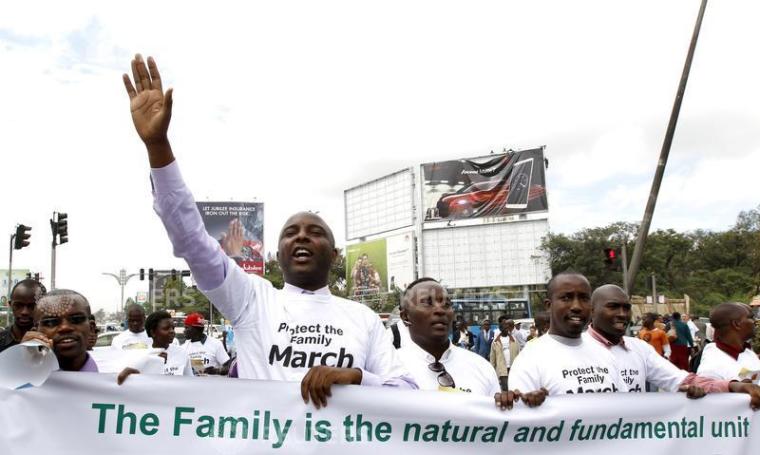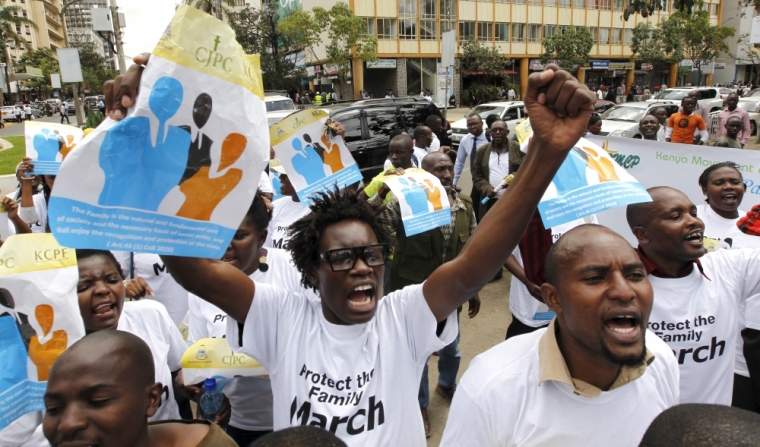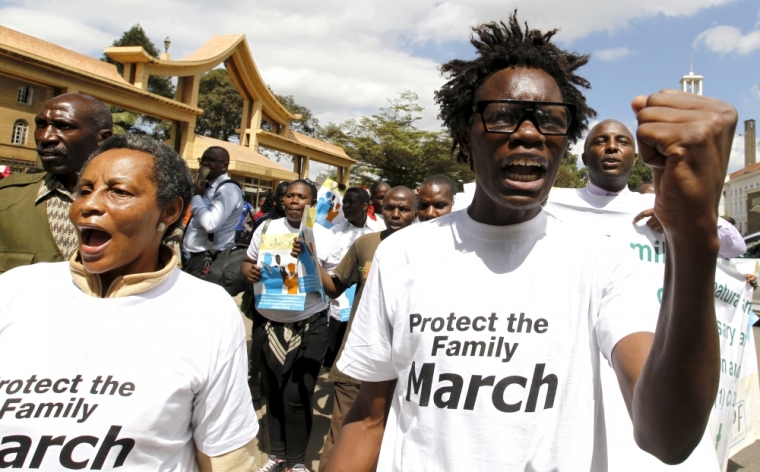 View Photos
A Kenyan politician has reportedly said that U.S. President Barack Obama needs to "shut up and go home" with his "gay agenda," ahead of an official state visit later in July. Dozens of demonstrators marched in Nairobi on Monday to "protect the family" and the traditional definition of marriage.
"We are telling Mr. Obama when he comes to Kenya this month and he tries to bring the abortion agenda, the gay agenda, we shall tell him to shut up and go home," lawmaker Irungu Kangata told demonstrators outside parliament, Reuters reported.
Kenyan politicians and pastors of evangelical churches have said that Obama should not push America's pro-gay marriage stance on the African country where the practice is criminalized.
In May, close to 700 pastors urged Obama not to "preach" his same-sex marriage views on the Kenyan people during his visit.
"We would like to send a strong message to the U.S. president that the homosexuality debate should not become part of his agenda, as it has been his tendency whenever he comes to Africa," Bishop Mark Kariuki of the Evangelical Alliance said at the time.
"[Obama] should respect the faith, culture and people of Kenya when he comes in July," he added. "He should not put [homosexuality] as one of his main agenda[s] in the country."
BBC News noted that Kenyans are also going on Twitter urging Obama to "spare us the gay talk," as one user put it. The hashtag #KenyansMessageToObama was trending with nearly 3,000 tweets on Monday, with a number of the messages focusing on social issues the American president might bring up during his visit.
Obama has been a strong supporter of gay marriage and celebrated the Supreme Court's ruling that state bans on same-sex marriage are unconstituional by lighting the White House in Washington D.C. in rainbow colors.
Homosexual relations remain illegal in a number of African countries, including Kenya, which Obama has spoken out against.
"When it comes to people's personal views and their religious faith, I think we have to respect the diversity of views that are there," Obama said in a 2013 speech alongside Senegalese President Macky Sall.
"But when it comes to how the state treats people, how the law treats people, I believe that everybody has to be treated equally. I don't believe in discrimination of any sort."
In a response to a question on the subject, White House Press Secretary Josh Earnest said during a press briefing on Monday that "when the president travels around the world, he does not hesitate to raise concerns about human rights."
"And that's been true when he's traveled to places like China, it'll be true tomorrow when he meets with the general secretary of Vietnam, and I'm confident the president will not hesitate to make clear the protection of basic human rights in Kenya is also a priority consistent with the values that we hold dear here in the United States of America," Earnest added.