'I Could Never Go Back,' Says Former Porn Star Who Found Jesus
Brittni Ruiz, a former popular porn star who is now a Christian, appeared with Pastor Craig Gross of XXXchurch.com on "The View" on Monday and told the show's host that after encountering God's love, she had no desire to return to the adult film industry.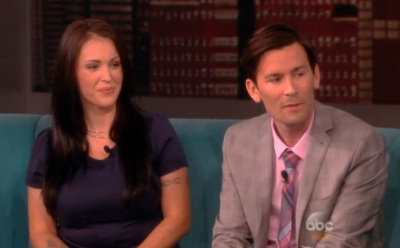 "Brittni, you now work in sales. You work in sales and you work alongside Craig because you try to talk to other women involved in the porn industry, you know coming out of that. Do you go through times in your life when you go, 'I want to go back. I kinda miss it?'" asked "The View" host Sherri Shepherd.
"No, absolutely not. I've encountered the love of God and through encountering His love I know my self worth. I love myself, I respect myself and I found that void. The void that I was looking for, I found that in Jesus and I could never go back."
Ruiz also revealed that she used to make as much as $13,000 in one day for her adult film work, and turned it all away when she became a Christian.
The former porn star, who started working in the industry at 18 and adapted the stage name Jenna Presley, insisted that there was nothing glamorous about making adult films.
"In the beginning I felt beautiful, I felt like I had found my self worth," said Ruiz, 26. "After a while I felt destroyed, hopeless. I felt helpless. I tried to commit suicide several times. I was miserable."
Pastor Gross, whose ministry specifically reaches out to people who want to overcome an addiction to pornography, was credited with helping Ruiz out of her former life.
He shared that his XXXchurch ministry team travels nationally and worldwide to adult industry events specifically to evangelize and share the message that "Jesus loves porn stars."
"Our church shows up at all the largest adult expos in the country, from New Jersey to Australia to California," said Gross. "We had seen Brittni for seven years at these shows and it was just a matter of time where we would send somebody … that would just brighten up her day at the show that would talk to her, give a her a t-shirt that says 'Jesus Loves Porn Stars.' I gave her a Bible."
Gross added that although he takes some credit, it was really a team of women from the XXX Church ministry "that just cared and loved her and told her she was loved and valued."
XXXchurch.com recently shared a video of Ruiz in which she shares her story of leaving the porn industry and how members of Gross's ministry, who she has interacted with for seven years, helped her along the way.
XXXchurch is a nondenominational nonprofit founded in 2002 that "exists to help people of all ages who are being assaulted by pornography. We prevail through awareness, prevention and recovery."
Watch Brittni Ruiz talk about finding Jesus and leaving porn through the help of Pastor Craig Gross's XXXchurch in the video below: