'I Feel Safer as a Citizen' Because Donald Trump Is President, Pastor David Jeremiah Says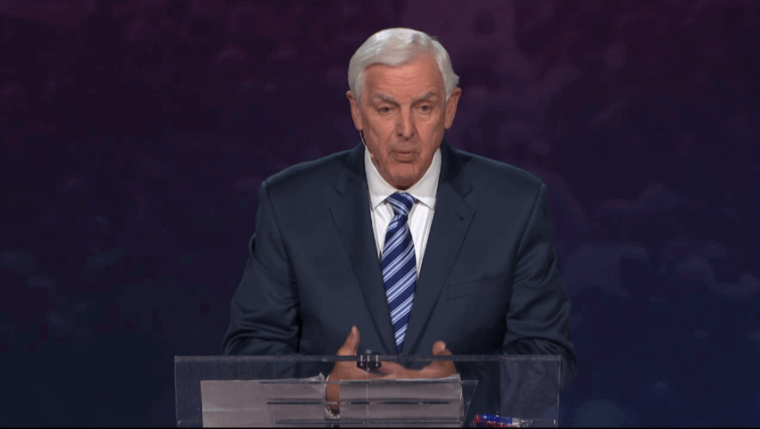 Megachurch pastor David Jeremiah, who leads the Shadow Mountain Community Church in El Cajon, California, says now that Donald Trump is president, he feels a "greater sense of security" as an American citizen.
"I'll be honest with you, I feel safer as a citizen because he's my president," Jeremiah, who was one of Trump's earliest evangelical supporters for the U.S. presidency, told CBN last Thursday.
"I feel like there's a ... greater sense of security in our country even though people don't want to talk about it," said Jeremiah, who also founded Turning Point Radio and Television Ministries.
While he doesn't like some of the things Trump "says and the way he says them," Jeremiah doesn't appear too concerned since, he said, the New York City billionaire is "not my pastor."
He also pointed to a few more positive outcomes of Trump's presidency so far, such as the improving economy.
"Right now we are in the best economic situation I can ever remember in terms of the stock market being $5 trillion more than it was in November," he said.
"Many of the experts say we're in the process of getting prepared for a big downturn, but nobody knows that, and I don't know that," Jeremiah added. "I just know that ultimately if we don't deal with our debt, then there's not a lot of good news long-term."
"Obviously, he's ... making a difference in many areas. He's making a difference economically; nobody wants to talk about it, but I just mentioned what's happened to the stock market since he's been in office."
Jeremiah was among about 40 religious leaders who gathered together at Trump's office in New York City two years ago to talk and pray for his presidential campaign.
In his prayer for the billionaire, Jeremiah hailed him as a man who "not only says what he believes but is willing to put himself in jeopardy for what he believes and will help us economically and spiritually in every way in this nation."
"Lord, thank you for allowing us to be here for this special moment. Perhaps we'll look back on this day and remember that we stood together and we prayed over the next president of the United States," Jeremiah said at the time.
In his CBN interview last Thursday, Jeremiah also noted that despite concerns of the health of the Church "there are many places where the Church is flourishing, where the Church is doing well."
"I think the Church today is strong where there's strong teaching, where the Bible is the center, and where the people of God are centered in the truth because that's what this is all about," he said.
He said Trump is a strong supporter of religious freedom and that he has been good for America.
"I was in the Rose Garden when he signed the papers to guarantee us greater religious freedom," Jeremiah said. "I know he believes that, and he's working hard to keep that as a main thing."
He said America is going through a "cultural crisis" right now because the "Right" had no voice for a while.
"Obviously, we're at a crossroads," he said. "If we can survive the ... tumult we're going through right now ... we're in a cultural crisis because before we had no voice coming from the Right that was strong enough to make a difference.
"All of a sudden now, this man that God put in office ... is changing things that people didn't think could be changed. And they don't like it, and they're pushing back hard," the pastor said.
If Christians are able to survive the crisis, "we'll have a few more years to preach the Gospel." If not, "I think we're headed for ... really difficult times," he noted.