'I Wouldn't Pay to See It;' New Moses Movie Exodus Slammed for Poor Acting, Writing and Crocodile Plague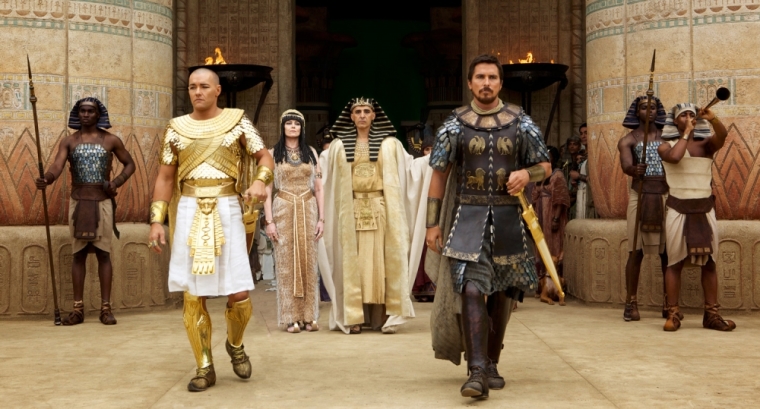 Ridley Scott's epic film "Exodus: Gods and Kings," based loosely on the story of the biblical Moses, was already under fire for the casting of white actors in lead roles in recent weeks. Now, critics who have seen the film have roundly ridiculed, and in some cases dismissed it as offensive in several scathing reviews.
In a biting one star review under a headline dismissing Christian Bale's portrayal of Moses as "God-Awful," the New York Post's Lou Lumenick trashed the 144-minute film as a train-wreck sure to offend not just Christians, but Jews and Muslims alike.
"Ridley Scott's 'Exodus: Gods and Kings'' is an utterly clueless, relentlessly grim and rambling action epic guaranteed to displease devout Jews, Christians and Muslims alike, amuse atheists — and generally bore everyone," writes Lumenick.
"It's hard to imagine exactly who Scott and his committee of writers thought they were making this movie for — it's neither Oscar bait, satisfying popcorn fare nor a remotely faithful rendering of Scripture. Of the many plagues visited upon Egypt and invoked in the Passover Seder, none included giant alligators, as this film would have it," he said.
In his review, the Tampa Bay Times' Steve Pearsall says: "This ponderous new version of the Moses legend scrupulously avoids comparison to Cecil B. DeMille's pious imagination, wrought a half-century before CGI. Even the Red Sea fails as spectacle, not majestically parting like Charlton Heston's but sinking to low tide, a symbol for the entire movie. No basket in the bull rushes, no serpent-staff miracles. Commandments are footnotes; the bush burns on low flame."
He ended: "'Exodus: Gods and Kings' caps a year in which faith-based filmmaking and audiences proved more profitable for Hollywood than it has since, well, DeMille's time. Yet not one frame of Scott's movie matches his reverential showmanship. There's a new plague in town, at a theater near you."
Taking a subtler tone toward the film while highlighting a few good points, The New York Times' A.O. Scott says the movie is "ludicrous" by accident.
"'Exodus' is ludicrous only by accident, which isn't much fun and is the surest sign of what we might call a New Testament sensibility at work. But the movie isn't successfully serious, either. Not for the first time, Scott confuses excessive scale with authentic grandeur, and while some of the battle scenes have a rousing, kinetic sweep, there are far too many slow aerial surveys of Memphis, the Egyptian capital, a city bristling with columns and other priapic monuments," he noted.
The Christian Post's resident movie critic Emma Koonse who saw the film a week ago desperately wanted to be kind in her review of the film, but when asked how she felt about the production she said bluntly: "I wouldn't pay to see it." Read Emma's complete review here.