'If You Obey God, You Will Never Be Broke,' TD Jakes Says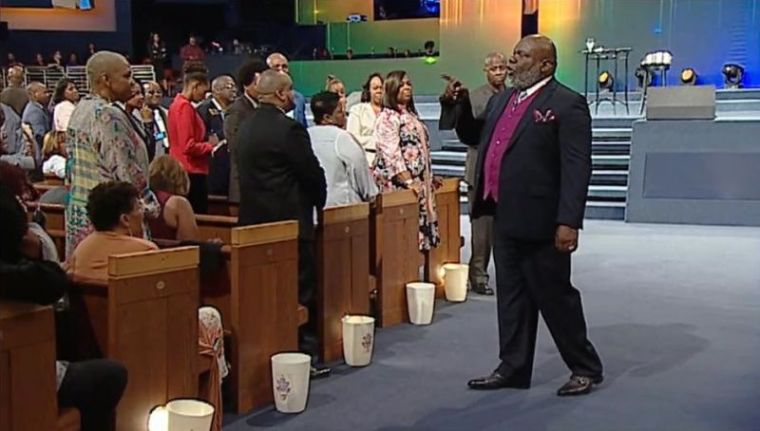 Popular megachurch pastor, Bishop T.D. Jakes of The Potter's House in Dallas, Texas, sparked a furor online Sunday when he told his 2.8 million followers on Twitter that if they obey God, they will never be broke again.
"If you obey GOD you will never be broke another day in your life. #AndItCameToPass #tphonline," a post on Jakes' Twitter account said at 11:04 a.m. on Sunday.
The Christian Post reached out to The Potter's House on Thursday to verify if the tweet was made by Jakes himself or an account administrator but no one was available.
On Monday, critics began questioning the biblical genesis of the statement and Jakes responded: "David said, 'yet have I not seen the righteous forsaken, nor his seed begging bread.'"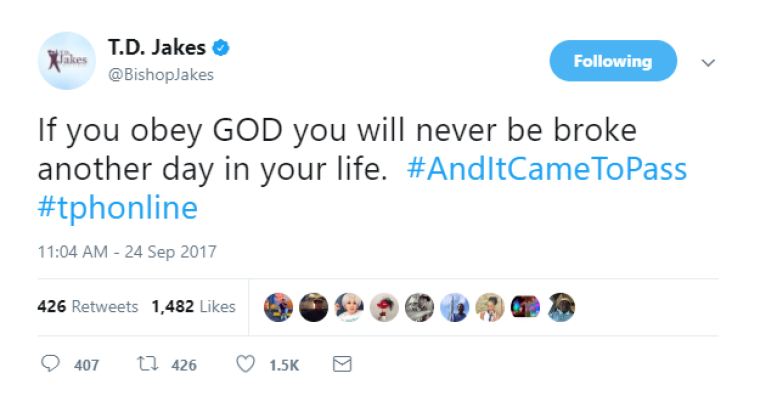 Trillia Newbell, director of community outreach for the Ethics and Religious Liberty Commission for the Southern Baptist Convention, said the statement by Jakes was a "falsehood" that made her cry.
"I've never cried over a tweet, until today. 2.7 million people potentially saw this falsehood. This is why we preach the gospel," she tweeted Wednesday.
Author Leah Yehudah, who recently released For a Sign and a Wonder: Handy Scriptural References to Aid the Newly Awakened Israelite, agreed with Newbell.
"Bishop Jakes, I respectfully disagree. As does Hebrews 11:35-39. Obeying Yah does not guarantee that we won't ever be broke. #falsedoctrine," she wrote in reply to the bishop.
Jakes has long been associated with the prosperity gospel movement, also known as the Word of Faith theology. It teaches that the power of the Holy Spirit can be put to use for whatever the believer wills and that God blesses those he favors with material wealth, according to The Washington Post.
It was propagated through the ministries of Kenneth Hagin, Kenneth Copeland and Frederick K.C. Price in the 1980s. Oral Roberts, late televangelist and faith healer who was also a prominent proponent of the theology, told his congregation in 1987 that God would call him home if he didn't raise $8 million in a few weeks. He died at 91 in 2009.
More recently, the prosperity gospel movement has been associated with popular preachers such as Jakes, Joel Osteen, Benny Hinn and Creflo Dollar, who once asked his followers to donate $65 million so he could buy a luxury jet for his ministry.
In a post on his website, Jakes appears to define the prosperity gospel:
"It's the unique message that seems to come about when times are good and when money is flowing. As a result, the music is upbeat and praise comes easy. Many millennials don't know the struggle that their parents and grandparents went through, so people in the current generation may be very familiar with the Prosperity Gospel and the way of thinking that goes along with it: it's easy to praise God when life is good and money is easy to come by. It's very different from the message that comes forth when times are tough and people are in the midst of a struggle."